"I care more about what I think about my own work rather than what people have to say about me"
"I still get nervous right before going up on stage"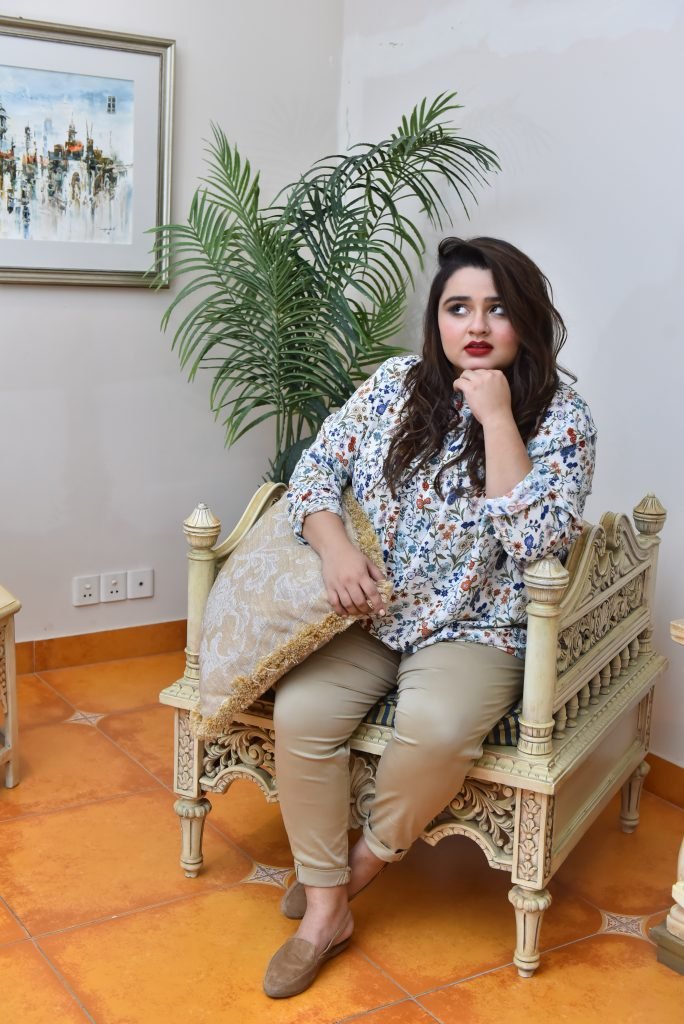 UP CLOSE AND PERSONAL WITH
FAIZA SALEEM
ANUSHA BAWANY CHATS WITH KARACHI'S FUNNY GIRL ABOUT THE POWER OF STAGE FRIGHT, THE IMPACT OF STORYTELLING AND THE IMPORTANCE OF EQUAL PAY
WHAT INSPIRED YOU TO BECOME A COMEDIAN? WHEN DID THIS JOURNEY BEGIN?
My own struggles as a female performer; I loved doing comedy but I felt women were underrepresented and underestimated in this field. This journey properly started in 2011.
WHO ARE SOME OF YOUR FAVOURITE INFLUENCERS IN THE WORLD OF COMEDY?
It's difficult to pick anyone in particular, and I feel like I have my own style. I'm very particular about creating content that's original. However, I always had and will always have people I admire in the field. Locally, it has to be Moin Akhtar Saab, Bushra Aapa and Hina Aapa. Internationally, I feel Melissa McCarthy and Zach Galifianakis are fantastic.
HOW DID YOUR FAMILY FEEL ABOUT YOU QUTTING YOUR JOB AS A LAWYER TO BECOME A FULL TIME COMEDIAN?
Different family members had different views. My Mom's been with me throughout but I always say people have a problem when you're a struggling artist but no one minds a star! Not that I'm saying I'm a star but I do believe attitudes change with time.
HOW WOULD YOU DESCRIBE YOUR SENSE OF HUMOUR?
It's very me. I'm myself on stage and on camera. Even when I'm playing different characters, I stay true to the person I am.
TELL US A LITTLE ABOUT THE FIRST STAND UP SHOW YOU EVER DID:
It was exhilarating. I was a hoot, which scared me to be honest. I think it gets tougher to go on when people put you on a pedestal. I find standup comedy too intense as an art form. It takes everything out of me but is also the most rewarding.
HOW BIG OF A ROLE DOES THE
AUDIENCE PLAY DURING A SHOW?
The audience is everything. A good
audience means a great show but a
bad audience can really bring you down.
I personally feed off of the energy of
the crowd; whether it's positive or negative.
HAVE YOU EVER HAD TO DEAL WITH
HECKLERS? HOW DO YOU HANDLE THEM, OR AUDIENCES THAT ARE RUDE OR DISTRUPTIVE?
I'm very blunt at my shows. If I don't like what you're doing or saying, I make sure you know it. I don't let hecklers get away with bothering me or any other performers.
HOW COMFORTABLE ARE YOU TALKING ABOUT YOUR PERSONAL LIFE ON STAGE, AND HOW DO YOU TURN THAT INTO RELATEABLE HUMOUR?
I'm fairly comfortable addressing real life issues. I think the reason why some people like me even a little bit is because I keep it real. My story is their story. My honesty about my life makes it relatable for everyone. However, sometimes once I've come off stage, I realize: 'shoot I think I gave away too much!'
PEOPLE LIKE TO SAY YOU ARE BREAKING STEREOTYPES – DO YOU THINK THIS IS TRUE?
I do believe that's true and I'm very proud of it. Whether it's my choice of profession or my size in context of that profession, I've walked the road less travelled. I have created opportunities for myself where none existed and there's no shame in accepting that. A common misunderstanding about women in the field is that they're not funny and that people only come to their shows because they're women.
DO YOU FIND IT DIFFICULT TO BE A FEMALE IN THE ENTERTAINMENT INDUSTRY, A FIELD THAT IS MAINLY DOMINATED BY MEN?
I used to, but now I care more about what I think about my own work rather than what people have to say about me or even to me, unless of course it's constructive criticism. I also make sure I don't get paid less than my male counterpart for the same kind and amount of work.
OUTSIDE OF YOUR STAND UP SHOWS AND YOUR DOMINATING SOCIAL MEDIA VIDEOS, YOU ARE ALSO PART OF THE IMPROV. SHOW, KHAWATOONS. TELL US A LITTLE ABOUT THAT:
The Khawatoons (which is Pakistan's first all female comedy troupe) is something I lead and personally train. I founded The Khawatoons exactly two and a half years ago and was part of The Platoon a long time before that.
YOUR SKETCH VIDEOS HAVE GONE VIRAL ON INSTAGRAM. HOW DO YOU COME UP WITH THE TOPICS / THEMES THAT YOU ADDRESS?
I'm very observant and I delve into conversations with everyone, including strangers. That is usually where the ideas come from. Of course, I also take inspiration from my own experiences and that of other people too.
WHAT IS YOUR FAVOURITE SHOW AND VIDEO THAT YOU HAVE DONE SO FAR?
My TEDx talk on body shaming which was originally a standup set. Also I love a lot of my Khawatoons' show – improv is my life! As far as the videos go, there are too many to pick from! But I suppose the "baji, eww" one has a special place in my heart as it was my first video to go viral.
QUICK, TELL ME A JOKE!
No! Come to a show and pay to see my
performance. Ugh.
WHAT WAS THE BEST PIECE OF ADVICE
YOU EVER GOT?
I was back in law school and a very renowned lawyer told me that he wasn't there for all the things that mattered in the lives of his family because he was so busy working. In the blink of an eye, he had become an old man – which was something I should never let happen to me.
IF NOT A COMEDIAN, WHAT WOULD YOU
DESCRIBE YOURSELF AS?
An entertainer. I've always liked amusing people and making them laugh. Even when I was a toddler I'd do things on purpose to make my siblings laugh. It makes me happy.
YOU GAVE UP BEING A LAWYER TO FOLLOW YOUR DREAMS. IS THERE ANY OTHER CAREER PATH YOU WOULD HAVE / MAY STILL FOLLOW?
If not comedy, I'd probably stick with law.
WHAT ARE YOU WORKING ON NEXT?
I'm working on making my mark on television. Currently I co-host an entertainment news show called 'Coverpage' that airs every Saturday and Sunday on HUM News at 7.30 PM. (Excuse the free marketing I just tried to do of my show, thanks!)