PRIDE UP
HeF Clothing's second collection AW18 takes inspiration from Pakistan and its past to send a strong message about having pride in diversity.The HeF squad has some colourful fun in these latest pieces.
HASSAAN KHAN
& FARAZ SIDDIQUI
The Quetta Tee shows a rare 1974 photograph showing the inside of a 'hashish house' in Quetta, Pakistan. You can still find similar cafes in the city where you can buy and smoke while you enjoy a good cup of tea or a light snack. This print is dedicated to the resilient people of Balochistan who have been neglected by the state ever since the creation of Pakistan.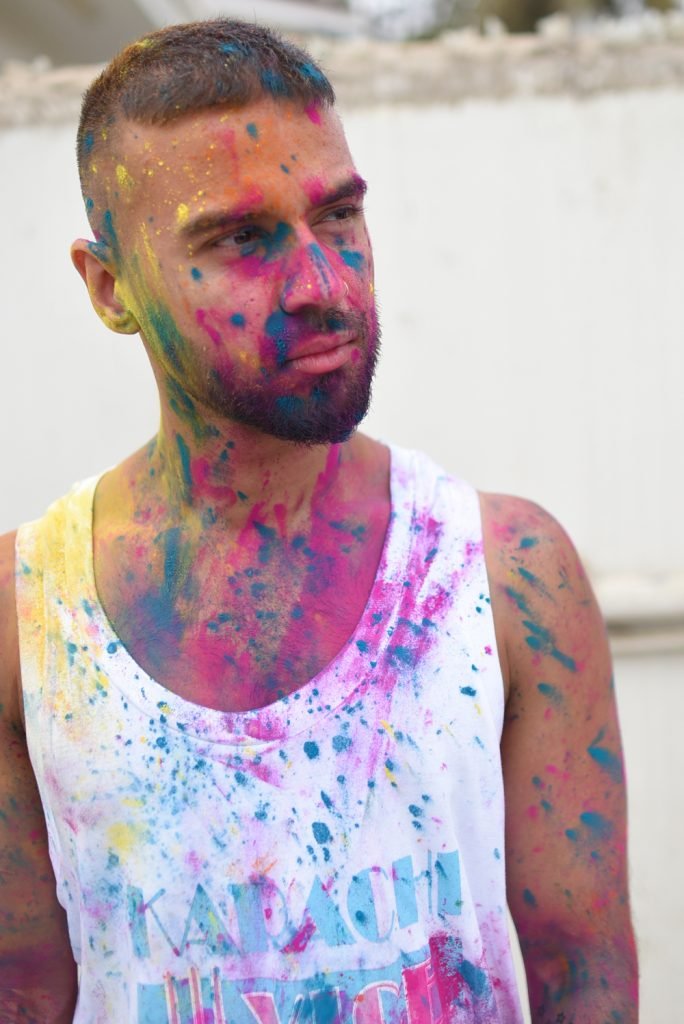 FARAZ
SIDDIQUI
The Karachi Vice Tank is inspired by the iconic 80's show Miami Vice, which was big on style, had a killer soundtrack, and super unique visuals — hence totally up HeF's alley. You see lots of similarities
between Miami and Karachi when it came to the beaches, mafias and ethnic diversity.


FEEHA JAMSHED
Designer
This particular work was Pakistan's first large mural (65ft x 10ft), executed by Sadequain for the library of the State Bank of Pakistan, Karachi. In the 'Treasures of Time', the historical progress of humanity, knowledge and civilisation is represented through pictorials of philosophers, scholars, mathematicians, scientists, writers and poets ranging from Socrates to Allama lqbal and Einstein.

ZAIN SHAH
Producer
ZOONI SHIEKH
Model
The Rainbow tees represent a special sentiment for the HeF brand. It's about respecting and appreciating our differences as a people. Some of the other designs in the collection pay homage to those who played a crucial part in pushing progressive Pakistani culture forward, and these rainbow printed pieces represent all those people coming together to make our history.

(PAGE 4)
ZAINAB REHAN
Architecture Student
Sadequain's works have been incorporated in multiple times in the collection to pay homage to one of the most important South Asian artists of the 20th century. This particular lithograph was produced during the artist's years in Paris (1961-1967), widely considered to be the peak of his career as an artist.
YASMEEN HASHMI
Model
The Heart Rocker tee is designed by the youngest team member, nine-year-old Azlan Askari. Azlan made this design especially for HeF after being given a simple brief of encapsulating what HeF was all about. The young artist is on point and we can't agree  with him more.
Photography: Iqra Shoukat       @iqrashouktphotography
Hair & Makeup: Haya Qamar       @hqmakeupstudio