Beauty is not about looking perfect but perfection is accepting the way you are. Veet believes that every woman is beautiful in her own way. The brand has initiated a campaign that challenges faux beauty standards where everything shared on social media must be perfect. Introducing #Unpose!
While picture perfect does look good, it hides the genuine and extempore moments that highlight real beauty. When candid emotion is captured, it shows the transparency of the moment and depicts how fun spontaneity is!
Veet #Unpose challenge is motivating women to ditch their pouted selfies and posed pictures and embraces their true selves by going unposed on social media. Celebrities, bloggers and regular people like all of us are slaying the #Unpose challenge as well as encouraging their friends to be a part of it.
Actor and celebrity Mahira Khan, who is also the brand ambassador for Veet and a strong activist for women's rights, kicked off the campaign with her #Unpose moment and encouraged women to shed their pouted selfies and embrace the candid moments that make us all feel alive.
Hina Altaf, VJ turned TV actress, shared her #Unpose and proved that one can look beautiful while devouring food. Sometimes you must let the camera do the magic and capture the real you, the person you truly are when no one is watching, that is when the real beauty of your personality is revealed.
        3.Areeba Habib, a celebrated model turned actress shared her #Unpose picture to challenge fake beauty standards and perfect poses. When you are ready to show the real you, this is how the world will react.
4.Miss Veet 2017 winner and upcoming model/actor Hira Khan looked adorable in her #Unpose moment which encouraged everyone to embrace their imperfections and be comfortable in their own skin.
Upcoming fashion, beauty & lifestyle blogger Hemayal shared a candid picture of herself and encouraged everyone to fall in love with their imperfections, let loose and set their own beauty standards.
The fun part of taking a picture is not in the posed picture itself but the BTS moments prior to it which we don't even find worth sharing. This is exactly what Humna Raza's spontaneous moment with her sister in this beautiful scenery taught us all.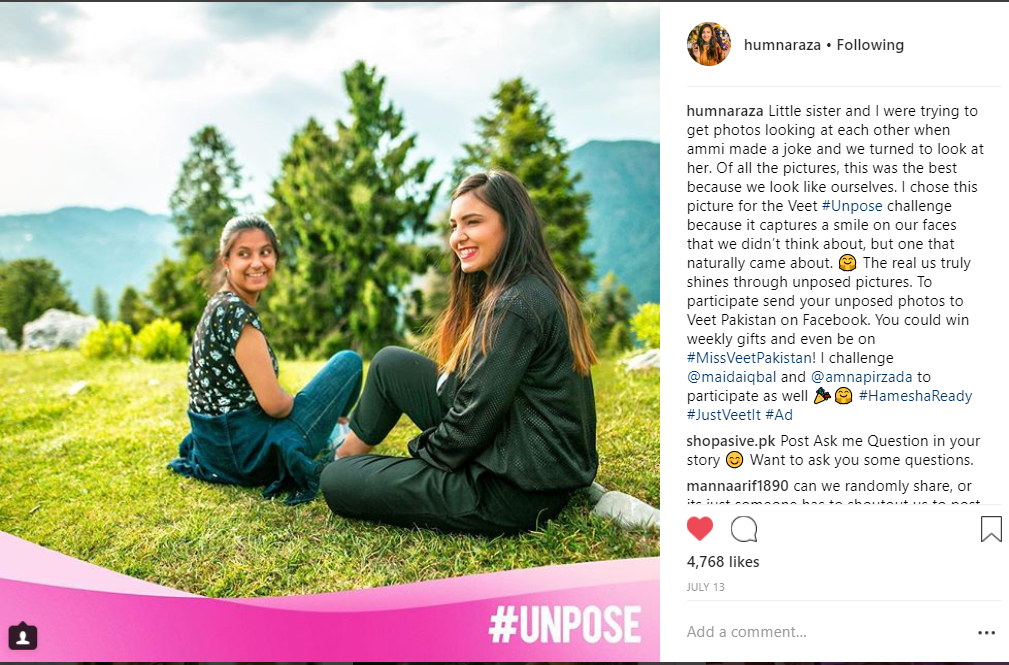 7. Nageen Marfani of Vogue Amour was serious goals in her beautiful #Unpose moment. She told us exactly why candids are the best – because they bring back true memories and emotions which posed pictures never really manage to capture.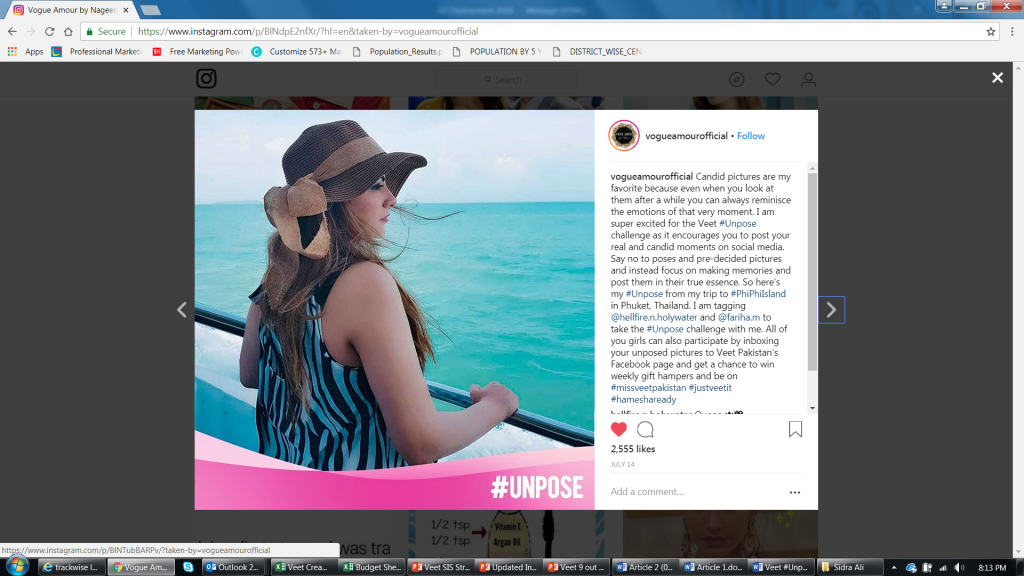 What do you think about #Unpose? Have you joined the movement yet? Hurry up and show your support NOW!
By Nimrah Khan