We're all familiar with Dolmen Shopping Festival. With sales on almost every outlet, who can resist going there? But as Dolmen Mall marks the silver jubilee of Dolmen Shopping Festival, there is a lot more this year than there has ever been.
Let's take a look at the 25 reasons to be at Dolmen Shopping Festival.
Discounted shopping trips – Yes, there is discount on even visiting and coming back from Dolmen Shopping Festival. Use the promo DSF25 and get 30% off on Careem rides to and from Dolmen Shopping Festival.
Not one but three malls – You don't have to travel much to score the best deals! With three malls at different locations in Karachi, you can visit Dolmen Shopping Festival where it's nearest to you.
Parking facilities – With Women only parking, exclusive parking for elderly and disabled, and valet services, you don't have to worry about the hassle of where to park.
Flash sales – Apart from sales at various outlets, there will be flash sales on specific Dolmen Malls' outlets exclusively for a day. These flash sales will be announced on the day they're to be held.
Grand Prize – On shopping of worth Rs. 5000 or more, customers can enter a draw where they can win a grand prize of worth Rs. 2.5 million of shopping vouchers.
Deals at Food Court – Yes, you read it right! There will be some amazing discounts and deals on food items too!
Beauty Lounge – All you makeup geeks out there, this is for you! There will be free makeovers for the visitors on several dates so keep checking in the malls! Also, there will be special promotion from your favorite beauty brands; Scentsation, Loreal and J.Note.
Cultural Bazaar – If you love traditional things like we do then you have to visit Dolmen Shopping Festival. There will be stalls full of traditional clothes, jewelry, shoes and home items.
Food Street – For all the foodies out there, there will be a food street setup at Dolmen
Shopping Festival just for you so you can enjoy your favourite food items in the festive ambiance.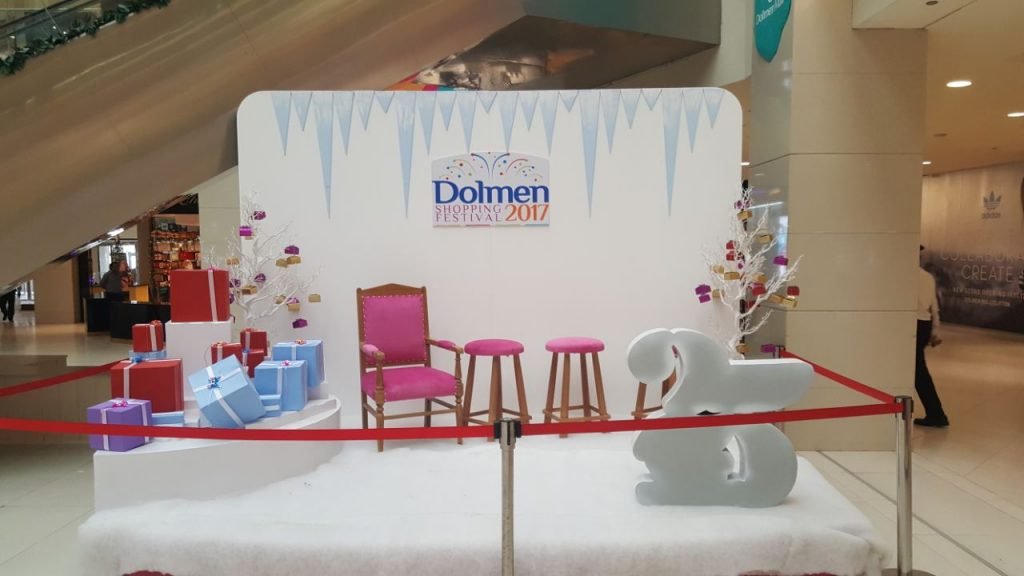 Daily Draw – Starting on the first day till the last day of the festival will be a Daily Draw where visitors will win some great prizes and gifts.
Opening Ceremony – Even if you're not looking forward to shop (who doesn't?), the opening ceremony of the festival alone is a great reason to visit the festival. There'll be prizes and gifts for visitors, indoor and outdoor fireworks, an opening ceremony hosted by Khalid Malik and much, much more!
Celebrity Spotting – Your favorite celebrities will be shopping right beside you at the Dolmen Shopping Festival. We advise you keep your phones ready for the selfies!
Carnival area – Carousels, and other fun rides, games, and activities will be waiting for your kids at the Dolmen Shopping Festival.
Mascots and Cartoons – Your kids' or little sibling's favorite Cartoon characters will be there at the festival to greet them. Don't make them miss on taking some pictures with their favorite characters.
Sindbad – Sindbad is definitely the only reason kids come to malls. With the entertaining rides and immaculate safety provided by the Sindbad Staff, you don't have to worry about kids while you're shopping!
Home 1947 – See the journey of immigrants from 1947 put together at Dolmen Mall Clifton in collaboration with the British Council and Sharmeen Obaid Chinoy Films.
HSY legacy – Another one exclusive to Dolmen Mall Clifton will be a tribute to the hub of fashion by HSY. HSY will exclusively showcase a masterpiece designed by him.
Meet the Cast – Yes, the cast of the upcoming film Chupan Chupai will be there at the opening ceremony of the festival. If you've always wanted to meet them (we're sure you have), here's your chance!
Ali Azmat – Pakistan's craziest rock star will grace his presence at the opening ceremony too! Do not miss out on the opportunity as he unveils the first flash sale of the festival!
Caricatures – There are not many places where you can get a live caricature made. So get one for yourself at this Dolmen Shopping Festival.
A live art Gallery – There will be live paintings and murals painted by some renowned artists. You have to watch to believe how beautiful they're going to be!
Exclusive Dolmen Services – Though the outpour of crowd can easily make run away from shopping festivals these days, with dolmen services like restrooms and prayer areas on every floor, toddler carts, and wheelchairs for disabled and elderly, shopping can be done with ease and comfort!
Daily giveaways – There will be numerous gifts and prizes giveaway on every day of the festival especially on the closing ceremony.
Make memories – Be it a selfie with your favorite celebrity or your kid's picture on his favorite Sindbad ride, share it with the hashtag #DSF25 to win giveaways and to get a chance to see your pictures on Dolmen's memory wall!
Decorations – If you love beautifully lit festive places then Dolmen Shopping Festival will be a feast for your eyes!
Photobooths – Record your memories in the form of photos with photobooths set up at Dolmen Shopping Festival.