Anusha Bawany chats with the new designer on the block about her love for design, all things black and chowing down on burgers!
HOW I GOT INTO FASHION DESIGN:
Being born into a Textile and Digital Printing family, I was always inclined towards designing fabric which eventually lead to designing garments. Every time I have designed something and seen it come to life, I've felt a kind of happiness I can't explain; it's almost like an adrenaline rush. Of course, I've had moments where the ensemble has been a monstrosity, but it still somehow always manages to make me smile. As cliché as it may be, being a part of the fashion industry was definitely meant for me.
WHAT INSPIRED ME TO OPEN MY OWN STUDIO:
I wanted a space where I could express myself wholly as a designer. It took me about five years to actually gather the strength to take my designs out into the world. I always had an excuse to not do so, but with the constant support of my family and friends, it happened. The day my store launched, I didn't feel a thing! It wasn't until a week later that it actually hit me I was walking through my own store, a space I had created! It's an indescribable feeling.
HOW I WOULD DESCRIBE MY PERSONAL STYLE AESTHETIC:
Simple and minimalistic.
I FIND INSPIRATION IN:
Day to day situations.
I DEFINE CREATIVITY AS:
Being true to one's personal aesthetic.
THREE MUST HAVE ITEMS IN EVERY CLOSET:
Blacks, nudes and whites. These three staple colours, in any item, complete the essential list and remain timeless.
MY GO-TO LOOK ON ANY GIVEN DAY IS:
All black!
SOMETHING THAT HAS SURPRISED ME ABOUT THE INDUSTRY:
People are surprisingly very warm and encouraging, which was great to see as I've heard some true horror stories.
DESIGNERS / STYLE ICONS THAT HAVE INFLUENCED MY WORK:
How can I name just one? Off the top of my head – Mrs. Sughra Kazmi, Bunto Kazmi, Narciso Rodriguez, The Row.
PERKS OF OWNING MY OWN BUSINESS:
A major aspect of owning my own business is that there is nothing that will impede my creative process. I can design without conditions, without boundaries, and I'm able to set my own standards and goals.
THE PROS AND CONS OF BEING A YOUNG FEMALE ENTREPRENEUR:
Firstly, I am lucky to have so many more experienced female entrepreneurs to learn from and obtain guidance from. Being new to the business, I have the ability to reform with time and also have the luxury room for trial and error. I'm literally a month old, and I've been so blessed to have met other entrepreneurs, both men and women, who have guided me and supported me through each and every step. There are a lot of kind hearts in this industry. Thankfully, I havent come across any cons… yet!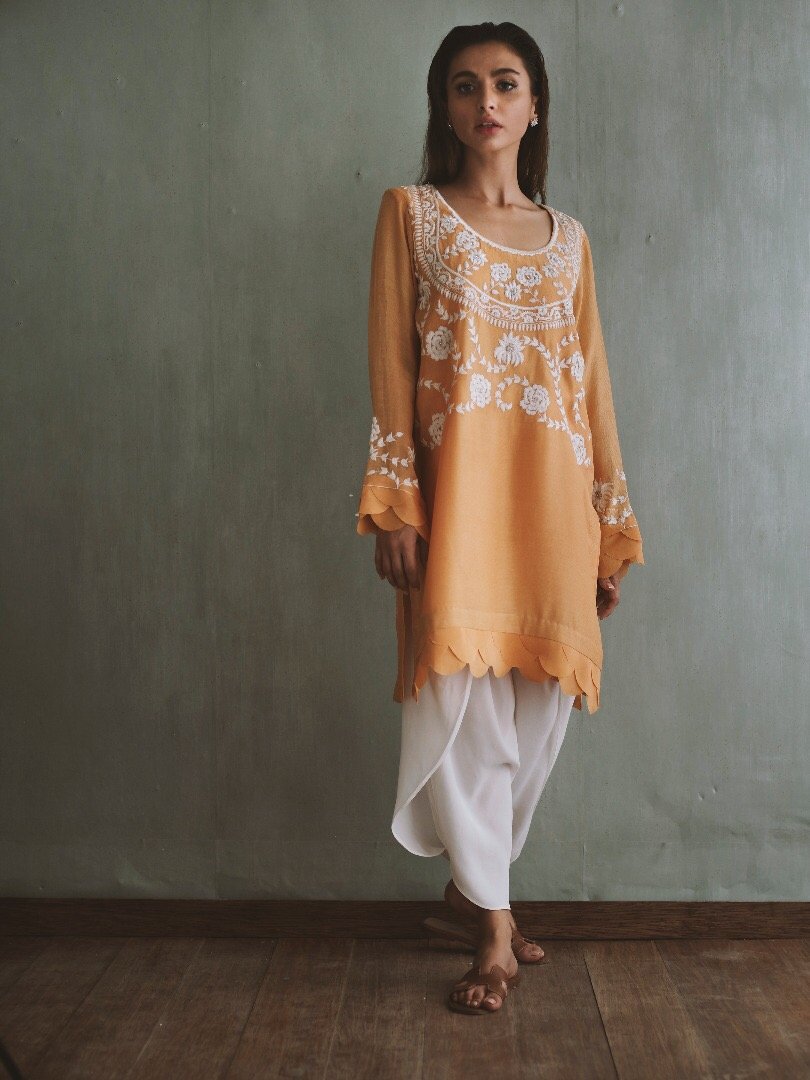 MY WORST CLIENT EXPERIENCE SO FAR:
I once had a client who placed an order for a formal ensemble and a month later changed the delivery date and the amount due, after which she and her family began to harass me! Lucky for me, I had the emails and text messages to back me up!
MY BIGGEST SUPPORT SYSTEM:
My family. I wouldn't have been able to pursue my dreams if it weren't for them.
IF I COULD CREATE AN OUTFIT FOR ANY ONE CELEBRITY IT WOULD BE:
It would have to be Kate Moss and it would have to be something black.
FAVOURITE TRENDS THIS SUMMER SEASON:
Light, breezy, dusters.
TRENDS I AM READY TO SEE DIE:
Ornate oversized sunglasses.
WHEN I'M NOT WORKING, YOU CAN FIND ME:
To unwind I spend most of my time with a few close friends or watching mindless TV shows. But mostly, I'm either sleeping or indulging in a mean burger.
UP NEXT AT WORK, I AM MOST LOOKING FORWARD TO:
My upcoming exclusive linen collection, where I'm working with solid shades and digital prints. Stay tuned!
LIFESTYLE
Favourite vacation spot: Florence, Italy.
Perfume you wear: Flower Bomb, Viktor & Rolph
What makes you impatient? Laziness.
If you could change one thing about yourself, it would be: Overthinking.
Secret talent: I can stitch.
Current TV show on your lineup: Law and Order, SVU.
Summer song on repeat: Xinobi – Far Away Place.
Most typically Pakistani thing about you: I love indulging in pakoras and samosas when it's raining.
FASHION
You hate it when you see people wearing: Turbans.
Your closet is a shrine to: Morticia Addams! I can't help it – I live in black clothes.
Favourite designer: The Row.
Oldest item in your closet: My jeans from 1998.
Necessary extravagance: Dr. Dennis Gross skincare.