We caught up with the model on everyone's radar about working with Nishat, her love of food and what it's like going platinum blonde!
WHERE WERE YOU BORN AND WHICH CITY DO YOU CURRENTLY RESIDE IN?
I was born and brought up in the best city in the world, Lahore. I'm a Lahori through and through.
WHAT IS THE BEST THING ABOUT LIVING IN LAHORE?
Seriously? You have to ask me that? The food!
WHERE'S YOUR FAVOURITE PLACE TO SHOP?
All hail Emporium Mall. With everything under one roof, it's the perfect shopping escape.
WHICH SALON DO YOU ESCAPE TO?
That would have to be Arammish.
HOW WERE YOU DISCOVERED?
While studying at NCA, one of the teachers there, Rehan Bashir Jalwana, crossed paths with me in the corridor and said: "You've got a striking face and a good height, have you ever considered modeling?" That provoked me to begin thinking about it, but it wasn't until another teacher who worked with Zara Shahjahan asked me to model for a campaign that things started rolling.
WHAT WAS YOUR FIRST BIG BREAK IN THE INDUSTRY?
When I got the assignment with Nishat Linen. They have been amazing to me, and I couldn't be luckier.
HOW DO YOU FEEL WALKING THE RUNWAY?
It's one of the most exhilarating feelings in the world and I absolutely love it.
DO YOU HAVE A SET SKIN CARE ROUTINE?
I am a rose water junkie! I use it religiously every time I wash my face and before going to bed. Mama taught me right, haha.
WHO IS YOUR FAVOURITE STYLE ICON AND WHY?
I love Gigi Hadid's sense of style and how she makes everything look so effortless.
WHAT ARE YOUR CURRENT WARDROBE STAPLES?
Delicate jewelry, white tees, jeans, a non branded backpack and red lipstick.
WHAT DO YOU DO IN YOUR DOWNTIME?
Reread my favourite novels with a karak cup of chai. I'm a tea fanatic!
WHAT'S YOUR GUILTY SNACK?
Loacker's Crispy Wafers. Yum!
HOW DO YOU DEAL WITH THE LOVE AND THE HATE FROM YOUR FOLLOWERS?
I appreciate constructive criticism, but I don't pay attention to bullies. I'm blessed to be so occupied dealing with the love, that I don't get the time for the hate.
IS YOUR SELFIE GAME STRONG? WHAT'S YOUR FAVOURITE INSTAGRAM FILTER?
Stronger than coffee, haha. My favourite filter has to be Slumber.
IS THERE A SPECIAL DIET AND GYM ROUTINE THAT YOU FOLLOW?
No, but I really should.
MONEY OR INTELLECT:
Intellect. You can use it to earn a lot of money.
DO YOU HAVE ANY LIMITATIONS WHEN IT COMES TO THE MODELING WORLD?
I generally don't find myself being comfortable in very revealing clothes, but it depends on each campaign.
WHAT IS YOUR DREAM MODELING JOB?
Exploring my wild side at exotic foreign locations.
HOW DO YOU DEAL WITH ALL THE TRAVELING?
It's insane, especially because I also have to keep up with my college work. I'm really grateful that my teachers are super supportive and understanding, but all that traveling takes a toll on you.
GROWING UP, WHAT DID YOU SEE YOURSELF BECOMING?
A drama teacher. As a child, I remember gathering my family members and getting them to act in my plays!
WHO WOULD YOU CALL YOUR NUMBER ONE SUPPORT SYSTEM?
No question about it – my mother.
IS THERE ANY OTHER CAREER PATH YOU WISH YOU HAD PURSUED?
I'm extremely happy about where things are at for me career wise. At this point, I couldn't see myself in any other field.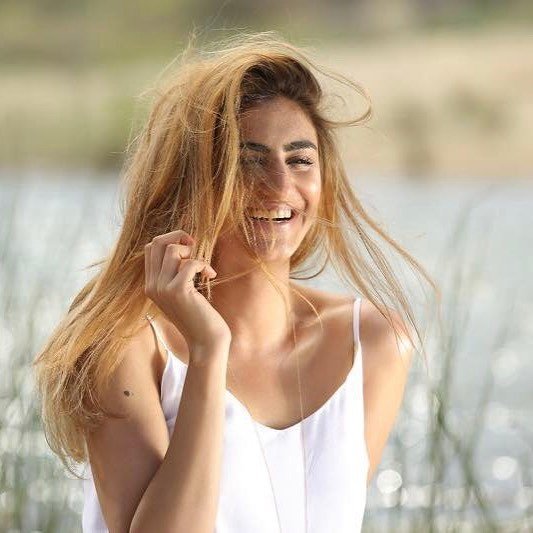 WHEN YOU'RE NOT BUSY MODELING, WHAT ARE SOME OF YOUR FAVOURITE THINGS TO DO?
I generally just order a whole lot of pizza and watch "Friends" with my friends.
HOW WOULD YOU DEFINE YOURSELF WITHOUT THE LABEL OF A MODEL?
As a performance and visual artist.
WHAT DO YOU WANT YOUR FOLLOWERS AND THE FASHION FRATERNITY TO KNOW ABOUT YOU THAT THEY DON'T ALREADY KNOW?
There truly are so many things about me that people have yet to unravel. I battled depression for over three years, and so I just want everyone to know that if you're in any sort of emotional pain, that I've been there too, and have come out of it on the other side. Going through what I went through taught me to be the best version of myself today.
NAME A BOOK THAT'S HELPED YOU THROUGH A TOUGH TIME:
The Forty Rules of Love by Elif Shafak.
WHAT IS YOUR FAVOURITE FEATURE OF YOURSELF? AND LEAST FAVOURITE?
That's a toughie! I guess my favourite feature would be my eyes and least favourite would be my nose, haha.
YOU'VE SHOWN AN INTEREST IN ACTING AND THEATRE. SHOULD WE EXPECT TO SEE YOU DIVERGE IN TO THE FIELD OF ACTING?
I've always been in to acting and I don't think I ever missed a school play! I also directed a play called "Chali Kahani" at NCA for which I turned the entire stage into a chess board and made the Black King fall in love with the White Queen (that too through the imagination of a girl who lives in a mental asylum). Theatre gives me life, and I'm just waiting to graduate so I can fully invest my time and efforts into the field of acting.
LASTLY, YOU'VE BEEN CHOSEN AS ONE OF L'OREAL'S "IT GIRLS". TELL US WHAT THAT'S LIKE, AND IS IT TRUE THAT BLONDES HAVE MORE FUN?
I never thought I would experiment with my hair to this extent, but honestly it's been great! My look has transformed entirely and I'm really enjoying it. Funnily enough, every time I enter the Cantt area they stop me to check my ID card to confirm if I'm Pakistani. And every time before I show it to them, I change my accent and have a little fun of my own. So I suppose it is true, blondes do have more fun!