We spend the day hanging out with the POWER COUPLE  to talk fashion, marriage and all that's in between:
HOW I GOT INTO FASHION AND DESIGN:
AMIR: During my first semester at the Institute of Business Administration while I was doing my Masters in Entrepreneurial Skills, I volunteered to design the costumes for an old Victorian play titled "Lady Windermere's Fan" that the student body was putting up. By the time I had torn apart the old outfits and put together the new ones, I knew I had the ability to design clothes, and that fashion was my true calling!
HUMA: During a holiday in Italy, I attended a few fashion fairs that also had training sessions. The theme that year was India and the subcontinent, and I was so inspired and enthralled by the fashion scene there that I decided to launch my own label right there on the streets of Florence. That's how the philosophy of my brand was conceived, and FnkAsia came into being.
HOW I WOULD DESCRIBE MY PERSONAL SENSE OF STYLE:
AMIR: Simple and minimalistic. Comfort is key for me and I like restricting myself to just a handful of colours. I'm not opulent at all when it comes to dressing and that shows in my collections as well.
HUMA: My style is more flamboyant, free-spirited and adventurous. I like to tell stories through my clothes.
I FIND INSPIRATION IN:
AMIR: Islamic arts and crafts.
HUMA: Travel is a big source of inspiration for me. I am a big fan of bold vibrant colors, hence the nomadic influence in my collections.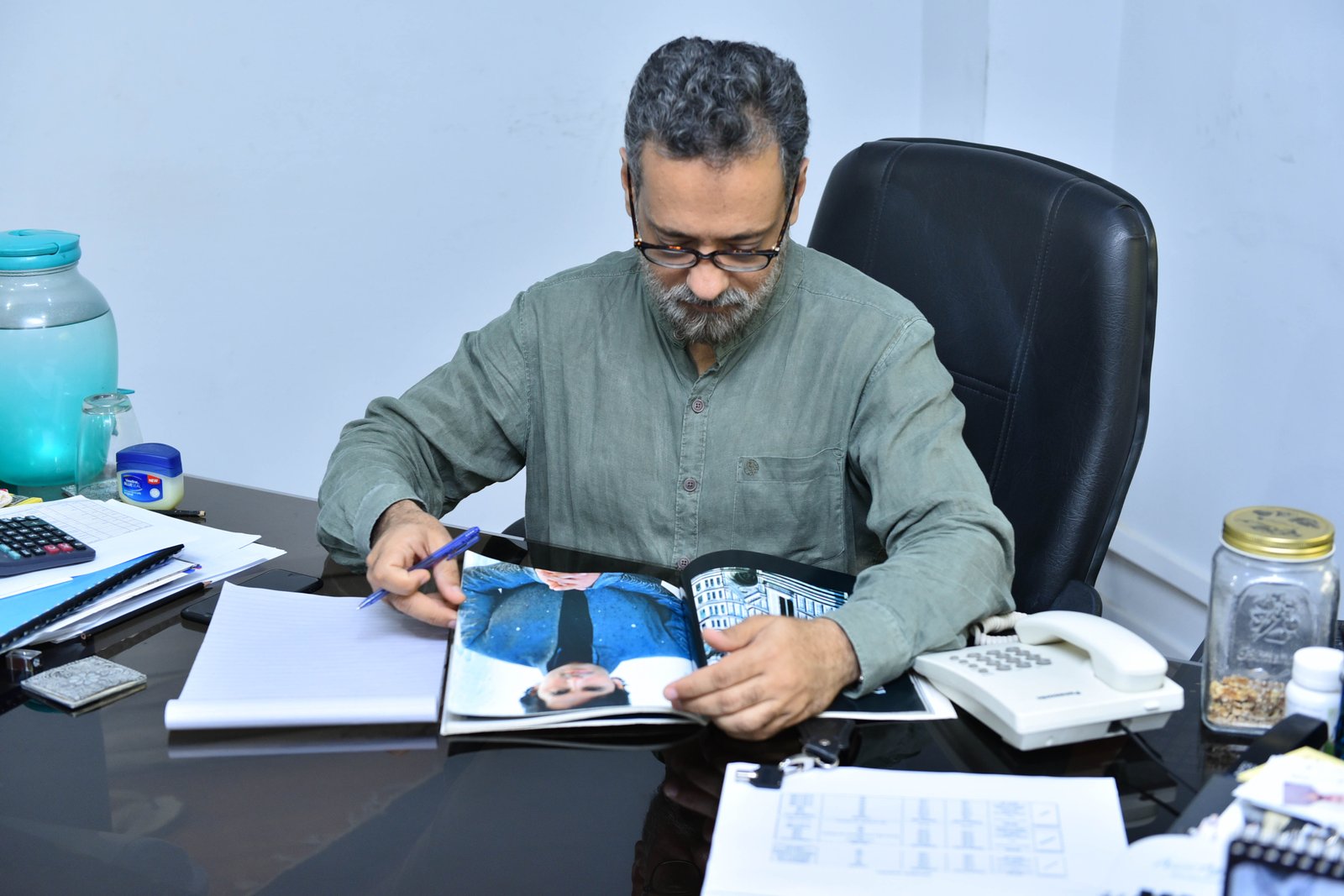 WHEN IT COMES TO WORK, YOU CAN MOSTLY FIND ME WEARING:
AMIR: Khaki pants and a white shirt.
HUMA: For the Summer, any loose fitting top with my staple white pants.
WHEN ALL ELSE FAILS, I:
AMIR: Believe in a good cup of tea.
HUMA: Go shopping without my husband!
WORK QUALITY I AM MOST ADMIRED FOR:
AMIR: Consistency.
HUMA: Spearheading.
WORK QUALITY I AM MOST HATED FOR:
AMIR: Being fickle.
HUMA: My impatience.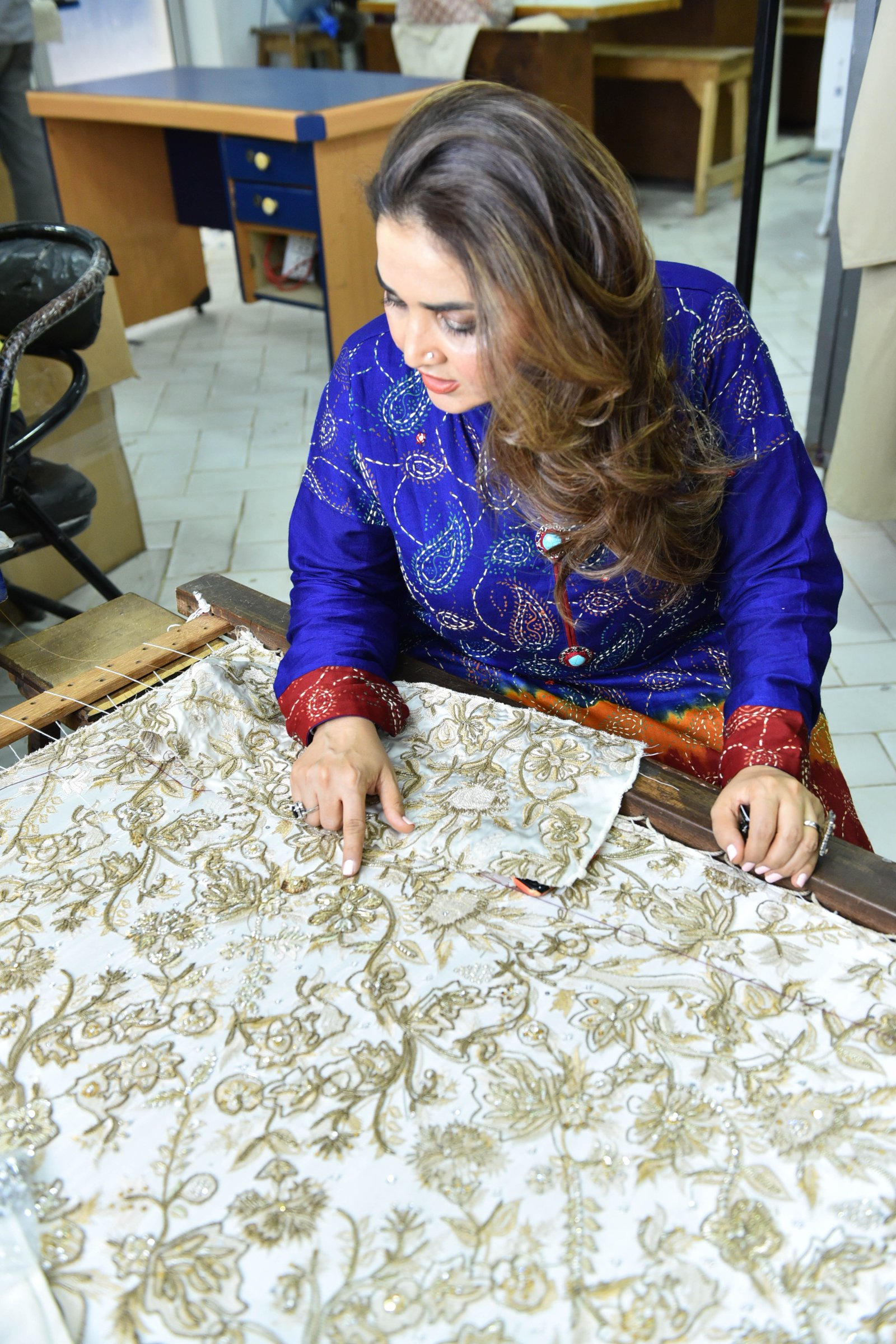 HOW MY DESIGN PHILOSOPHY HAS EVOLVED THROUGH THE YEARS:
AMIR: I don't feel the need to experiment as much. I have developed the ability to swift through my thoughts, so the amount of output has reduced greatly in terms of variety, but improved exponentially in terms of quality.
HUMA: FnkAsia's identity remains the same as it was ten years ago; boho, quirky and fun. The only difference is that I have grown as a person and the brand has grown with me.
COOLEST PART ABOUT MY JOB:
AMIR: I don't have to read and write!
HUMA: We are ambassadors for Pakistan any where we go.
WORST PART ABOUT MY JOB:
AMIR: All the talking! To clients, to workers, to press – the list is endless.
HUMA: Deadlines.
ONE DESIGN RULE I LOVE TO BREAK:
AMIR: I'd like to think I break the normative fashion techniques when it comes to menswear. I introduced black georgette shalwar kurtas to men who only believed in crisp cotton starch ones! Also, bringing back the trend of sehras in weddings is something I'd like to take credit for. Going against the channel of conformity is my thing.
HUMA: Breaking boundaries is always fun for me. Being a free spirit, I hate uniformity of any kind.
MY FUNNIEST CLIENT EXPERIENCE:
AMIR: Back in 1993, just before closing up my store in Zamzama late one night, a gentleman walked in. He started inquiring about previous outfits I had designed for grooms in a lot of detail, to the point where I felt like I was being interrogated! Long story short, he brought in an entourage of nearly forty men (of all ages and sizes) and told me he wanted me to design an outfit for each of them for fourteen separate wedding functions! I don't even think my store had the capacity to hold all these men in at the time, but it was a huge order and one that makes me laugh every time I think about it.
HUMA: I was out for a family dinner once at a road side café, and quite literally dressed in my PJs, when a young girl walked up to me and asked for a selfie. It was an embarrassing yet hilarious moment for me, and taught me to never leave home without getting dressed properly.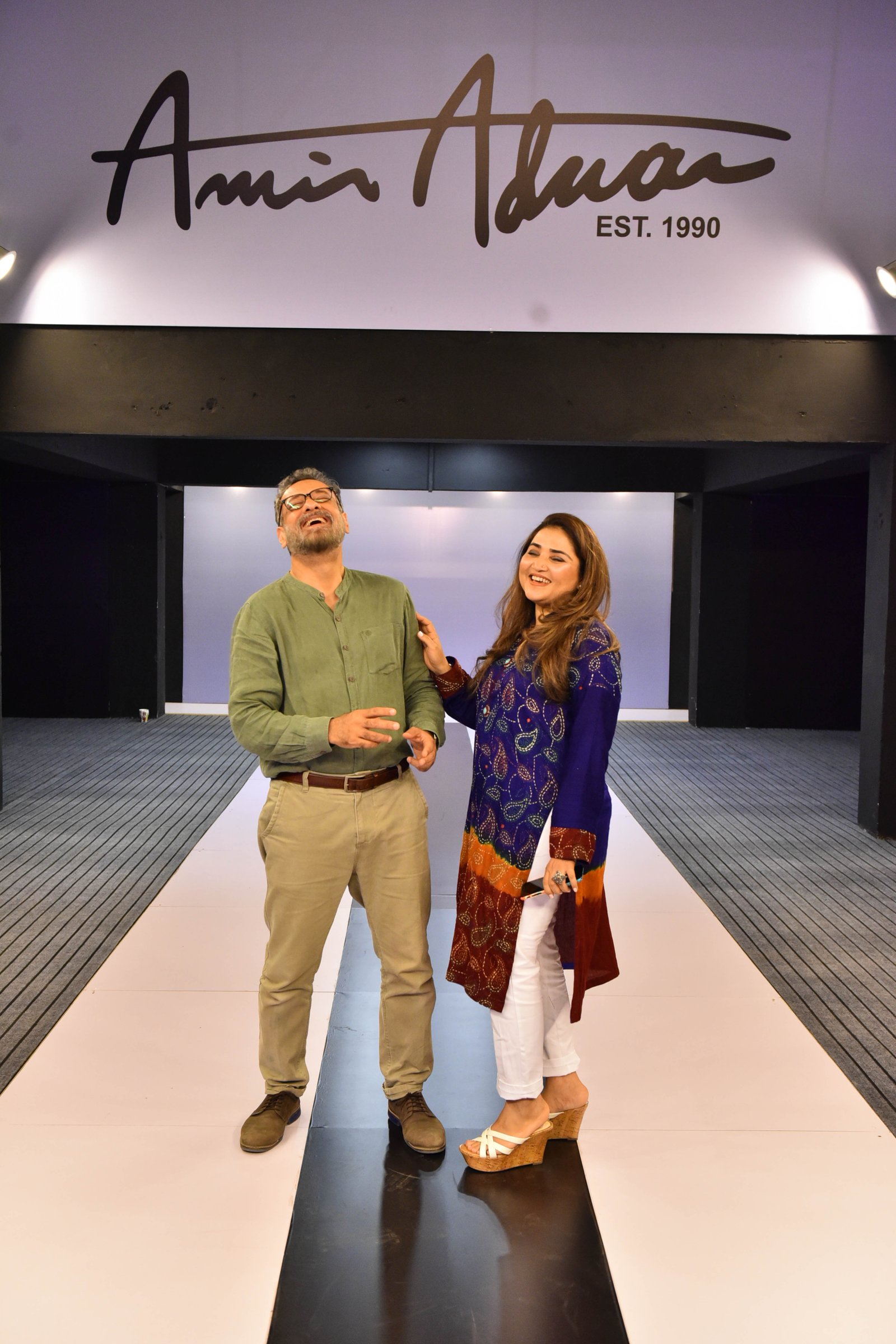 HOW WE HELP EACH OTHER OUT WITH WORK PROBLEMS:
AMIR: We sit in the same room and if we find something related to each other's scope of work we inform each other instantly. Over the years, we have developed a miraculous way of working alongside one another.
HUMA: We discuss everything related to work with each other. Amir is the CEO of the company, so of course he has a much broader field to look into.
HOW WE DEAL WITH DISAGREEMENTS:
AMIR: We disagree more than we agree, which either reinforces the same point of contention or brings in a new perspective. It always works out in the end though, haha.
HUMA: Like any two partners, we have our fair share of disagreements. But we tend to resolve our issues pretty quickly.
HOW I BALANCE MY PERSONAL AND PROFESSIONAL LIFE:
AMIR: After working together for years, we now compartmentalize ourselves in various sections so we are able to deal with our personal life and marital life all in one go.
HUMA: By having defined roles; I am the boss at home and he is the boss at work.
THE BEST PART ABOUT WORKING WITH MY PARTNER IS:
AMIR: I love spending time with Huma, so it's very fortunate that we get to spend so much of it together.
HUMA: It's always fun to be with your best friend at work.  Life would be much more difficult if we were both in different jobs.
A FUNNY WORK HABIT OR QUIRK I NOTICED ABOUT MY PARTNER:
AMIR: She becomes a completely different person after lunch, so I avoid any meetings post-lunch at the office because I know none of them would lead to conclusive results!
HUMA: He talks so much in board meetings sometimes that the people around us start dozing off!
TO UNWIND, I GO TO:
AMIR: The mosque.
HUMA: Any place away from Karachi.
SOMETHING THAT SURPRISES ME ABOUT THE INDUSTRY:
AMIR: How slow the fashion market has progressed. This revolution of fast fashion and updating trends should have happened over twenty years ago.
HUMA: A lot of people are still living the past.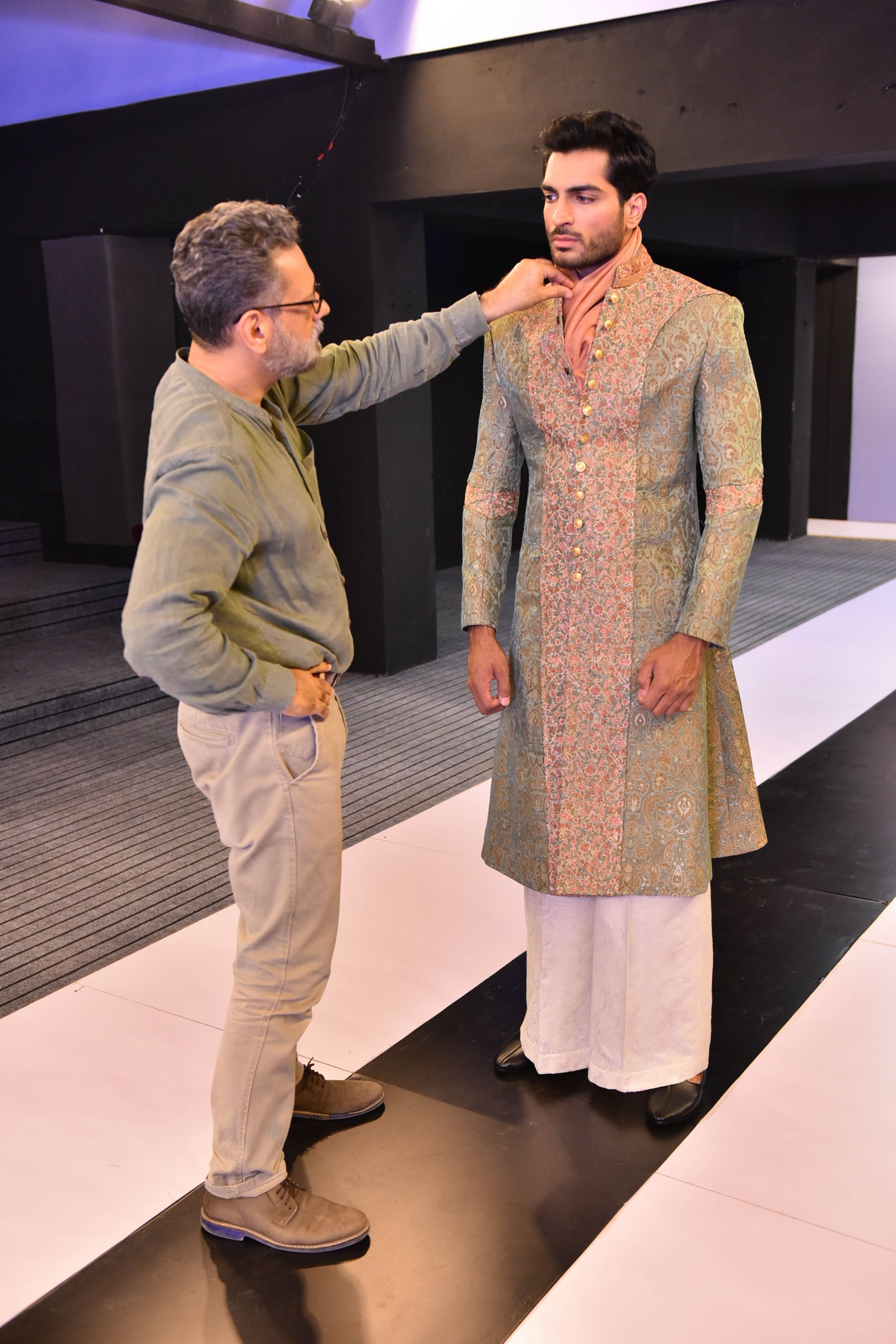 DURING FASHION WEEK, YOU CAN FIND ME:
AMIR:  At home.
HUMA: Sitting in the front row with my friends and gossiping about everything but fashion!
IF I COULD DESIGN FOR AND STYLE ONE CELEBRITY, IT WOULD BE:
AMIR: Quaid-e-Azam.
HUMA: Marilyn Monroe.
PERKS OF OWNING MY OWN BUSINESS:
AMIR: I can hide in the toilet for as long as I want.
HUMA: I can arrive to work at eleven and still question others as to why they were late, haha.
MOST MEMORABLE EXPERIENCE FROM MY CAREER:
AMIR: This family came in from Lyari to shop for an upcoming wedding. They hired a Suzuki to get to my store, and each family member chipped in to buy the groom a waistcoat that was priced at Rs.19,000 so he could look like "a prince." It was so overwhelming for me to see such excitement and happiness, and I remember it like it was yesterday.
HUMA: When a Saudi princess asked me to design a gown for her graduation.
MY ALL TIME FAVOURITE COLLECTION:
AMIR: My Devotion collection.
HUMA: My Tribal Couture collection.
MY PREDICTIONS ON THE FUTURE OF FASHION:
AMIR: It's going to be genderless and monochrome.
HUMA: An organic revolution.
UP NEXT AT WORK, I AM MOST LOOKING FORWARD TO:
AMIR: I'm trying to reach the optimization of human efficiency.
HUMA: Traveling extensively this Summer and getting inspired by new sights.
MAKEUP: N-PRO