This week, I sit down with the queen of controversy and the star of the infamous "bright karein" video, who tells me all about those scandalous marriage rumours, her undying love for Ustad Rahat Fateh Ali Khan and why she would like to make Ahsan Khan her darling
YOUR INFAMOUS "BRIGHT KAREIN" VIDEO WENT VIRAL LIKE WILDFIRE, AND CAUSED A MEDIA UPROAR. WOULD YOU LIKE TO CLEAR YOUR SIDE OF THE STORY ONCE AND FOR ALL?
I have taken the entire fiasco in my stride, and put it all behind me. It is absolutely done with! But I am so happy that the cruel intentions of the evil genius who engineered the entire incident backfired, and instead, "bright karein" has gone on to become an iconic phrase in contemporary speech.
RUMOUR HAS IT YOU'VE TIED THE KNOT ONCE AGAIN WITH A RATHER FAMOUS PERSONALITY. IS THERE ANY TRUTH TO THIS?
Rumours are rumours, and they are scarcely true! Sorry, but there's no spice here for you.
TELL US THREE THINGS THAT NOT MANY WOULD KNOW ABOUT YOU:
My life really is an open book. If you still think there are some hidden facts about me, then rest assured, they will remain hidden.
WHAT TENDS TO MAKE YOU ANGRY?
It doesn't take much to get me angry, as you are very much aware. From big things like hypocrisy and backbiting, to small things like dirty washrooms and strands of hair lying around. The list is truly endless.
WHAT HAS YOUR EXPERIENCE WORKING WITH THE LEGENDARY USTAD RAHAT FATEH ALI KHAN. BEEN LIKE?
I am the anchor and the host for Ustad Rahat Fateh Ali Khan. My relationship with him is strictly professional, but I can easily say that one of my life's greatest honours and joys has been knowing and working with him. I've dealt with a lot of misfortune, but having Khan Saab in my life has made up for all the misgivings. Not only do I admire him for his personality and his large body of work, I have immense respect for him as a person, and I trust him blindly. He is not just an individual; he is a phenomena!
WHAT DO YOU THINK SETS YOU APART FROM OTHER RED CARPET AND MORNING SHOW HOSTS?
My passion, panache and complete and utter professionalism.
WHO WOULD YOU REGARD AS YOUR BEST FRIEND FROM THE FRATERNITY?
You, of all people, are asking me this? Darling, unfortunately it's not you, but your brother Asimyar Tiwana!
NAME AN IDEA THAT CHANGED YOUR LIFE.
My son Mohammad Mustafa Mirza. Being a mother again is what truly changed my life.
IF YOU COULD GO BACK IN TIME AND ERASE AN EVENT, WHAT WOULD IT BE?
I have coped with all the twists and turns life has to offer. It's been a thrilling ride, and I have no regrets. I wouldn't change any of it.
RANK IN ORDER OF ACTING ABILITY: MAHIRA KHAN, SABA QAMAR, URWA HOCANE AND HUMAIMA MALIK. THEN, RUBINA ASHRAF, MARINA KHAN, SABA HAMEED AND BUSHRA ANSARI.
I am not a fan of these ranking questions at all, but I have to say Saba Qamar is a brilliant actress. Out of our senior actors, Bushra Ansari is hands down the queen. I completely idolize her! Having said that, all these ladies have proven their worth, and are beyond comparison.
WHICH ONE OF THESE DASHING YOUNG ACTORS WOULD YOU LIKE TO DO A ROMANTIC ROLE WITH: FAWAD KHAN, BILAL ASHRAF OR AHSAN KHAN?
Young? Has the definition of young been changed recently, because I don't see how any of these thirty-somethings fall into the "young" category. Anyhow, if I really had to choose it would definitely have to be Ahsan. He's an absolute sweetheart (who currently plays my son on screen) but it would be amazing if he could be my darling, haha.
SAY YOU WERE TO PORTRAY THE CHARACTER OF A HORRIBLE WIFE. OUT OF HUMAYUN SAEED, NOMAN IJAZ AND ADNAN ANSARI, WHO WOULD YOU LIKE AS YOUR ON-SCREEN HUSBAND?
No doubt about it, it would have to be Humayun Saeed. Purely because he would give me the most natural response on screen, if you know what I mean…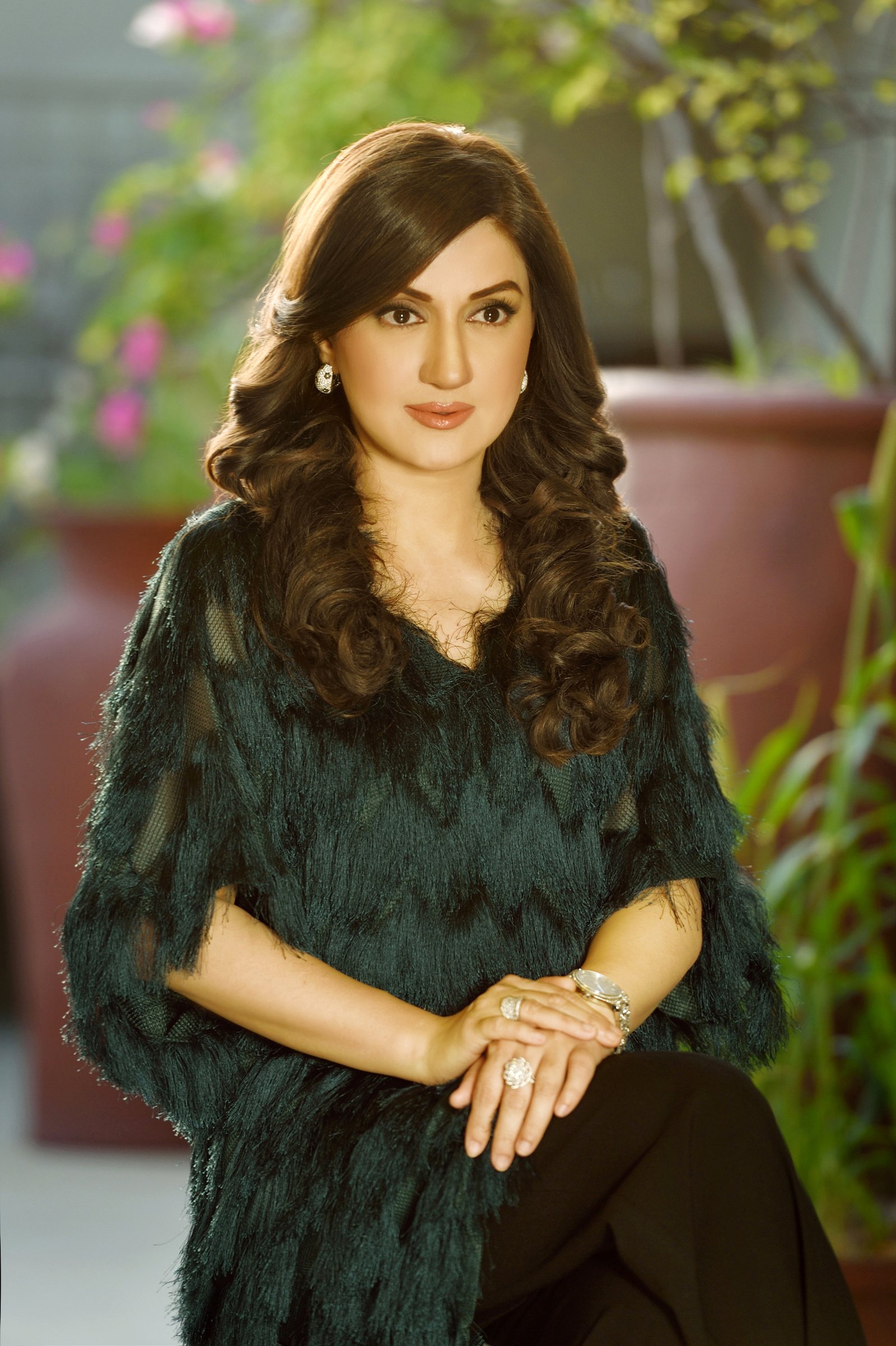 WHO IS YOUR ALL TIME FAVOURITE DESIGNER?
It's a privilege to be dressed by such mavericks. I can't pick one, as I feel like a queen in all their gorgeous ensembles.
WHAT'S YOUR DAY-TO-DAY ROUTINE LIKE?
I wish I had a disciplined and set routine! I can best describe my day-to-day life as happening and fun, with a whole lot of chaos on the side.
YOU LOOK ABSOLUTELY GORGEOUS, AND I WOULD NEVER GUESS YOU TO BE IN YOUR FORTIES. ANY BEAUTY TIPS YOU WANT TO SHARE WITH YOUR FANS?
I would just like to say, it's not easy being Ayesha Sana! You evolve over time and you have to find your own tips and tricks that work for you. There's no right answer or magic formula I'm afraid, just a lot of experimenting and time involved.
WHAT IS THE MOST EXCITING RUMOUR YOU HAVE HEARD ABOUT YOURSELF?
That I've entered the political world.
WHAT IS THE MEANEST THING YOU'VE HEARD ABOUT YOURSELF?
When it comes to being mean, the sky is truly the limit! People tend to push the boundaries every passing day. There have been far too many things said about me, where would I even start?
IF THEY WEREN'T FROM THE INDUSTRY, WHAT CAREER WOULD YOU HAVE SEEN THE FOLLOWING WOMEN IN:
RESHAM: Social worker.
MEERA JEE: Housewife.
MEHREEN SYED: Nutritionist or fitness trainer.
IF A BIOGRAPHY WAS WRITTEN ON YOUR LIFE, WHAT WOULD THE TITLE BE?
It would simply be called "Matchless".