Beds take up the major space in any room not just physically but visually as well, so it's important for you to invest in quality bedding to make your space visually appealing and comfortable enough for a good night's sleep.
Follow these easy steps and turn your bedroom space into a designer space using bedding from IDEAS by Gul Ahmed. Their spring summer collection will complement any subtle wall color and will add life to your bed space:
Elements for a well-styled bed
What you will find at IDEAS to make an ideal bed, straight out of lifestyle magazines!
1) Flat sheets with pillow cases – a wide range to choose from in different thread counts
2) Duvet covers with pillow cases – a wide range to choose from, in different thread counts
3) Shams covers – co-ordinated shams covers are available with the design range)
4) Square cushion and deck cushion covers – wide range of printed, embroidered and digital cushions covers is available to choose from
5) Bedding Basics – fillings
6) Bed Throws – thermal blankets are available in solid color range to compliment the summer feel.
Start with the Flat Sheets
Consider three main factors when buying sheets: thread count, material, and weave. These will help you decide the final look and feel, from warm and soft to cool and sleek. Flat sheet is placed between the sleeper and the blanket and protects the blanket or the comforter from getting dirty. On warmer nights the flat sheet can be used instead of a blanket. They give your bed a neat look.
Quick Tip: Use white flat sheet because it looks fresh and crisp, is easy to clean and gives our eyes a rest from patterns and color.
Top with Duvet Covers
Having a duvet cover spares you from having to replace or ruin your actual comforter, which means lesser effort and money is required in washing/replacing the comforter. A duvet cover is also a great way to add color and pattern to your space.
Quick Tip: Tuck your duvet cover under the mattress so you can bring a clean and modern feel to your room.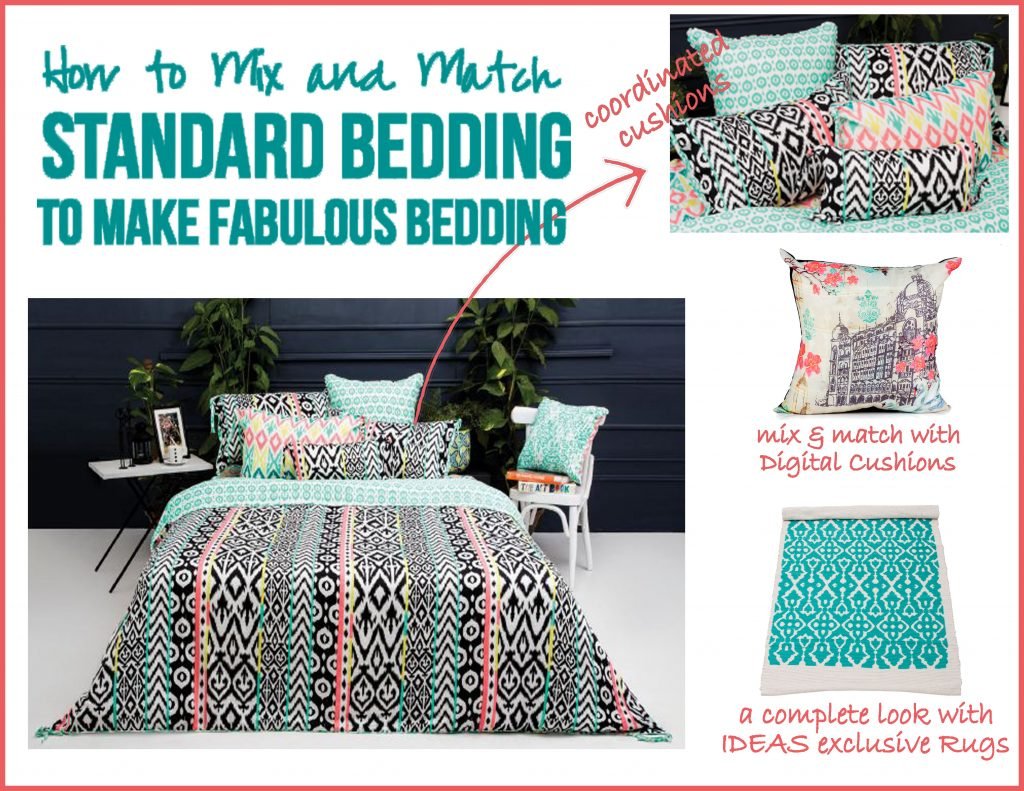 Prop up those Decorative Cushions
Decorative pillows/cushions or shams add depth and a luxurious appeal to your bed. Decorative pillows and cushions can help enhance the other elements in your bedroom for a cohesive design and can vary in patterns and colors.
Quick Tip: Stack these pillows for more of a contemporary feel, or prop them upright for a traditional feel. These pillows are for decorative purpose only and should be off the bed before you plan on sleeping.
Add a Throw for sophistication
Placement of bed throws is an important task to give your bed a nice look. The throw should be according to your bed size. It should not be too big for a single bed and not too small for a king sized bed. Throws complement your bed and give it an up-to-date look.
Quick Tip: Make simple bedding look more personal by adding a throw. Just fold it lengthwise and drape it across the end of the bed.
So are you ready to sleep in style? Shop now at Ideas by Gul Ahmed!