Anusha Bawany chats with the Director of Domestic Development at Alkaram Textile Mills about revolutionising the fashion game while being the ultimate boss lady
Tell us about yourself and your journey so far at Alkaram.
I initially studied fashion at Central St. Martins in London and then transferred to Parsons School of Design in Paris. Paris was a more haute couture domain while the New York campus, where I went for my last year, was all about high fashion and pret – which resulted in me having the best of both worlds. Once I moved back to Pakistan, I joined IVS as part of the faculty, but I didn't enjoy that as much. I found my way to Alkaram, and for the first few years I worked for exports. I had to learn all about thread counts, dyeing, customer profiles, marketing and all the technical side of things. In exports we have all our beddings, and we have high profile clients like Ralph Lauren and Pottery Barn to whom we export to. It was very textile oriented, but with my expertise, I brought the fashion element to it. This made the job much more fun and that's when everyone began to appreciate what I had to bring to the table.
With your background in fashion, why didn't you ever consider starting your own label?
When I returned from college, I saw that every household had at least one aunty who was a designer, which really put me off wanting to do it on my own. I had the financial and emotional support of my family from the start, but the problem with me is that I needed to work under leadership. I wanted to learn, I needed the experience, and I never wanted to just jump into things the way many people do here. I wanted to work under the big names, and then earn the opportunities that would allow me to explore and break boundaries. Alkaram was the perfect fit for me.
Describe your personal style aesthetic. How do you incorporate that into your work?
I had to make sure that what I am, and what Alkaram is, aligned with one another. Even though I went abroad, I always maintained my values. That is exactly what I want for the Alkaram woman. No matter where she goes, her values should always be intact. I advocate modesty, and I think Alkaram is a brand that stays true to its roots.
What are your inspirations for the designs you create?
The consumer. We have to research and find out what our audience wants, and strive to achieve that with each new collection. We have to foresee what will make women feel comfortable in our designs and then execute that on a level that maintains the brand's quality. When I started, the brand was catering to a slightly older generation, and that is something I wanted to break away from. I want to make Alkaram a brand that is relatable to every woman, of every age and every shape.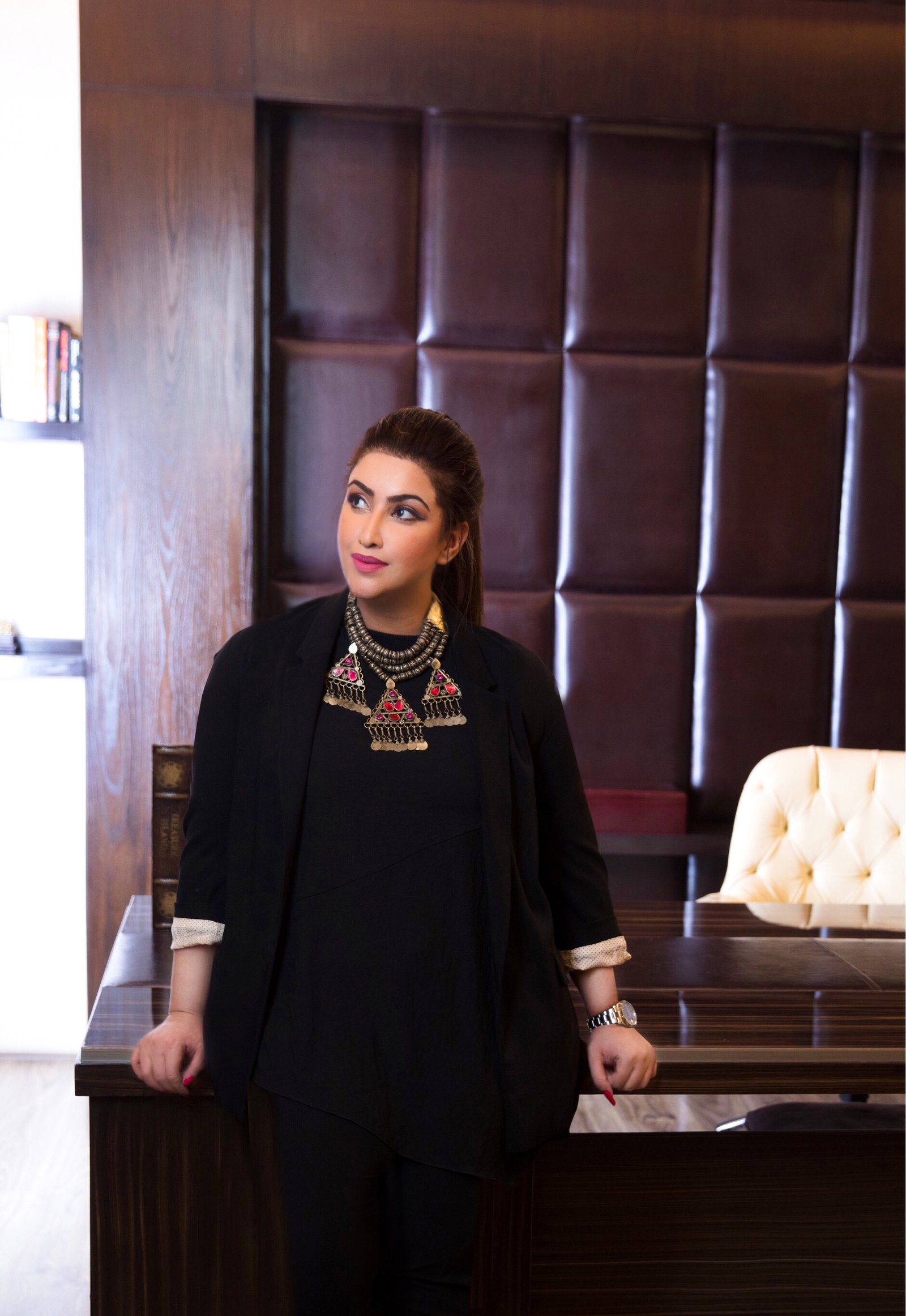 What trends do you forecast for the coming year? How do you stay aligned with International markets?
Because we design for international markets in the export sector, we have to be on trend and follow them religiously because we pitch our collections. The fun part is that even though it's home textiles, it is very much in line with fashion trends. From colour palettes, to patterns and prints, there is a synchronicity between the two. We aim to keep bringing an innovative twist to international trends. The goal is to be bigger and bolder each time!
One trend you are ready to see die out:
I think we need to move on from chevron and digital prints, it's time to explore something new.
What's the one thing that surprises you about the fashion industry in Pakistan?
I honestly think right now the industry is a bit stagnant, and I'm a little taken back at that. I think it's time our industry vets take back their claim.
What are the pro's and con's of being a female holding a high position in this industry?
It was horrible! The factory visits were very difficult, and of course in a world dominated by men, to be a strong, independent and opinionated woman was no easy task. However, my boss had my back the whole time. Working with like minded people is amazing, but working with people who don't take you seriously, and working to have them get on the same page as you, is a very difficult task. Before I open my mouth, and before I can show them what I bring to the table, I have had to face all the stereotypes that come with just being a female. But, that has and never will, stop me.
What sets Alkaram studio apart from its competitors?
I think it's safe to say it was Sapphire who took the market to a new direction with it's price points, which only made the rest of us want to achieve the same goal. Before, it was all about quality, now it's all about fast fashion. People want quick, easy to wear outfits that get forgotten as quickly as last season's lawn. While we never want to compromise on quality, we also don't want to alienate our consumers. We need to keep bringing them new ideas, new prints and new cuts in order to stay ahead of the game.
Describe the Alkaram aesthetic and what we can expect from your latest collection.
We are currently reinventing ourselves, in terms of brand image and consumer experiences. From the designs and prints we intend to bring, to the layout of our stores, everything is getting a facelift.
Who is the typical alkaram studio consumer? Will audiences be accepting of the brand moving forward and reinventing itself?
The Alkaram woman is true to her roots, and the brand will never stray far from that idea. We have tried to add a little spark to each collection to see how customers react, and so far the response has been positive. Each time, we want to keep our consumers happy, while bringing options and variations for a wider market. It's a balancing act.
How important is technology and the digital landscape of Social Media in Alkaram Studio's future?
If you flow against the current, you will drown. Social media is where it's at, and we need to begin to cater to a younger audience. I know in the past it wasn't as updated, but my team now is very tech savvy and understands the importance of a digital presence. From making the web pages more interactive, to staying current on social media outlets, we are making sure our customer's stay engaged. You have to make sure to be easily accessible and reachable in a world where digital marketing is key.
Where do see Alkaram Studio in the next 5 years?
By 2020, my goal is to be the ultimate trendsetter. We want to be the number one, and I can see us being there. We have taken the brand abroad and now we can only get bigger and better.
If not fashion, what field would you have gone into?
There was never any other calling! I have always known this is what I wanted to do.