From finding escape in exercise to being the ultimate perfectionists, see what makes these two talented and artistic minds come together as an unstoppable dynamic duo
HOW I GOT INTO THE INTERIOR DESIGN FIELD:
Arsalan: I was born with an innate sense of interior styling; it was my calling in life, my métier. I developed KOHR, my furniture brand, independently and then a few years later Muzafar and I started MKC for renovations and construction
Muzafar: I was passionate about everything beautiful, and what could have been a better way of expressing this passion than beautifying a living space? I was working as a banker in Dubai when I finally decided to quit and follow my calling.
WHAT INSPIRED ME TO START KOHR:
Arsalan: KOHR happened organically, like an artist picking up a paintbrush and never putting it down.
THE IDEA BEHIND THE NAME KOHR AND MKC:
Arsalan: KOHR means home in Pashto, so the name came as an ode to my culture. MKC is more simple and just stands for Mohiuddin & Khan Construction.
HOW I WOULD DESCRIBE MY PERSONAL SENSE OF DESIGN AESTHETIC:
Arsalan: Elegant and luxurious with a collectors eye.
Muzafar: Old school classic with an evolving taste for contemporary fusion.
I FIND INSPIRATION IN:
Arsalan: There is nothing like travel to enlighten and enlarge the senses.
Muzafar: Everything. Depends on what frame of mind I am in at a particular moment.
WHEN IT COMES TO WORK, YOU CAN MOSTLY FIND ME WEARING:
Arsalan: Anything casual. I only dress up for major new clients!
Muzafar: I like to dress up, so it's usually an amalgamation of my formal and casual wear. Even though my mornings start with site visits, I'm always wearing formal shoes.
MY FAVORITE THING TO PROCRASTINATE WITH IS:
Arsalan: KOHR's Instagram page. Every like gets me excited.
WHEN ALL ELSE FAILS, I…:
Arsalan: Go to the gym or reach for a glass of red.
Muzafar: Go for a run.
WORK QUALITY I AM MOST ADMIRED FOR:
Arsalan: Invisibly working, always.
Muzafar: Taking efficient decisions.
WORK QUALITY I AM MOST HATED FOR:
Arsalan: Checking finishes at the last stage, and then re-checking over and over till I'm happy.
Muzafar: My passion for finishing a project and moving on to the next one.
FOR LUNCH I EAT:
Arsalan: A sandwich or a salad.
Muzafar: It's usually nuts and yogurt.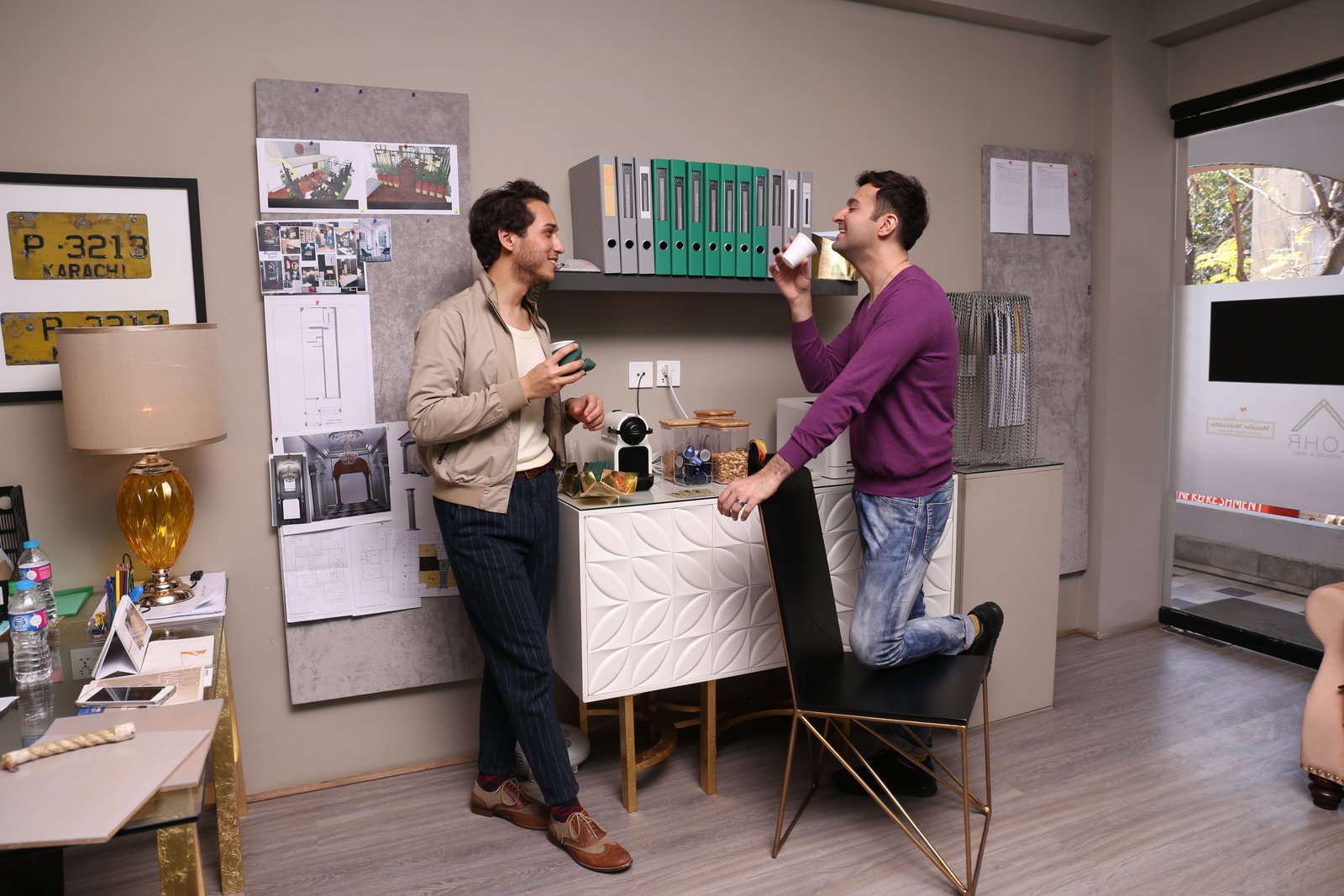 COOLEST PART ABOUT MY JOB:
Arsalan: Watching my creations come to life is like giving birth.
Muzafar: I get to express my mind on so many different platforms.
WORST PART ABOUT MY JOB:
Arsalan: Working 24/7. And when I'm not working, I'm thinking about work or secretly wanting to talk about work!
Muzafar: Polishing my shoes before getting into the car after every site visit.
ONE PROJECT I REGRET WORKING ON:
Arsalan: As the quirky Edith Piaf said "Non rein de rein! Non je ne regrette rein"
Muzafar: None whatsoever, as every project ends up being a learning experience.
ONE DESIGN RULES I LOVE TO BREAK:
Arsalan: Less is not always more!
Muzafar: Nothing has to match. Variations lead to development of great things.
MY FUNNIEST CLIENT EXPERIENCE:
Arsalan: Clients discussing changes behind their significant others backs!
Muzafar: Clients arguing amongst themselves when it comes to selection.
MY WORK ROUTINE ON A REGULAR DAY:
Arsalan: I'm in the office most of the day, supervising our interior designers and architects, and overlooking designs.
Muzafar: I am all over the place; meeting potential clients, dealing with existing ones, going to site visits and endless material selection gulps my day.
HOW WE DIVIDE WORK ROLES:
Muzafar: Arsalan does the designs and I handle the number.
HOW WE DEAL WITH DISAGREEMENTS:
Arsalan: We aren't sneaky, which makes communication easy! We know we have each other's back.
Muzafar: We are very vocal and always speak our mind, which solves all issues immediately.
THE BEST PART ABOUT WORKING WITH MY PARTNER IS:
Arsalan: We both have a killer work ethic and drive for success.
Muzafar: The fact that our work philosophy is very much on the same page.
ADVICE FOR A YOUNGER ME:
Arsalan: Use sunblock, eat less and work out more!
Muzafar: Be thick skinned.
SOMETHING THAT SURPRISES ME ABOUT THE INDUSTRY:
Arsalan: The lack of quality that certain people deliver, and how clients are so impressed by it. The blind leading the blind!
Muzafar: How people don't fulfill their commitments.
IF I COULD DECORATE THE HOME OF ONE CELEBRITY, IT WOULD BE…:
Arsalan: Yves Saint Lauren's Paris timeless home.
Muzafar: Lilly Safra's Leopold Villa. Even the tiniest part of it would do.
PERKS OF OWNING MY OWN BUSINESS:
Arsalan: Quality! We can make sure our vendors deliver and understand how specific we are with our finishes.
Muzafar: I can extract the quality of work I desire from so many people around me.
MOST MEMORABLE EXPERIENCE FROM MY CAREER:
Arsalan: When KOHR showed at Decorex International in London last year.
Muzafar: How a big construction related company welcomed me at their factory in China.
MY ALL TIME FAVOURITE DESIGN PROJECT:
Arsalan: Its somewhere in the future I feel. I am never 100% happy and I know my work can always be more amazing.
Muzafar: A residential bungalow designed amongst rolling hills in Haripur.
UP NEXT AT WORK, I AM MOST LOOKING FORWARD TO:
Arsalan: A 1920's inspired restaurant with a contemporary twist that we are currently working on,
Muzafar: The art deco restaurant in Islamabad!
PHOTOGRAPHY AFFAN JAMIL