Anusha Bawany chats with the two talented young minds, Bushra Parekh and Aminah Mirza Khan, behind Karachi's hot new activewear brand
WHAT INSPIRED YOU TO LAUNCH PEACH? WHERE DID THE NAME COME FROM?
AMINAH: We initially wanted to launch a lingerie and nightwear brand, as we felt there was a great demand for it in Pakistan. However, with time and with our own increasing interest in fitness, we realized there is also a lack of fun yet affordable sportswear. Hence, we decided to expand and create a line of fitness wear as well. A few names were suggested by friends and family members, and the term Peach just clicked! After that my heart simply refused to settle on any other name.
BUSHRA: We have always struggled to find what we needed in Karachi, in terms of sportswear, lingerie and nightwear. For years, we complained and brought each other stuff when one of us travelled, and then it came to us: why not just fill the gap ourselves? Our brand is about little luxuries that are sweet, delicious and comfy – hence the name Peach.
TELL US A LITTLE ABOUT THE BRAND:
AMINAH: We've designed a collection of trendy yet timeless pieces, with a prime focus on quality. I would describe our products as practical, fun and affordable.
BUSHRA: Our whole collection is based on letting people feel comfortable and beautiful in their own skin. We pick colours that energize and encourage women to be bold about their bodies. I would describe our products as comfortable, playful and vibrant.
HOW WOULD YOU DESCRIBE YOUR PERSONAL STYLE AESTHETIC?
AMINAH: I like to keep it classy and elegant.
BUSHRA: I'm from a family of four sisters, so very early on I found my individual style aesthetic! I'm drawn to bold colors while remaining causal and comfortable – really anything that compliments my loud personality!
WHEN YOU DESIGN A PRODUCT, YOU FIND INSPIRATION IN…
AMINAH: I can get inspiration from anything around me. It could be a current trend that fascinates me, or a random object that catches my eye. I design products that I would want in my own closet.
BUSHRA: My inspiration comes from the people and personalities around me. When I'm designing a product I try to imagine it matching different styles and persona's, not just mine, and that's always my starting point.
YOUR FAVOURITE CREATION SO FAR:
AMINAH: The Galaxy sports bra has to be my favourite. It's quirky, yet chic and super comfortable.
BUSHRA: My favourite creation is Sparkles from our lingerie line, which is exactly that- sparkly underwear to make you look and feel good!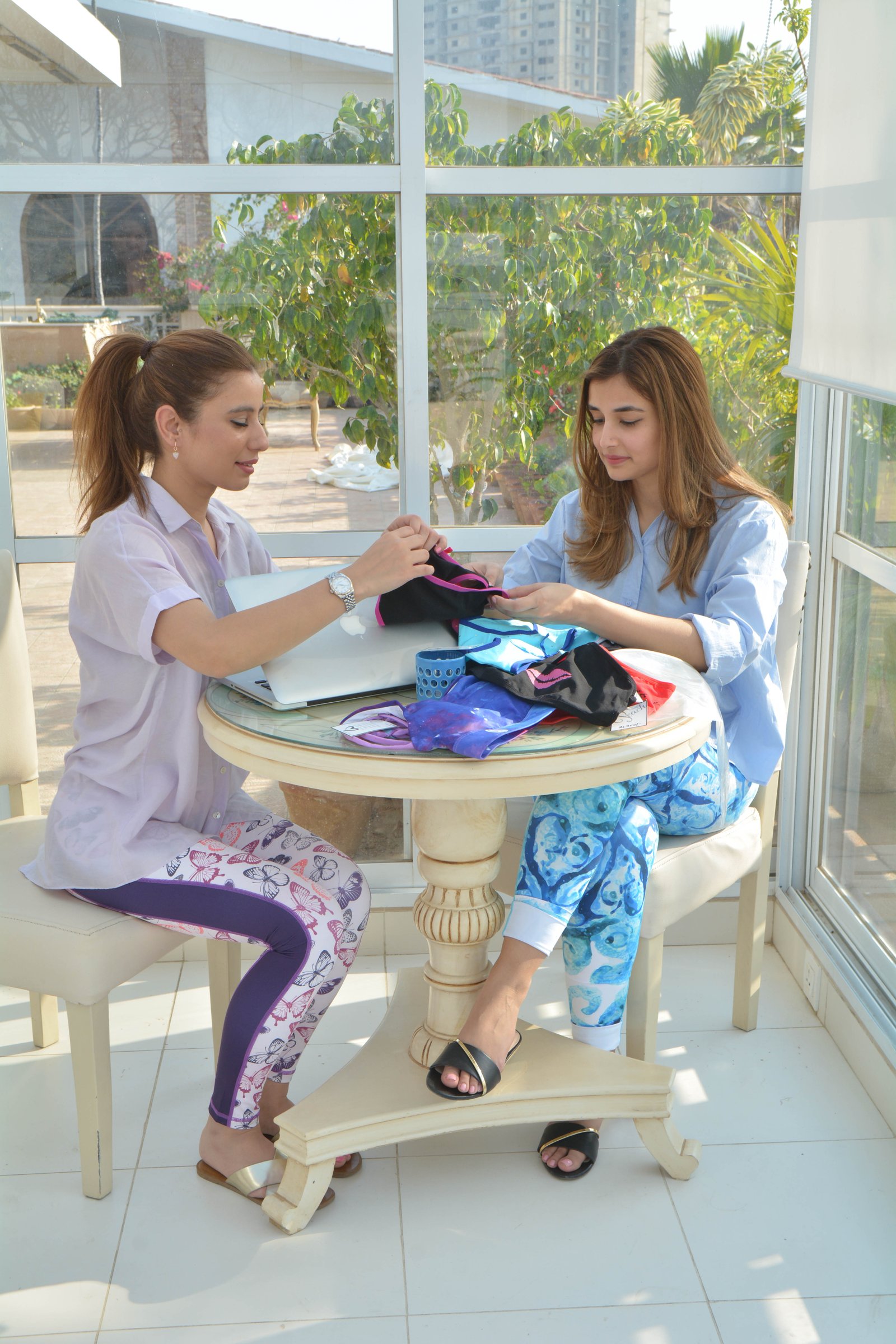 HOW DO YOU DIVIDE WORK RESPONSIBILITIES?
AMINAH: I'm responsible for procurement and finance, while Bushra handles marketing and PR. As for the products, we design them together!
PERKS OF OWNING YOUR OWN BUSINESS:
AMINAH: I always found it very hard to work under people, as my personality just doesn't allow it. Hence, for me, the best part of having my own business definitely has to be not being answerable to anyone. I love the freedom that it allows me to work to my full potential. Obviously, all the responsibility brings with it immense pressure which may become stressful at times.
BUSHRA: The freedom to do what I want with it! I love being able to channel my personality and energy into the brand without having to answer to someone else about it.
WHAT ARE THE PROS AND CONS OF BEING YOUNG FEMALE ENTREPRENEURS?
BUSHRA: There are only pros about being young females starting our own business. We consider this our strength, as we are versatile enough at this age to be able to connect with diverse clients. We have the energy to drive the business in the right direction and a raw passion for the same! When we were entering this business we were told that, as young females, we wouldn't be taken seriously and this con would weigh us down, but we learnt early on to never let our age or gender get in the way.
IF YOU COULD DESIGN A WORK OUT ENSEMBLE FOR ANY ONE CELEBRITY,WHO WOULD IT BE AND WHAT WOULD YOU MAKE THEM?
AMINAH: I'm a huge Bollywood fan so it'll have to be for my absolute fav., Bebo aka Kareena Kapoor. She could wear anything and make it work.
BUSHRA: Gigi Hadid! It would be so fun to design her wedding night lingerie!
BEST ADVICE YOU EVER GOT WHEN STARTING UP?
AMINAH: You will face hurdles and you may even fail at times, but don't let that bring you down. You just need to be ready to get back up and make sure you give it your 100%. The rest is upto God.
BUSHRA: The best advice I got was from my sister: she told me to jump off the ledge and take chances. I'm very calculated and practical, so she literally had to push me to dream big!
UP NEXT, WHAT ARE YOU MOST LOOKING FORWARD TO?
AMINAH: We are planning on expanding all of our lines; nightwear, sportswear and lingerie. We plan on introducing sleepwear sets as well as T-shirts and tank tops for working out. We're also working on a line for men.
BUSHRA: We want to expand and introduce more fun products to our existing line, as well as products like water bottles, yoga mats and other essential accessories!