Taskeen Zahra reports back from Lahore's hot new Pan-Asian eatery, TAO.
After winning over the hearts of foodies in Karachi, TAO finally opened its doors in Lahore. I had patiently been waiting all week to try it out for myself, and my taste buds were sure glad I did!
Ambiance
Eateries these days are hustling and bustling, with tightly packed seats that make you feel like you're back in your school cafeteria! At TAO, the tables are placed evenly throughout the space, to make sure you enjoy your meal without the fear of eavesdroppers (because lets face it, we've all done that at some point). Keeping in line with their minimalistic and intimate atmosphere, TAO opted for the soothing background sound of cascading waterfalls as opposed to generic booming music; making it the perfect spot for an intimate catch up with family and friends.
Dig In
Hot and Sour vs. Tom Kha Soup
The Hot and Sour soup is always a favourite, and TAO nails the ingredients right down to a T. For traditionalists, this soup is a safe play, but for those that love bona fide Thai food, the Tom Kha soup is an absolute must try! Tom Kha is known for its intense, aromatic flavours and its rich and creamy coconut infused broth. The one served at TAO is divine, authentic and hits the spot just right! Aroi Mak Mak! (That's Thai for "Deeeeelicious")
Hot & Sour Soup: 7/10
Tom Kha Soup: 8/10
Prawn Tempura vs. Dynamite Prawns
Everyone is a huge fan of Prawn Tempura, as it's a classic appetiser enjoyed by all. These crispy battered jumbo prawns are a seafood staple, but they had some fierce competition from the Dynamite Prawns (which, I must admit, stole the show)! Lightly battered, tossed in a red, fiery aioli sauce, served on a bed of lettuce and presented in a cool cocktail glass, the Dynamite Prawns were the clear winner. Cheers! (The halal way, of course).
Prawn Tempura: 7/10
Dynamite Prawns: 8/10
Boneless Nana Wings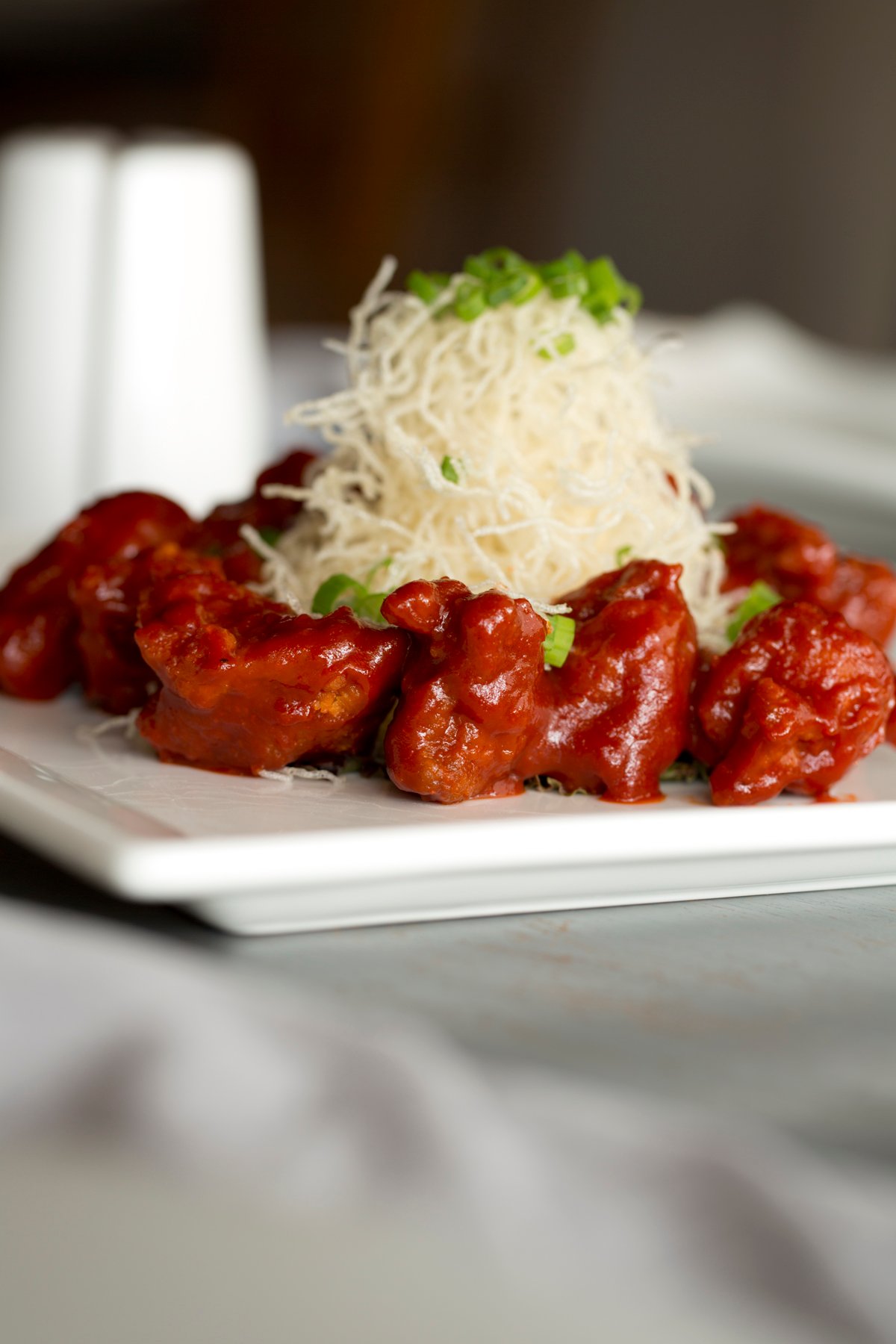 Who doesn't want the soft flavourful meat of wings without going through the hassle of gnawing and struggling to chew the meat off of the bone? TAO's Chicken Nana Wings bring you the best of both worlds. Mind-blown? Mine definitely was! P.S. The sauce and sesame seeds addition perfectly balanced the flavour of the chicken.
Boneless Nana Wings: 9/10
Cashew Chicken vs. Crispy Beef
By the time we got to the mains, I was full to the brim. But that wasn't going to stop me! One of my favourite Thai dishes has always been the Cashew Chicken. Tender meat, served with roasted cashews that add the perfect crunch to a dish full of Asian spices and flavours. You definitely won't be sorry for adding this to your order! However, if you're a hard core meat lover and want something a little more hearty, then the Crispy Beef is the one for you. Wok-fried with oyster sauce, bell peppers and scallion sticks; this beef undercut is the best dish I've had in any Pan Asian restaurant hands down. With a sprinkle of sesame seeds, the right amount of crisp on the outside and succulent and tender beef on the inside, this dish was absolute perfection.
Cashew Chicken: 7.5/10
Crispy Beef: 9/10
Pat Pit Kai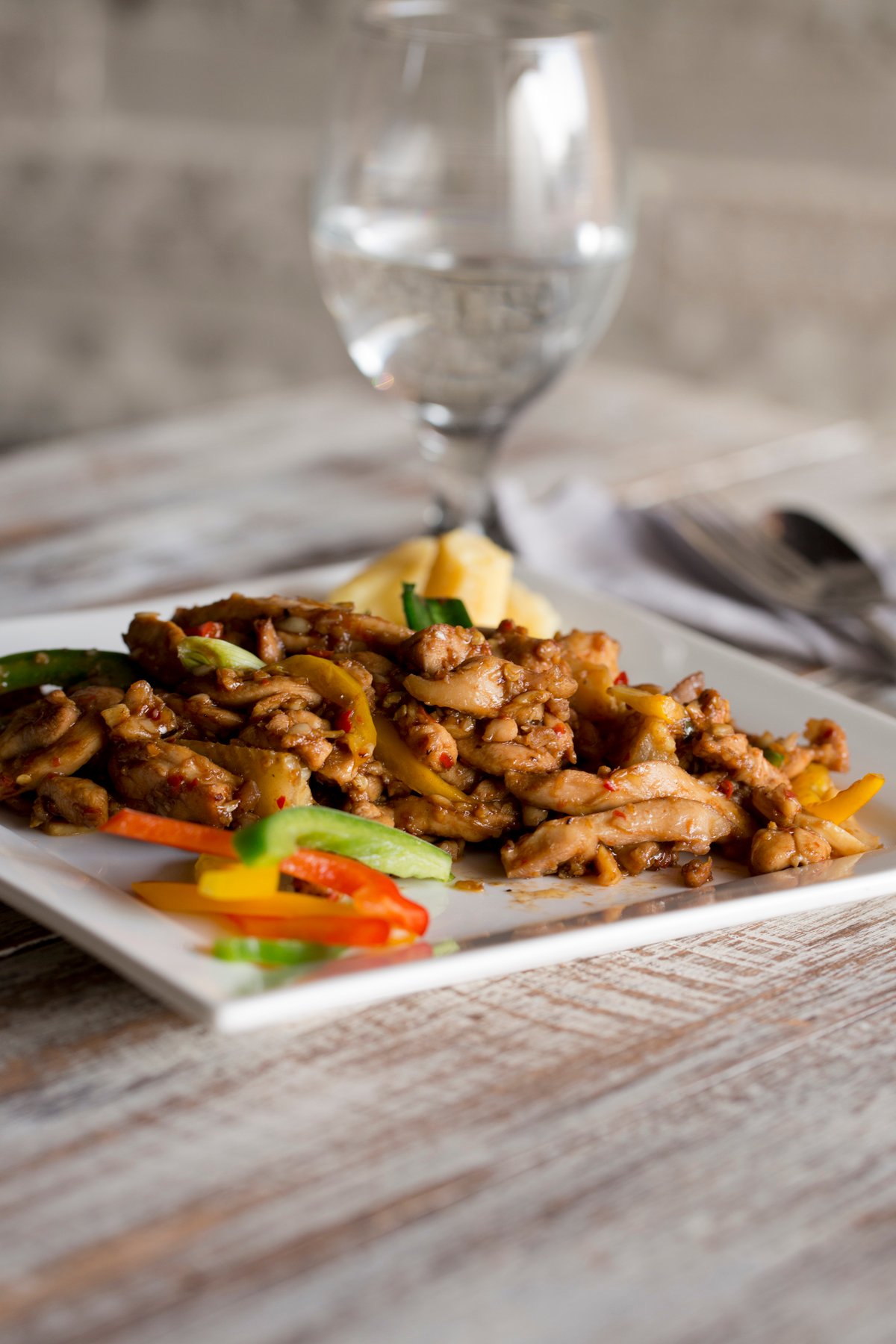 Normally, I'm not a fan of blending sweet with spicy, but the Pat Pit Kai at TAO sure changed my mind. The boneless chicken strips tossed in TAO's special sweet chilli sauce with bell peppers and scallions, created a truly memorable dish. The aromatic spices and garlic added the final dose of flavour, making it absolute perfection. Nom Nom!
Pat Pit Kai: 7/10
Overall Experience:
The cuisine was splendid as was the service and quality of food. My only regret was not having enough room in my tummy to try the sushi menu (sniff). Oh well, that serves as an excuse to go back again for more, much more FOOD!