Cinema enthusiast, Faiz Khan reviews Amir Khan's latest release
The film opens with a shot of an archaic television sporting a blurred black and white screen in the middle of a government office in Haryana. Moving swiftly to the roof, a man is seen perched precariously holding the antennae in a particular way to ensure reception. A younger burly pretender baits an older pot-bellied colleague Mahavir Singh Phogat (Aamir Khan) leading to a wrestling bout in the office itself, the fight juxtaposed with the television commentary in the background. This simple yet brilliant representation of India's obsession with sport and the extent to which it permeates within sets the tone for an inspirational tale, laced with humour and plenty of punch to leave its audience spellbound and entertained in equal measure.
Dangal is inspired by the life of Mahavir Singh, an aspiring wrestler from Haryana, winner of national gold medals but unable to pursue his passion as it doesn't allow him to make a suitable living, an indictment on the lack of money and support for sport on a governmental level, he exchanges the wrestling arena for a desk. Phogat lives with the hope that one day, his "son" will realise his dream, only to have four daughters in quick succession. In our fiercely patriarchal society, it is inconceivable that a girl can achieve anything for herself and Dangal drives this sexist message home subtly but with the force of a sledgehammer. It soon dawns on him that his two elder daughters have a "fighting spirit" which sets them apart from the norm and driven by his passion for achieving a gold medal in the international arena, Phogat sets about breaking the gender bias and prevailing sexist attitudes of the village by training his daughters Geeta and Babita towards a path of wrestling, a sport traditionally seen as one for men only.   Phogat forsakes everything, job included and demands unconditional surrender by his girls, often to the ridicule of the village but remains focussed in his endeavour to realise his unfulfilled dream. Gradually, the trio work through many trials and tribulations in their quest for glory.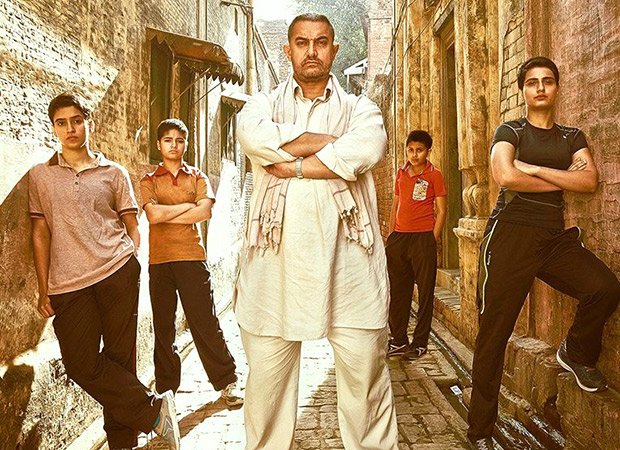 Dangal is a film that works on several levels. On one level, it is your definitive sports film, meticulously charting the progress of its protagonists towards their goal, a "chariots of fire" for wrestling. On another level, in an age where female infanticide and honour killing continue to resonate from all corners of the Asian sub-continent, it takes pride in its female protagonists, deriding gender bias and the stereotypes that society has mandated be thrust upon women. Ultimately, it is a film about determination and valour, honour and self-belief.
Nitesh Tiwari is not a director who has ever sparked any great interest through his body of work consisting of Chillar Party and Bhoothnath Returns, which makes Dangal all the more remarkable. Working with an extraordinary script, Tiwari keeps this juggernaut firmly on course, never deviating from his route or the journey that the characters traverse in the films narrative. There are no sub-plots, no superfluous characters and barring the villainous twist towards the climax, the film flows without lapsing into melodrama or surrendering to formula. In fact, Tiwari manages to propel his film along with a healthy dose of humour, a nod to the four writers of the film. The film reeks of realism seldom seen befitting of a film of such a large canvas and boasts of a cast primarily of unknowns, from Sakshi Tanwar who plays Phogat's wife to the four girls, Zaira Wasim, Suhani Bhatnagar, Fatima Sana Shaikh (a doppelganger for Priyanka Gandhi Vadra) and Sanya Malhotra who play Geeta and Babita at stages in their lives, all of whom are exemplary.
It is clear that the film like Dangal would not have been possible without the might of Aamir Khan, an actor so confident in his skin that he thrives being a part of a content driven film, without taking centre stage although the film is driven by his story. Grizzled and ungainly with a paunch that belies his sporty youth, he allows the girls maximum screen time taking a backseat himself. Phogat's motives are not always altruistic, his feminism not inborn but a product of his own thirst for "gold", to be quenched through the only way possible, his girls. Phogat could therefore easily be depicted as a man whose sole aim was self-aggrandisement but played to perfection by Aamir, you never feel that this is his journey alone. This is no doubt Aamir khan's "Raging Bull".
The photography never falters and the wrestling is magnificently choreographed. Pritam's music adds the necessary punch and is a welcome return to form for him.   Having been pipped at the post by Sultan, there was a danger that Dangal could fall victim to the feeling of déjà vu. Suffice to say, Dangal stands tall and ends up being the most uplifting film of the year. An unexpected gem.
Written by Faiz Khan; lawyer by profession and a cinema enthusiast.