From sushi dinners to beach trips, see what makes dynamic architects Seher Aziz and Ahmed Mian tick
HOW I GOT INTO ARCHITECTURE:
SEHER: I went to Bennington College, a small alternative Liberal Arts school in Vermont, with the intention of studying painting. Like most Bennington students, a large part of my time was spent questioning the meaning of "bliss". It was in this pastoral, idyllic setting that I met my mentor and architecture professor, Donald Sherefkin, who swiftly introduced me to Mies and Calvino, and I was forever changed. I went on to do a Masters at the Yale School of Architecture, the fiery depths of studio hell, and there was no looking back after that.
AHMED: I never sought after a desk job. Architecture allowed me to be flexible, visiting sites and locations, and at the same time allowed for time on the desk. My father, who is an artist, had friends who were in this fraternity of architects, artists or activists, which probably instilled the design gene in me.
WHAT INSPIRED YOU TO OPEN YOUR OWN FIRM:
SEHER: When I returned to Karachi I found that Ahmed Mian, a former colleague of mine from Tariq Hasan's office, had started his own firm and I knew I had to get on board.
AHMED: A strong belief to be on our own; having our own choices, taking our own risks and delving into our own convictions. Also, to do what no one else in this market was doing!
WHERE DID THE NAME COME FROM:
AHMED: Subtractive came from the core belief of sustainability, which is our mantra; to subtract the "fat" or the excess in the built environment. Modern and progressive architecture constantly strives to reduce the carbon footprint and is purely performance driven. Also colour plays an integral part for us, so 'The Theory of Subtractive Colors' also inspired me to finalize this name for our studio.
HOW YOU WOULD DESCRIBE YOUR PERSONAL STYLE AESTHETIC:
SEHER: Ahmed may disagree, but I'd say I'm a rustic modernist. I believe in straight lines, clear concepts, the expression of materials and the abundance of light and nature. I enjoy subtle juxtapositions of style and form.
AHMED: Form follows function. The aesthetic has to be driven by the questions that we are answering. And hence, I would say unabashedly modern, performance based, simple and not fussy!
I FIND INSPIRATION IN:
SEHER: The world around me. I am moved by the form of cities, and the lack of form in nature.
AHMED: Life, relationships, nature, poetry, music, Pinterest, science. The list goes on and on.
I DEFINE CREATIVITY AS:
SEHER: An imperative.
AHMED: A constant evolution of design out of which emerges, like magic, the singular answer to the question.
MY BIGGEST SUPPORT SYSTEM:
SEHER: My family and close friends.
AHMED: My family and Team Subtractive.
WHEN IT COMES TO WORK, YOU CAN MOSTLY FIND ME WEARING:
SEHER: Architects are generally critiqued for wearing too much black. In our defense, I'd like to say it's only to get out of thinking about it. So you're likely to find me in some monochromatic version of slim fit jeans and pants, with a soft button down shirt and almost always in a pair of Toms.
AHMED: Black or blue Polo t-shirts and jeans or Dockers.
MY GO-TO PLACE FOR PEACE AND QUIET:
SEHER: In Karachi it would have to be the French beach, though I don't go nearly as often as I should.
AHMED: Our office balcony with an outdoor planter, on the boat in Keamari, French Beach or anywhere in Gilgit Baltistan.
YOUR FAVOURITE TYPE OF PROJECT TO WORK ON:
SEHER: Something that allows us to rethink an existing archetype, or makes us discover a whole new one.
AHMED: Any project where the client does not restrict our imagination and instinct.
ONE DESIGN RULE YOU ALWAYS FOLLOW:
SEHER: Trust your eye. If it doesn't feel right, it probably isn't.
AHMED: Be honest to the material we use and to the environment, stay true to the clients and no matter what, be honest to the profession!
WHEN ALL ELSE FAILS, I…
SEHER: Flip it. The plan, that is.
AHMED: "Flip it" 🙂
WHAT MAKES YOUR PARTNERSHIP WORK:
SEHER: Mutual respect.
AHMED: Respect for each other's opinions and a parallel view towards our final goal.
HOW YOU HANDLE DISAGREEMENTS:
SEHER: Through conversation, and over sushi. Sushi makes most things better.
AHMED: Over a good meal!
WORK QUALITY YOUR ARE MOST ADMIRED FOR:
SEHER: My relentless pursuit of perfection.
AHMED: Attention to detail.
WORK QUALITY I AM MOST HATED FOR:
SEHER: My relentless pursuit of perfection, even though I'm not sure "perfect" exists.
AHMED: Accounting and numbers! Fortunately, Seher is brilliant at this!
YOUR PROUDEST WORK MOMENT:
SEHER: We found out about an urban scaled competition which involved designing a park at a gateway to Karachi, just 24 hours before the deadline. The project allowed us to re-imagine what the first impression to our city could be. We decided to participate despite the short time frame we had, and the whole office got on board to help meet the deadline. The end result was pretty great, but even more than that, to see the team come together and give it their all was a very proud moment for me. High pressure, imagining new realities… It was all of the things that make architects addicted to this profession!
AHMED: Winning our first design competition back in 2013. The competition was organized by the Institute of Architects Pakistan (IAP). The brief was a campus-like building for an NGO in Islamabad. Studio Subtractive was one of the 3 winning entries out of a total of 15 submissions from across the country. We all came together as a seamless team, and it was an amazing and memorable project.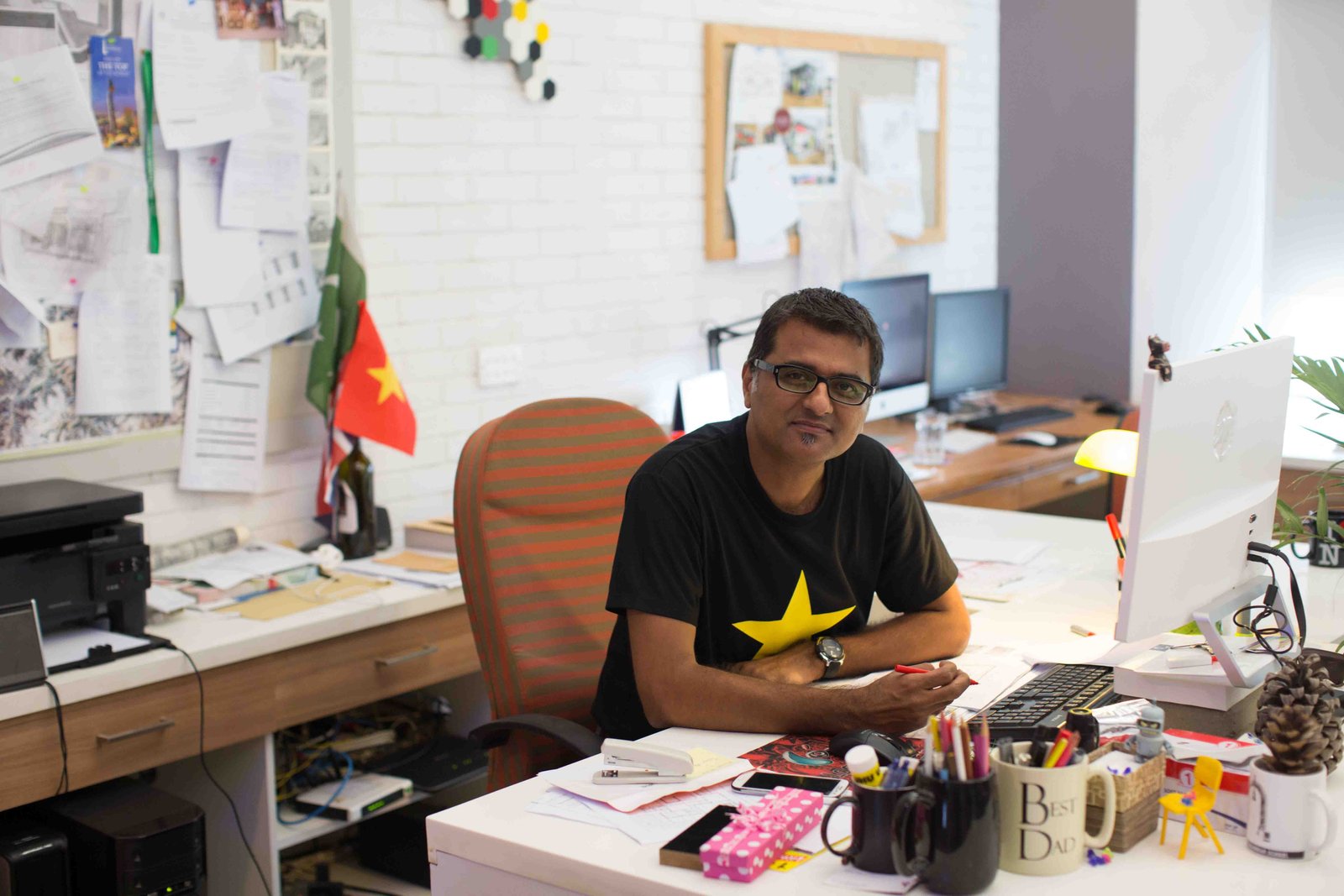 PAST PROJECTS YOU HAVE LOVED TO WORK ON?
SEHER: From its inception, Cote Rotie was conceived with a very simple thought at its essence. It was about subtle flavours blended together in an elegant, minimal yet utterly distinct manner, that both soothed and enticed its consumer. When owner and head chef Faheem Jaffer first showed us the place, the kitchen was near immaculate. His commitment to the culinary experience was evidenced perhaps by this act of unwitting, unknowing, design. The vision was simply that the space should feel like the sublime backdrop to a wonderful meal, a memory in the making. We wanted the space to feel comfortable, believable, unfussy and minimal, yet with a distinct unavoidable flavor. Our material choices thus, and the design of each element there was intentionally curated to feel almost found, rustic and at times a bit random. Almost all the elements used were locally sourced or manufactured by our craftsmen, leaving just enough room for it to grow organically with the passing of time.
Another project that I really enjoyed working on was the Muse boutique on E street. The space we were given was limited in size, in fact it was tiny, and the brand is quite larger than life in its design ethos and commitment to details. Muse represents something reminiscent of a Parisian aesthetic, and as a result, in retrospect the small size actually worked to our advantage! Much attention was given to the detailing whilst incorporating an edgy facet into an otherwise classic design. I think the reason I particularly loved working on Muse was because it defined the aesthetic that I naturally gravitate towards, something that looks to the future, comfortably grounded in its understanding of the past.
AHMED: Mews Café has to be one of my favourite projects, as it really pushed the boundaries of restaurant design in the local market. It was and is a very successful project. To us, it also represents the successful use of a steel and load bearing structure; which many people here are still hesitant to try.
COOLEST PART ABOUT BEING YOUR OWN BOSS:
SEHER: Being able to test out your own ideas and how to present them.
AHMED: Everything!
WORST PART ABOUT YOUR JOB:
SEHER: Negotiations. they are a nightmare.
AHMED: The constant fear of not having enough "meaningful" work.
YOUR WORK ROUTINE ON A REGULAR DAY:
SEHER: I'm all over the place, literally… Between site visits, design meetings and meeting new clients, I don't know where the day goes. Running your own business is a full time job.
AHMED: By 10. AM I'm in the studio and I usually leave by 8.30'ish PM out of the studio. That is my life 6 days a week…It's hectic and tiring, but I love it!
ADVICE FOR A YOUNGER YOU:
SEHER: Stay in Germany longer. They really know their stuff.
AHMED: I should have accepted my admission at the Art Center College of Design in Pasadena, California.
HOW YOU BALANCE WORK AND MY FAMILY:
SEHER: I've never been very good at balancing work with anything.
AHMED: I think my family suffers from the imbalance, specially my little Rohaan.
YOUR WORST CLIENT EXPERIENCE:
SEHER: I can't even…
AHMED: Was a loud mouthed and an unethical person! Enough said
IF YOU COULD MAKE A HOME FOR ONE CELEBRITY, WHAT STYLE WOULD IT BE AND FOR WHOM?
SEHER: Tom Ford. I feel like it would be immaculate. Or Alexander McQueen, becuase I'm fascinated by Savage Beauty.
AHMED: Probably for Salvador Dali. The style would be surreal and one of a kind.
IF NOT AN ARCHITECT, YOU WOULD HAVE BEEN:
SEHER: A full time painter, or a hairstylist… Or a men's suit maker. (Tinker, tailor, solider, spy!)
AHMED: A commercial airline pilot, Bruce Lee or a naval officer.
UP NEXT AT WORK, YOUR ARE MOST LOOKING FORWARD TO:
SEHER: I'm looking forward to making all kinds of new and innovative things.
AHMED: The completion of several projects that we have been working on for a while now.
Photography Jaffer Hasan