My first taste of the legend of "Mirza Sahibaan" came in the form of a song in the 1975 film Pratiggya, the Lata-Rafi duet "Uth neend se mirziya jag ja, teri sahiba kare pukar…" not the most popular of ditties but one that has remained with me over the period of time, primarily for incandescence of Hema Malini playing Sahibaan to Dharmendra's Mirza albeit briefly for the song. We now have the full blown reworking of the legendary tale by Rakeysh Om Prakash Mehra working in tandem with the revered Gulzar. Given the collective baggage that both bring with them, it is somewhat surprising that Mirzya is a veritable disaster, a heavily loaded barge that sinks even before it sets sail.
Reminiscent in style to the iconic Rang De Basanti, the film follows a parallel track, opening as it does in some remote village in Rajasthan where the story of two little hand-holding 7 year old friends takes the form of a stirring love story. It's all gooey and rather bilious, expected as one is to digest this pre-puppy love simply because we are ostensibly dealing with a legendary folk tale. It all ends badly and the foundation set for a stirring doomed love story! What's actually galling is that the legendary story has a much more interesting premise and the updating of the tale to contemporary times simply does not gel, weakening rather than strengthening the foundation upon which Mr Mehra seeks to build from. If this is unpalatable, we move to the parallel track to the incredible valleys of the unknown, of a time in the past, possibly even the dark ages where men with Nordic features, riding on horseback, shoot CGI arrows at exploding targets. Our hirsute and rather unkempt hero glides on his horse catching the attention of our leading lady, all eye liner and a Mesopotamian wannabe. Arrows fly with the Nords in pursuit as we establish the parallel lovers, no doubt, another doomed pair. Slow motion, silent except for the oft interjection by Daler Mehndi lamenting the fate of Mirzya and set against valleys with foliage and no architecture, it does feel like Kurosawa's "Ran" has just had a segment spliced from it and updated into a modern day "Game of Thrones".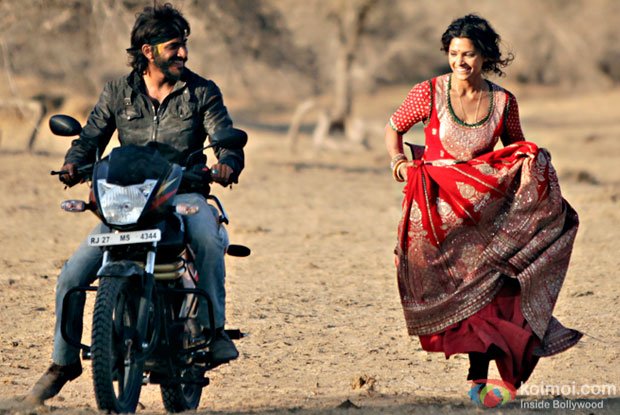 Oscillating back to the present, our leading lady Suchitra (Saiyami Kher), returns from abroad and hot foots it into the arms of her chosen prince (Anuj Choudhary), a rich and charming if overly possessive poster boy, created simply to emphasize that "love is blind". Which is obvious given that our hapless leading lady takes a shine to the stable boy (Harshvardhan Kapoor), a Galen look alike and bombards him with stories of childhood "friend" for no apparent reason until the truth finally dawns on her. One sweaty clinch in the barn and a midnight tryst in the hay cements the union, the first steps to their inevitable doom.
Mirzya's biggest fault lies in its failure to convert the legend into an engrossing contemporary tale, following an oft-trodden clichéd path with a screenplay by Gulzar which is neither interesting nor engaging. Stunning visuals and a burst of folk dancers gyrating to music at unseemly intervals do not make for a contemporary tale. This is not Moulin Rouge and Mehra clearly aspiring for a contemporary poetic elegy ends up as a film that is remarkable for its lack of passion and genuine emotion. Bhansali, with all his operatic pomp may have done a better job.   Saiyami Kher, resembling what a soufflé of Bipasha Basu and Kajol would look like, is wooden and makes little of a badly written role. Sadly, Harshvardhan Kapoor tries to underplay to such an extent that he ends up making no impression at all, the saving grace being that when he has no dialogue, you get the feeling that there may be a greater depth than is on show here. If one is relieved that a launch vehicle doesn't feature a six pack and breakdancing in dream sequences, there is the other extreme of making a debut where you are so magnificently ordinary that your biggest achievement is that someone may comment that "he looks like Dhanush"!!! On the other hand, Anjali Patil steals every scene she has and Art Malik, perhaps the most senior actor on the film probably feels that his British background in cinema and television allows him to give what must be the most overblown and preposterous performance seen buy a reputed actor in recent times.
Sadly Mehra's attempted poetic and visual odyssey ends up as an empty vessel, with only the remnants of Gulzar's poetry and the evocative folksy score by Shankar Ehsan Loy to savour.
Written by Faiz Khan- a lawyer by profession and a cinema enthusiast by night.