We catch up with the two talented ladies Saniya Hassan Ellahi and Asma Waqar behind Lahore's go to sweet spot, Sweet Affairs. From their passion for good food to their multitasking skills, see how these sisters are baking up a storm!.
HOW I GOT INTO BAKING:
SANIYA: I took a short baking course in Dubai to pursue my hobby, and honestly because my mother wanted me to be good at something! It turned out to be a really good decision because some of our family friends loved my desserts and started placing orders.
ASMA: Baking got into me actually, when I tried my sister's desserts that tasted so amazing! All I ever do with baking is guide Saniya, give her ideas and encourage her to do more and more.
WHAT INSPIRED SWEET AFFAIRS:
SANIYA: Orders starting pouring in and soon enough, I was catering to weddings. One day a customer called to place a massive order, and asked for it to be packed up in boxes with my brand name on it. Now, we needed a name to put on the box! So, quite randomly, sitting with a group of close friends, we came up with Sweet Affairs, never imagining that it would turn into the company that it is today.
ASMA: My love affair with food and the need to experiment with it.
HOW I WOULD DESCRIBE MY PERSONAL STYLE AESTHETIC:
SANIYA: It changes with my mood. One day,I'll  be wearing a traditional chicken kari with khussa's (I am very Bollywood at times) and the other I'll put on jeans, a shirt and sneakers. Most importantly, it has to be comfortable. I love makeup, so the cherry on top of my dress of the day is always an eye catching lipstick!
ASMA: Extremely casual and comfortable.
I FIND INSPIRATION IN:
SANIYA: Women who work hard despite their personal workloads! Also, TV cooks like Jamie Oliver and Nigella Lawson (because she looks so good while she bakes) which is my unfulfilled agenda of the day till date. Exotic foods, of course, make me want to do so much more with my café.
ASMA: Everything that gives me hope; it can be as small as a drive on a rainy day, a toddler smiling at me or even when I taste something for the very first time. Anything and everything simple and beautiful can inspire me.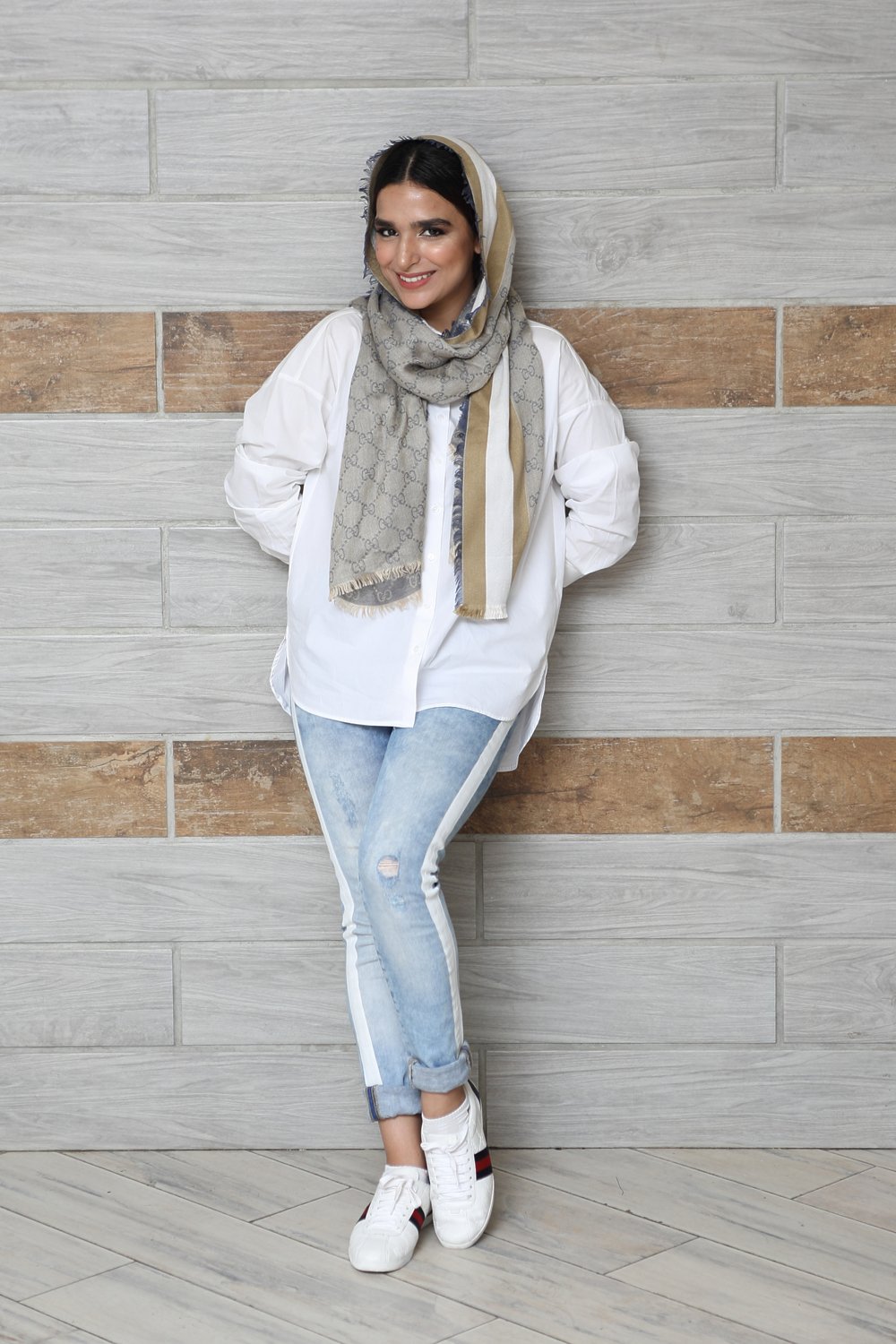 I DEFINE CREATIVITY AS:
SANIYA: Creativity is doing the impossible, overcoming obstacles, extracting the purpose out of an ingredient by combining it with something, which would otherwise make it dead.
ASMA: Remaking something that's being done again and again, but doing it in an entirely different way. Finding my own way to do something in the mundane routine of things.
MY BIGGEST SUPPORT SYSTEM:
SANIYA: My family! My sister Asma pushes me to bake when I am lazy and puts in all her energy and positivity into Sweet Affairs when I can't. My brother Yousuf, who not only taught me the principals of the business, but how to run it respectfully and ethically. My father who told me I can touch the sky, my sister Uzma who still listens to my countless complaints and stresses, and my mom, who lent me her entire basement so I could bake, and who still calls me during work to ask if I ate anything so I can be successful and healthy at the same time!
ASMA: My family, my wonderful kids and my best friend Mahrukh Baig.
THREE MUST-HAVES FOR MAKING THE BEST DESSERT:
SANIYA: For me, the hero is always quality ingredients. In Pakistan, people want good ingredients but are still not ready to pay for it. One has to fight the pressure and put in the best ingredients in the dessert. Coverture chocolate, Mascarpone cheese, pistachios and caramel are my favourite items.
ASMA: Chocolate, caramel and Saniya's touch.
WHEN IT COMES TO WORK, YOU CAN MOSTLY FIND ME WEARING:
SANIYA: Since I am always in a hurry, especially after becoming a mom, the dress in the closet that doesn't need ironing, a quick eyeliner and a moisturizing lipstick to keep me from looking tired.
ASMA: A plain top from Uzma & Afsheen and my favourite jeans from Rag and Bone.
MY GO-TO DESSERT:
SANIYA: The cookie skillet at Sweet Affairs, because it's not too chocolaty to incur a sugar overdose and I love the hot cookie with a cold bite of gelato.
ASMA: Jamoca almond gelato from Sweet Affairs and Patchi chocolates are my ultimate love!
MY FAVOURITE CHOCOLATE THESE DAYS:
SANIYA: Sweet Affairs 72% hand made dark chocolate praline with almond or the Lindt dark chocolate with almonds or Kit Kat slurp
ASMA: These days the chocolate praline with almond and rose fillings at Sweet Affairs are my guilty pleasures.
WHEN ALL ELSE FAILS, I BAKE:
SANIYA: Bread pudding! It's quick and easy, and you really can't go wrong with it.
ASMA: When all else fails, I call Saniya!
WORK QUALITY I AM MOST ADMIRED FOR:
SANIYA: I would like to think its my product knowledge. Many times people and employees try to fool me about my products, but because I am so involved in the supply, making, baking, selling and even costing of the product, it's hard for them to twist things around.
ASMA: My greatest asset is empathy at work, and my positivity. That, I feel, relaxes a tense environment.
WORK QUALITY I AM MOST HATED FOR:
SANIYA: I am very strict, bossy, annoyingly observant and I note everything down so I don't forget the assignments I've given out to my managers. I bet they hate my diary.
ASMA: I am bad at negotiating. That's where Saniya comes in.
MY PROUDEST WORK MOMENT:
SANIYA: When a customer messages me saying they loved our cakes and food! Even after all these years, it still feels amazing! Also, whenever we hit a new highest sales mark, I proudly call my father and tell him, because making him proud makes me proud!
ASMA: So we have a beautiful "Junior Master Chefs" kitchen and we love giving kids baking lessons. My proudest moment was when we called little girls from my fathers free school "Junior Leaders", who came in for baking lessons. The smiles on their faces is something I will never forget.
I LOVE TO MAKE DESSERTS THAT ARE:
SANIYA: Either very simple, like a trifle with layers of fudge or brownies and nuts, or something very complicated like macarons or a 200 pound cake!
FOR BREAKFAST, I EAT:
SANIYA: Sigh, tea! Have been meaning to replace it with a glass of milk and eggs since forever!
ASMA: A strong cup of tea with a slice of nut and seed bread from Sweet Affairs.
FOR LUNCH, I EAT:
SANIYA: I avoid lunch because it makes me sleepy during work.
ASMA: I am actually on a diet most of the time, so I pick the teriyaki fish with brown rice from the Sweet Affairs health menu and get it delivered wherever I am.
COOLEST PART ABOUT BEING A BOSS LADY:
SANIYA: I love that my employees call me Ma'am Boss! It always cracks me up. I also love people's reaction when they find out the owner of Lahore's most thriving bakery cafe is a woman. Their surprise, when they find out women today can handle so much more than society expects them to, is priceless!
ASMA: I always have an audience to entertain.
WORST PART ABOUT MY JOB:
SANIYA: It's stressful! Making sure every customer who sets foot in the café leaves happy, means that all 115 employees in my company need to be taught the importance of customer service.
ASMA: I eat too much.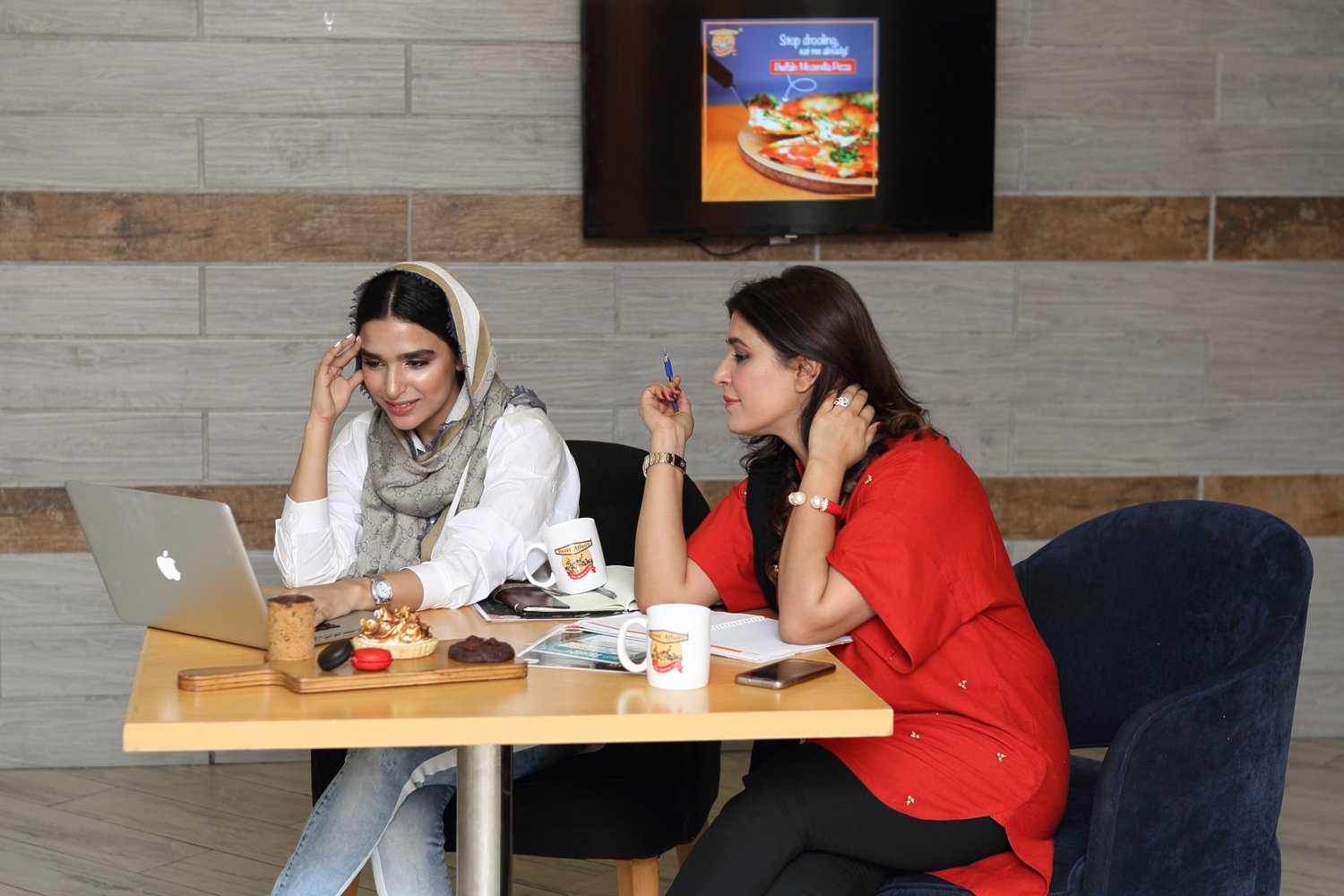 MY WORK ROUTINE ON A REGULAR DAY:
SANIYA: I reach work at 10 AM and make my way either to the Gulberg branch, Defence branch, cake production house or my accounts department! (Yes we have four offices!). I mostly end up at one of my cafes where new items need to be tested, trialed and introduced. Employees need to be trained and cleanliness has to be thoroughly checked. As I have a beautiful baby girl at home, my sister and chairperson of Sweet Affairs, Asma, now handles café operations fully while I juggle motherly and entrepreneurial duties everyday.
ASMA: I wake up early so I get to work by 9 AM, and get back before my kids come home.
ADVICE FOR A YOUNGER ME:
SANIYA: There are no mistakes; just lessons. So, don't stress, because whatever wrong happened was actually for the best.
ASMA: Believe in yourself more and start working earlier in life.
SOMETHING THAT SURPRISES ME ABOUT THE FOOD INDUSTRY:
SANIYA: That it's not all glamorous. Even a plate of fries involves a lot of hard work behind it! We need to respect the waiters, chefs and staff that we meet in restaurants more because you have no idea how hard they work to bring an experience to your plate.
ASMA: The more I travel the more I realize there are so many things yet to try, eat and enjoy. There's so much more with food one can do, with endless possibilities.
HOW I BALANCE WORK AND FAMILY:
SANIYA: I try to be patient and quick in making decisions so I don't waste time. I delegate work and, thanks to Asma, I never ever end up missing on work because she's always there to sort things out.
ASMA: Being a working mom I feel that's one of the hardest parts, but keeping the balance is the name of the game.
MY WORST CLIENT EXPERIENCE:
SANIYA: My first cake! Because I was more trained in making desserts I did not know how to properly frost a cake and make fondant, so it was a disaster! The aunty who ordered was a friend so she didn't kill me, but I felt so guilty I ended up hiring a fondant expert and it actually brought a professional touch to my work, which people loved more.
ASMA: When a customer hit one of our managers due to an issue that could have been resolved through communication. I don't understand why hard working people have to suffer for other people's impatience.
IF YOU COULD MAKE A DESSERT FOR ONE CELEBRITY, WHAT WOULD IT BE AND FOR WHOM?
SANIYA: I know who I won't make it for because he scares me so much: Gordon Ramsay!
ASMA: I would make a chocolate pudding for Oprah Winfrey.
IF NOT A CONFECTIONER, I WOULD HAVE BEEN:
SANIYA: I am an entrepreneur, not only a confectioner! Business runs in my blood because I come from a family of businessmen. However, I don't think I can do anything as well as managing my bakery café.
UP NEXT AT WORK, I AM MOST LOOKING FORWARD TO:
SANIYA: Home delivery all over Lahore, customized diet meals and giving out our first franchise – to name a few!
ASMA: Creating something new and fun by working with molecular gastronomy.