One of Pakistan's leading fashion designers, Maria B., and the coveted Swarovski brand have teamed up for a sensational collaboration. Anusha Bawany chats with Swarovki's Managing Director, Andrew Mojica, and the designer herself to learn more about this dynamic partnership:
Tell us a little about the journey Swarovski has taken, venturing into and building a name in the fashion market in Pakistan.
ANDREW: The main focus for Swarovski has always been about investing in the country's strong craft clusters. We would like to help shape and develop local and international platforms to showcase these while still keeping the core design traditions inherent to Pakistan. An example of this was the Sparkling Couture exhibition that took place last year, which Maria B was part of.
How did this collaboration between the two brands come to life?
ANDREW: Her status as one of Pakistan's most prominent designers made her a natural fit for this collaboration. This collaboration, which started in 2014, was when Maria B. officially became our first Ingredient Branding Partners in the country.
MARIA: The collaboration started when Swarovski landed in Pakistan. I've always been a fan of theirs, and have been importing their diamantes and crystals for years… But the way in which we partnered up for our unstitched formal and lawn lines was unprecedented! This was a massive move in the volume designer business for a luxury company like Swarovski and the market loved it, so we signed up for IB partnership in Pakistan! We were the first fashion house to sign in the country and  the rest was history
How does the Maria B. brand coincide with the Swarovski brand?
ANDREW: I believe both brands are similar in their dedication to achieving the best quality, along with the innovative approach we have towards design.
MARIA: I've always had a weakness for blingy, sparkly elements in design. The teaming up was a marriage made in heaven! Our formal chiffon embroidery lines were the perfect match for the Swarovski luxury items, and the added bling and luxury in lawn won our customers hearts.
How would you describe the Swarovski style aesthetic?
ANDREW: Like our crystals; premium, timeless and innovative.
What are some trends for the upcoming season you are most excited for?
ANDREW: Trends to look forward to are 3D Printing as it becomes more and more integrated for fashion. When you have been around for 120 years, you only see things grow or take a new form or shape, or give rise to the next innovation! It's a cycle.
MARIA: I'm so excited about winter! We are coming up with three collections and they are cutting edge, to say the least. Expect to see silhouettes, very little print and a western colour palette of muted tones, black and sombre greys in short tunics and boot cut pants. We will be doing a lot of boho chic jackets and pants too.
Tell us a little about this recent collection.
MARIA: Maria.B Mbroidered has been the market leader in luxury chiffon for over 2 years now.  This collection is a labour of love which took months to design. The challenge was to create affordable luxury, which sounds easy but is extremely challenging. This collection is all about celebrating every mood of a woman; from elegant to sexy to goddess like… We have it all!
What made you go with Maya Ali as your brand ambassador?
MARIA: Our brand has worked with various stars in the past and we are very big in terms of our social media presence, which helps us keep an eye for upcoming talent. Maya was just the perfect super star; she identifies with our brand image of a beautiful, confident woman who is modest and approachable. This is a rare trait for a star. Maya has blossomed as our brand ambassador. We love her and her popularity is in sync with the popularity and brand image of Maria.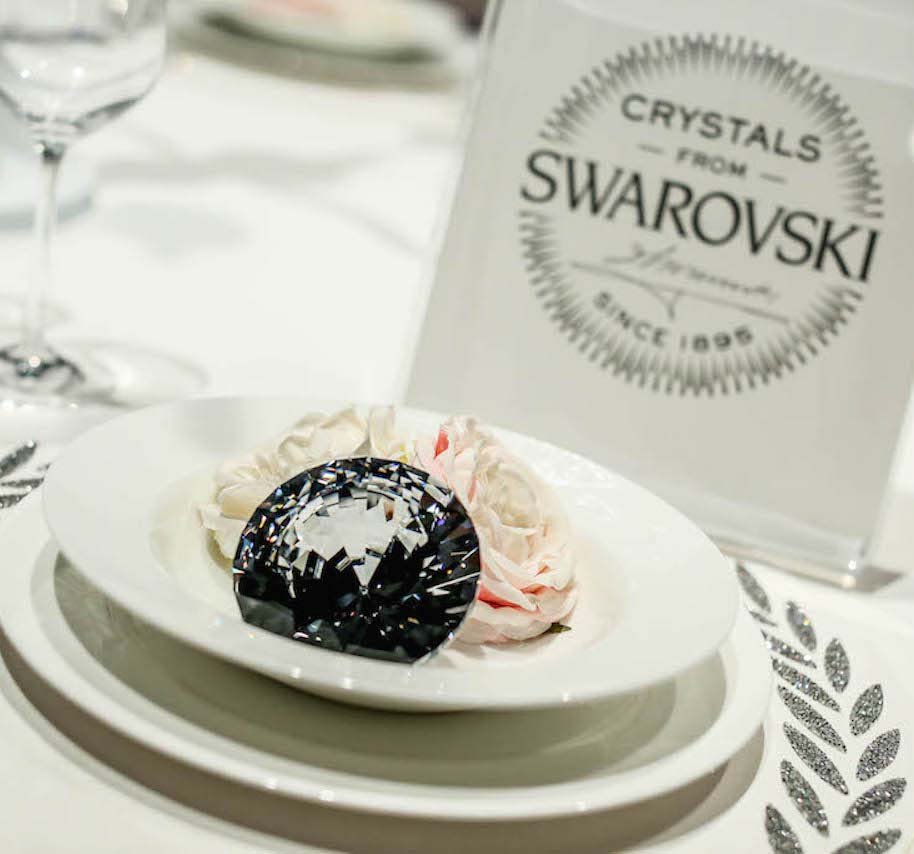 How was it shooting in Dubai?
MARIA: Shooting in Dubai was the most challenging job to date! Being a co branded shoot with Swarovski helped, because getting permissions and permits was next to impossible. I wanted to shoot at the most difficult location of all, which is almost my dream hotel, Madinat Jumeirah . Up till now only a handful of international publications have gotten permission to shoot here, most notably being British Vogue. Everyone said it was impossible, but that didn't stop us! Till the day before the shoot we were running around for various permissions and had no idea whether we would manage to do the shoot the next day! But, it worked out in the end and we are so thrilled with the result.
What was you favourite look from this collection?
MARIA: It's a tie between a classic beige jacket with baroque embroideries, which we styled beautifully with a classic bun and diamond chandelier earirngs – and the complete opposite look; a raging fuschia pink mehndi peplum outfit with teardrop emerald details and deep indigo jamavar boot cut pants.
What can we expect next from Swarovski and Maria B?
ANDREW: Good question! When the right time comes, hopefully all the Sunday Times readers will be the first to know!
MARIA: We are working on an exciting project of couture gowns to be launched on an international platform. And at home… It's all about the business of fashion! Incorporating Swarovski into not only our unstitched line, but starting an entire new range of Swarovski ready to wear evening wear along with our numerous current pret lines.