Taskeen Zahra chats with the self taught artist, Maliha Abbas, about the stories she shares through the strokes of her brush.
Tell us a little about yourself. 
I am a 20 year old self taught artist who is obsessed with stories, traveling, Photography, exploring colors and being inspired by this beautiful World that Allah has created and the souls that exist in it. I have traveled to 19 countries experiencing different backgrounds and connecting to many people all around the World.
Did you always want to be an artist? 
Well, I believe that every person is an artist and I am just trying with each piece I draw, sketch or paint to keep the artist inside of me alive every-second of everyday.
What made you want to learn how to sketch and paint? 
I have been in love with art and expressing myself through art so nothing made me "learn" how to sketch or paint, I just kept on going on on my own but yes, many people motivated me such as I have a very supportive father and husband.
What have you accomplished so far? 
Alhamdulillah, just being able to paint & draw everyday is a big accomplishment for me but I would say I have accomplished many things at many different levels through my art.
Firstly, I have build a strong relationship with a bunch of other art loves and artists, also I have made many friends through my work.
I get to tell stories through my work and I get to interact with many people. I just remembered a little story of when I had my show case in San Francisco and I displayed my Kalash series in it. A few Mexican women came up to me, praised me for my work and asked me that where are these ladies from? Are they from Mexico?", They said. and I replied that no they are from a valley in Pakistan, Kalash. They were so happy to know that some where in Pakistani culture, there are similarities to their culture and it was an amazing feeling. I feel accomplished because bringing nations closer is through my art is one of my goal. Even if I bring just one person close to another nation.
And when I travel, people ask me where are you from? and I tell them that I am originally from Pakistan. And seeing my work and the fact that I travel myself, they tell me that they thought Pakistan is poor country with villages and deserts and thought that Pakistani girls are not allowed to study or leave the house, the men oppress women. I answer them that we have beautiful villages and gorgeous deserts but we also have big, developed cities with great facilities, schools, colleges and lifestyle and I belong to one of the major cities of Pakistan myself. I also tell them about my Father and husband and how they are so supportive of me traveling, and being artist. They, then, tell me that I have changed their point of view Pakistan and that is not less than an accomplishment itself.
Along with all this, I have won a few art competitions such as the Wake Up Spring Art contest, Youth arts and literary exhibition Photography contest for the theme, Jaagen gai zaror.
I have received Medal of honor from the Peace Revolution : 1st Meditation Artistic retreat in Thaiand, selected as 1 of the 20 artist from all over the Globe. I was representing Pakistan and USA and was the youngest to be selected.
I was invited to the stage of TEDx Talks twice to talk about my journey as an artist and a traveler/explorer.
Where have you exhibited your work? 
I have done art-shows, art showcases and exhibitions in many different cities all around the globe. A few of them are Bangkok, San Diego, San Francisco, Oakland, Pacifica, London, Karachi and Lahore.
What is the most interesting thing you remember as you were teaching yourself how to draw? 
When I teach myself and while I am working on a piece, my favorite part is shading, blending and trying to figure out different things with it. So it was very interesting to see that I used to just go with the flow and as I was moving my pencil or my paint brush, it felt like that it's working on its own and I feel like that used to happen because I connect to my material. Such as my brushes, I never clean my brushes where the have paint stains as I believe that each stain has a story to it and feeling to as I was painting with this.
How would you describe your style? 
My drawing style and my painting style are completely different. When I draw, I at times focus on the features and I draw mainly to polish my skills and to develop different techniques while I paint to express myself,on the canvas, in a healthy way.
My paintings are often like a free spirited animal and I like using rich colors. Each color reflect my feelings and each stroke of brush creates a new code and a story in the painting.
So I would say that my drawing style is calm and my painting style is wild.
What is the most favorite piece of painting that you've ever made and why? 
I did an oil painting named "Peace for all" and it's one of my favorite paintings as it captures different stories with every stroke of brush. I mainly paint or draw women because my focus is women empowerment and in that painting I painting a bunch of women from different countries. Those countries that are under terrorist attack and yet are called terrorists themselves. I captured a major social issue along with a message of peace that if we stay together, we can survive this.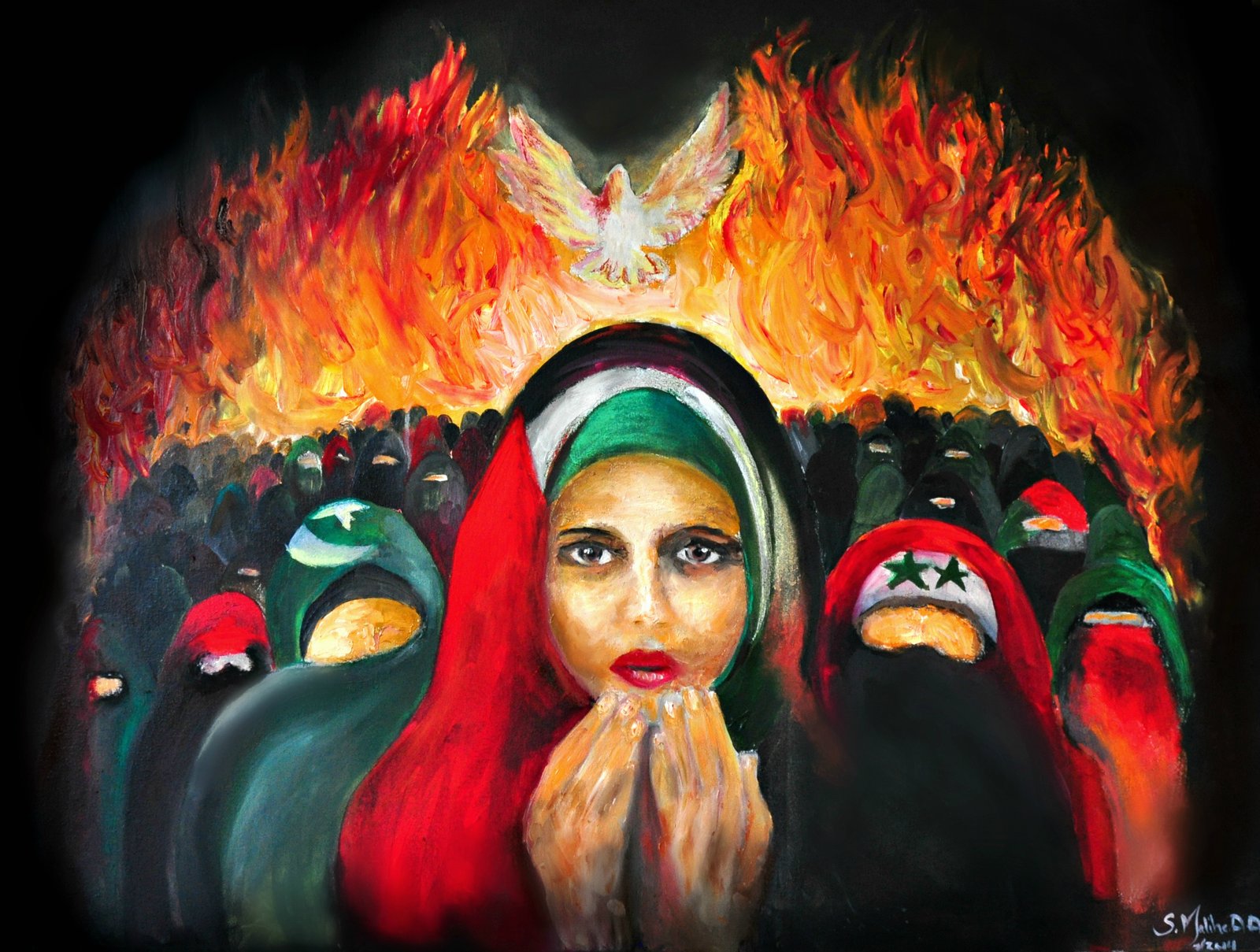 What is your go to place for inspiration? 
IÂ have two places. As I have always lived in a city near water so during morning I would like to hit the beach to spent some time catching on to some imagination n inspiration and at night I like being exposed to the open sky to get my creative juices flowing.
How important is it to experience other cultures as an artist? 
It is very important for an artist to be exposed to different cultures as I feel like artists are story tellers. Sometimes they tell their story and sometimes someone else's. So it's very important for an artist to understand the reality and the true story of a certain culture as there are many stereotypes in this World and art should be free of any negativity so I believe that when an artist learns about a certain culture and expresses it on a canvas, it doesn't only increases the knowledge of the artist itself but also the viewer.
If you could make a painting/sketch of someone -living or dead – who would it be and why? 
No name comes to mind in specific. I like capturing stories and I like celebrating the love affair of art and colors so I draw whatever inspires me.
How has your art changed you? 
I feel that art is everywhere and I am learning about it with every breath I take. With every little thing I teach myself, a new color is born in me because of my art and the art around me. So art has made my life interesting, extravagant and exciting!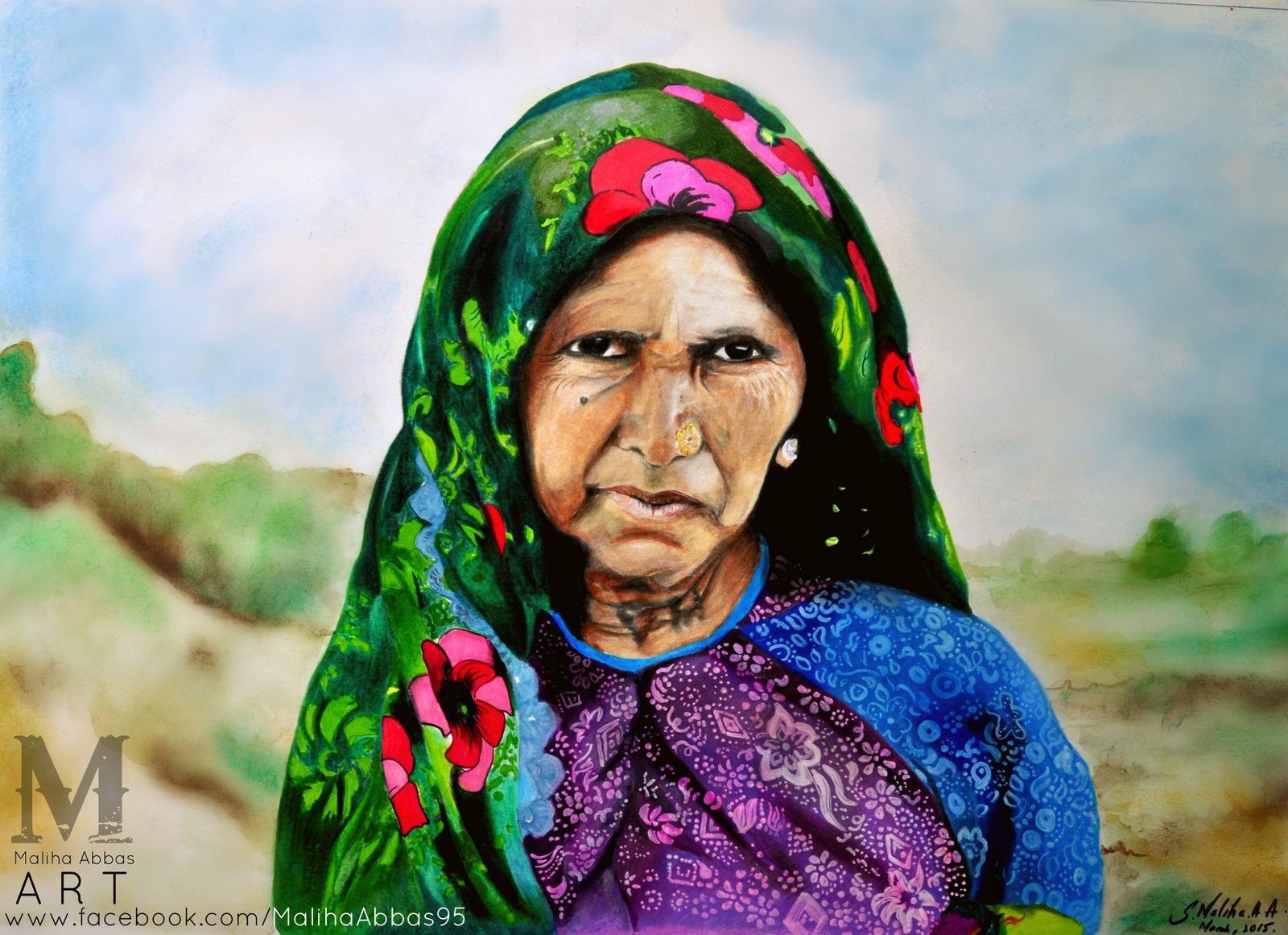 Who is your biggest support system? 
I would say my father, Mr Jawaid Abbas, and my husband, Askari Hassan. It's amazing to me to have two strong men making me feel even stronger. They help me through my time when I am feeling uninspired and remind me of what kind of an artist I am.
My father is an artist himself. As in he likes to paint, draw and create but by professional he is an engineer so him being an artist , helps me big time as we have that connection and I can very easily communicate to him. My father has raised me into an independent girl that I am today. To trust your daughter and to be so brave that you let her travel to all these country, being a father it must be hard for him but he knows it will good for me and the experience will help me grow as a person and an artist.
Askari on the other hand does not paint (yet) Â but he is creative and I have seen many people that don't think of art as a legit career or think of painting/drawing as an important thing and take it as an activity to kill time but he pushes me to be a better artist, talks about setting up an art studio once we start living together (we are nikahfied right now) and understands the artist side of me. He lets me be and doesn't judge me for being the weirdo that I am haha. It is great to have this level of understanding.
They are my motivation and I know I can fight through anything – big or small because of their faith in me. Ahamdulillah. Lucky to have them.
Where do you see yourself in 5 years? 
I see myself being an artist who is a bit more experienced, painting away in their studio, being done with 5 solo exhibitions and working on their 6th one. I see myself being an artist with grown skills and a better understanding of this field but even after all this, In 5 years, I still will be learning and will be teaching myself because art has endless possibilities.