Taskeen Zahra has the perfect slize of pizza at one of Lahore's most loved eateries
Pizza is one of those foods that no matter what the outcome, it still satisfies your craving. However, one might believe all that's necessary to make a great slice of pizza is cheese, sauce and crust, right? As simplistic as this sounds, the delectable taste of a sinfully yummy slice stems from all the little details that make those three basic ingredients come together. And so, I headed over to Delish Pizza Bar hunting for that truly authentic and mouthwatering piece of pie!
Delish Pizza Bar is a family start-up restaurant that recently opened up it's doors in Defence, Y block Lahore after the resounding success of it's Model Town branch, to cater to their ever-increasing customers that keep coming back for more. The secret behind the incredibly delectable pizzas served at Delish Pizza Bar is the owner, Salman. He holds the secret to a special pizza sauce that he picked up from the land that first invented pizza – Italy. Salman picked up on how to make the sauce and despite the presence of skilled chefs in his restaurant, he chooses to make the sauce and the dough himself to guarantee remarkable flavor for his customers. And boy, the pizzas are delish-ious! The pizza sauce is made from fresh tomatoes and Italian herbs – nothing canned is ever used – and it takes Salman 12 hours to make it in his own tomato milling machine. No wonder the sauce tastes so good!
Their novel avant-garde store has a very comfortable and friendly environment – something you're definitely looking for when you just want to kick back and relax with a large pizza and some fresh chillers, nothing short of feeling the same as Joey does about his meatball subs. The glass walls allow one to watch their pizza be made from scratch. Apart from being aesthetically pleasing, it allows to stave off any paranoia of unhygienic food/unkempt kitchens.
The menu offers a little something for everyone; they provide generous toppings and a myriad of flavours – my personal favouritewas a blend of mozzarella and goat cheese, topped with spinach and organic egg. However, a classic traditional pizza dish is a perfect way to celebrate the season's juiciest tomatoes. It really doesn't get better than this. The amalgamation of the tender and crispy crust with melted, flavourful cheese, sprinkled with fresh herbs from the garden,makes you want to eat more than your diet allows. Their pizzas are drizzled with olive oil before they are topped with their secret sauce. I also ordered the beef lasagna along with pizza, because… Well, why not? The succulent rich meat was perfectly cooked and served in layers of their signature Alfredo sauce and CHEESE! I can truly say this is the best lasagne I've had in Lahore, and I enjoyed the crunchy bits of the lasagne with my eyes closed.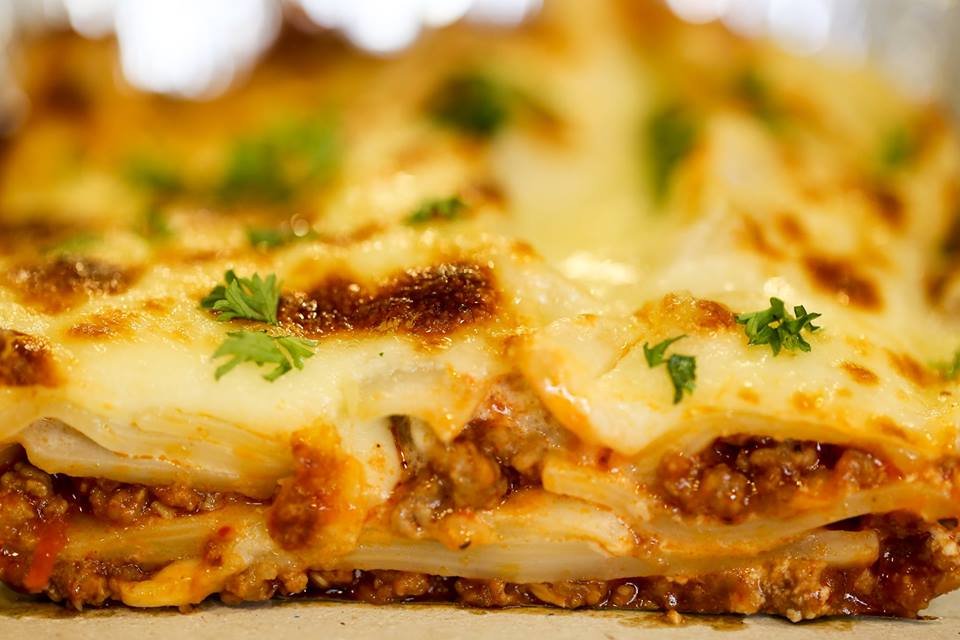 Moving on to their refreshing drinks. They have launched a new drinks menu that they have been working on for years and the Peach fruit drink is totally fabulous. . Juicing, like eating and cooking food, is a passion – but not really a simple one. The mixology of flavours requires a lot of effort, and to know what vegetables and fruits complement one another is a skill that the family chefs of Delish Pizza Bar have perfected over the years. They spruce up their drinks with a kick of ginger in their lemonade or a dash of cinnamon and cayenne pepper. Lovely!
From the very beginning, the Delish family has kept everything – from their quality and genereous servings, to their affordable rates, hospitality and customer service – up to mark. As this little business blossoms into a large scale operation in other major cities of Pakistan, you can be sure that our team will be there. After all, there is no sincerer love than the love of food.