Taskeen Zahra chats with the talented new author on the block about the journey that led to
her debut book, the perils of publishing and Chicken Tikka
Do you remember at what point in life you decided to become a writer?
Third grade. My teacher told my parents that I would grow up to be a writer, while I was within earshot. I took it to heart.
How would you describe your writing process?
I give my imagination free reign when I'm writing, so at any given time I can 'see only as far as my headlights'. That makes the journey full of surprises and all the more enjoyable. I tend to write in layers, and I love writing dialogue so I do that first, my plot moves forward through the interaction of the characters. When I have the bare bones, I go back over it and colour in the rest.
What is the story behind your debut book 'The Light Blue Jumper'?
It may or may not be about knitwear, I'll leave that to the reader to find out! Zaaro, the bald little blue alien in the book has a taste for Chicken Tikka
This book falls into the comic sci-fi genre, which is quite a rarity in Pakistan. Did you have a hard time finding audience for your book?
It was quite a gamble, writing something which you know is a niche within a genre, but it has been such a pleasant surprise seeing how many people have read it and given positive feedback. I believe that it doesn't matter what genre you write in, as long as you have a cracking good story, anyone can enjoy it.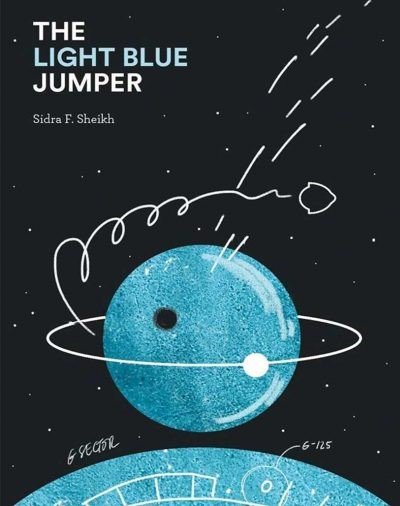 What age audience did you have in mind?
It has been written for a mature reader, but younger readers (twelve and thereabouts) have been known to battle their parents for first dibs. Since the book is multi-layered, humour and action are interwoven with political satire, younger readers will experience it at a different level to someone older.
How long did it take you to write it?
It took me one year for the first draft and then another year for reviewing and editing, which includes the time spent on it with my publisher.
The characters in your book are set in space, but do they bare resemblance to people in your life?
Yes. I am surrounded by half mad despots and am thinking of leading a rebellion against them very soon, haha. On a serious note, all the character are imaginary and give true insight into what a strange place my mind is.
The story is told through several characters. What made you want to give each character their individual narrative voice?
I have given all the major and some of the minor characters a voice because each one thinks that he or she is the hero of the story and that is where the humour comes from. Life is, after all, about perspective, and in my futuristic world I wanted to turn things on their head.
What does it feel like to now have this unrestrained power over these characters you have given life to?
It's quite gratifying to have the power to write their fates on a whim, but as your characters mature and occupy more and more space inside your head, you develop a strange sense of affinity towards them. They become like old friends and you tend to wish them well, most of the time at least.
What kind of response have you received from your family and the society at large? And how has it changed you as a person?
My family and friends have been extremely supportive throughout the writing process and generally people are very patriotic about supporting a Pakistani author published by a Pakistani publishing house. I was always a bit of an optimist and luckily, this experience has made me more of one.
With the lack of publishing houses and a surge in piracy, how would you describe your experience as an author in Pakistan?
I was very lucky in being introduced to Mongrel Books, an indie publishing house recently set up in Karachi, when they were selecting a manuscript for their first full length fiction publication. They have been fabulous in terms of their rigorous and consultative editing process, unique cover art and out of the box marketing strategy. We need to support indie publishers in Pakistan and the only real way of supporting them is to buy their books. Pakistani authors now have the option of being published in their own country, which, I hope, will open more doors for new and fresh voices from Pakistan to be heard around the world.
From writing the book to getting it published, what surprised you the most about the industry?
I had no idea that writers and publishers make such little money! It truly is a labour of love, all the years that go into turning thoughts out of a writer's head into a novel in a reader's hand.
What was your biggest learning experience throughout the publishing process?
I learned that editing is the difference between a good book and a great book. As a writer it is a leap of faith to place your manuscript, your prized possession, your 'precious' into someone else's hands and attempt to see it from an objective point of view. You may be asked to shed a 'genius' plot twist (in your private opinion), chop that 'oh so clever dialogue', add to a scene which was perfection in it's simplicity (because it's obvious what you meant, surely anyone would get that!) because it is all in service to the story. When the story becomes bigger than your ego, you mature as a writer. After months of back and forth edits with a team of extremely talented people, (Shandana Minhas, Tanya Mirza-Ashraf and Imran Yusuf), I hope that I have too.
Something surprising about you that people would never guess?
I toyed with the idea of being an Air Force pilot when I was eleven! Weak eyesight quickly put that thought to rest.
What advice would you give to a younger you?
Stop procrastinating and start writing! I waited a long time before I gave myself a chance to write, I always thought I was too busy with work (I'm a lawyer by profession), then children and so on.
What advice would you give to all those young writers that aspire to become novelists one day?
Write for yourself. When you do that, you will find joy in it and so will others. Once you have finished your manuscript, don't send off the first draft to agents and publishers, but work on it some more. Get your draft read by a couple of people and revise, edit and re-write based on their comments. When you're done with all that and at the submissions stage, don't let anyone discourage you. Keep going until your book finds a home.
Can we expect a sequel in the pipeline?
Yes. I started jotting down ideas for a sequel while I was working on the first book. In fact, the first few pages of Book 2 have been included as a teaser at the end of The Light Blue Jumper, Book 1.