We spent the day with the brilliant mind behind Soma. From finding inspiration through her travels to designing a pair of heels for Jennifer Aniston, see what makes her tick:
HOW DID I GET INTO THE SHOE BUSINESS?
I was in search for locally made, trendy and comfortable shoes that wouldn't make a huge dent in my pocket. Surprisingly, there was nothing of that sort out here and that's was when I realized the potential of this untapped market. I started off with a few pair of khussas, and the rest, as they say, is history.
WHAT INSPIRED SOMA? WHERE DID THE NAME COME FROM?
My love for shoes was definitely my inspiration! A degree in Art and Design, along with ideas I had through my travels, put the idea of a brand into motion. The word SOMA means moon in Sanskrit, and the word rolls off the tongue so easily that I thought it would be the perfect fit.
MY PERSONAL STYLE AESTHETIC:
Classic, yet modern.
I FIND INSPIRATION IN:
The places I travel and the people I meet.
I DEFINE CREATIVITY AS:
Passion and inspiration coming together.
THE FIRST PAIR OF SHOES I DESIGNED WERE:
Classic silk base khussas with tiny shiny flowers scattered all over.
MY FAVOURITE CREATION SO FAR:
My newest design of khussa's called Dija. They are black and gold with pearl work on the upper front.
HOW LONG DOES THE CREATIVE PROCESS TAKE:
The design process can take minutes or days; it all depends on my mood.
WHEN IT COMES TO WORK, YOU CAN MOSTLY FIND ME WEARING:
Shalwar kameez or jeans and a baggy shirt. I am always on the run, so comfort is key! Plus, I always have on a pair of SOMA sandals.
MY GO-TO HAIRSTYLE:
Hair half-up.
MY FAVOURITE ACCESSORIES THESE DAYS:
My red jade necklace with a jaguar head. I made it with bits and pieces collected from Istanbul, and assembled it in Pakistan.
MUST HAVE SHOE OF THE SEASON:
I would have to say it's a toss up between Contento, Firenze or Claire. All are extremely comfortable and versatile.
WHEN ALL ELSE FAILS, I THROW ON:
My yoga gear.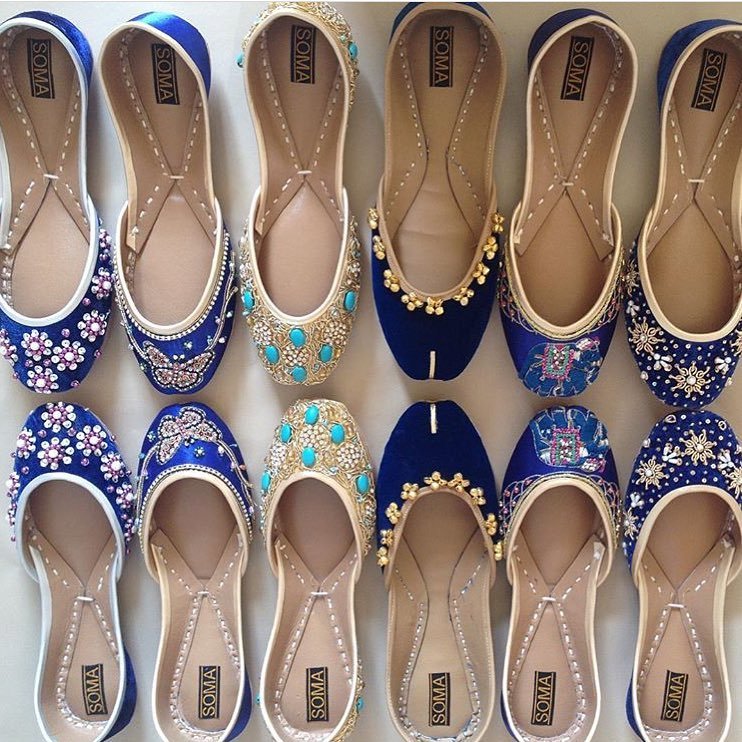 WORK QUALITY I AM MOST ADMIRED FOR:
Overcoming my boundaries.
WORK QUALITY I AM MOST HATED FOR:
Being pushy and persistent.
MY PROUDEST WORK MOMENT SO FAR:
Having been acknowledged and appreciated by people from different cultures, races and countries. I have amazing audiences around the world, especially in the US, and it feels great to be a part in showcasing that Pakistanis are hard working and talented.
ADVICE FOR A YOUNGER ME:
Don't trust everyone.
PROS AND CONS OF RUNNING MY OWN COMPANY:
I work 24 hours a day, 7 days a week, 365 days a year! I probably work during my sleep and don't know it. But, when you are so passionate and love your work you enjoy every moment.
MY WORK ROUTINE ON A REGULAR DAY:
I wake up at 5:30 AM to meditate, then organize my routine for the day. I work out at 8 AM which gets me to work by 9. A heavy breakfast, lunch at my desk and from there it's work-mode till evening.
PERKS OF OWNING MY OWN BUSINESS:
I can work at my own pace.
IF YOU COULD DESIGN A PAIR OF SHOES FOR ANY CELEBRITY WHO WOULD IT BE:
I just started venturing into creating and designing heels, and would love to make a pair for Jennifer Aniston. However, I think she would look super cool in classic khussa's as well.
YOUR BIGGEST SUPPORT SYSTEM:
My family. I used to work with my father, so when I was extremely nervous to be stepping away from my comfort zone.
BEST ADVICE I EVER GOT:
There is no short cut to success or hard work.
UP NEXT, I AM MOST LOOKING FORWARD TO: 
Introducing new designs and experimenting with different style technologies. I am also looking to launch an online store, for easier access to my products for all my International customers.