Veet Academy is a recent institution introduced by the brand Veet, with the aim to mold girls into confident, intelligent and positive individuals. This is achieved through several online courses that revolve around the values of Confidence Building, Top to Toe Beauty, Effective Communication, Health and Fitness and Intelligent Behaviour. These online courses are conducted by celebrities that speak about their passion and experiences which stem from the five Veet Academy values.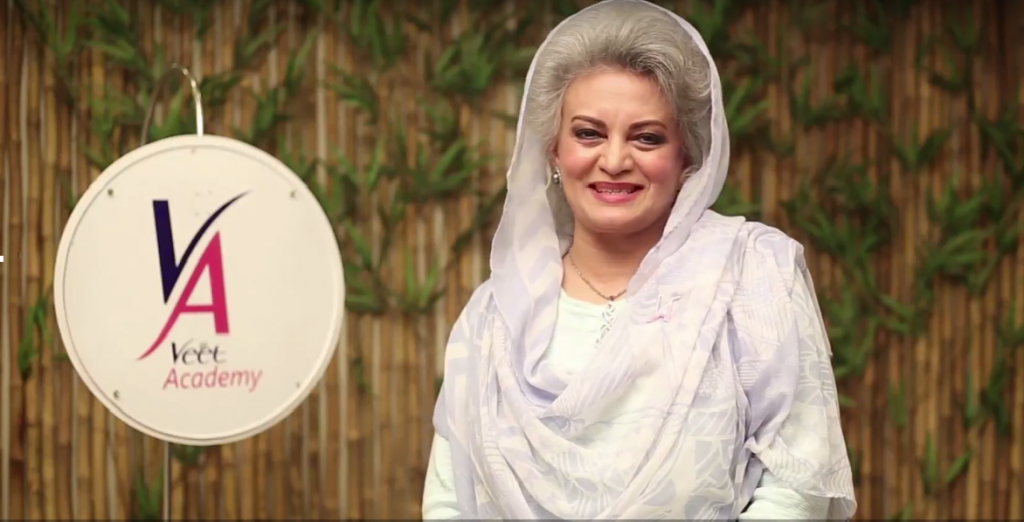 The queen of Charm, Masarrat Misbah takes us into the second module; top to toe beauty that showcases the importance of the value through separate digital modules. Masarrat reveals her expertise in the field of beauty by emphasizing the need to take care of one's skin and hair, as these are the key factors to a charming and confident being. Misbah further stresses the need to use the right beauty products which are according to your skin and hair texture that will help enhance your overall charm and charisma.
Moreover, under this module the fashion stylist Alishay Adnan talks about grooming via an individual's dressing style. She emphasizes the importance of dressing according to your body type. Furthermore, Alishay says that one must stay up to date with the latest fashion trends, which is easily accessible via social media platforms.
The online course also sheds light on hygiene which Masarrat states is crucial to a healthy lifestyle. Taking care of your body, teeth, hair and skin will certainly make you look and feel good, along with creating a positive impact on your personality. Lastly, the beauty guru gives us a few tips on the basics of make-up that will enhance your features, hence the application of make-up is vital to a girl's beauty and grooming. Therefore, the online courses by Masarrat Misbah is a combination of her experiences both personal and professional that she wishes to impart on young girls with the hope to shape them into charming and poised beings. Watch the videos and take up this course here http://bit.ly/2f7Q7Po to make yourself beautiful from inside out. Take our word for it, it will boost your morale and make you more confident and happy.