This Eid-ul-Azha, Pakistan's pioneering ready-to-wear women's clothing brand explores the bond between siblings, best friends and the greatest nemesis, and will introduce a myriad of beautifully unique Eid Collections on 19th August, 2017, which will be available in stores and online.
Siblings are one's longest lifelong memory bank: your shared home and history connects you at a level undesirably deep! GENERATION's Eid-ul-Azha'17 Campaign captures a rather eventful journey from the city to the countryside home of the GENERATION woman- personified by Zara Abid- the bigger, confident, strong yet loving sister to Ahmad, her younger, adventurous brother.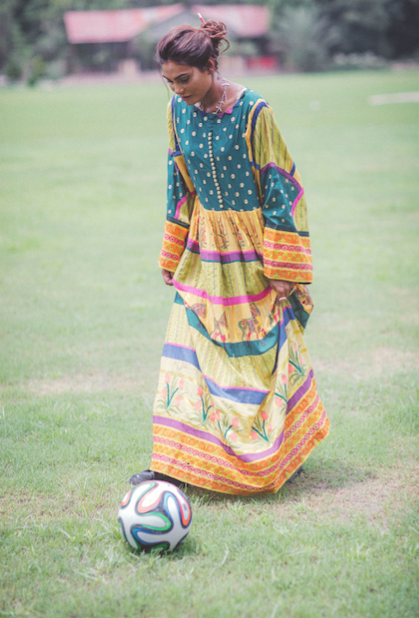 Abdullah Haris captures the various facets of this journey, where Zara assumes the role of an adventurous and spirited playmate, never letting go of the opportune moment to engage in monkey business; and at the same time, becoming a tender and responsible companion, taking the lead to get them home safely when their car breaks down. The shoot transitions from the two taking a road trip home to their car breaking down to finally renting out a Vespa to a boat ride to reach home for Eid.
This time too, our Eid Collections boast an array of styles, fabrics and colours: Patchwork and Sindhi mirror work on Sussi characterize Heritage, whereas Lippan Art is a contemporary take on the animal motifs and mirror work used in the mural craft of Kutch, Gujrat. Bold Batik is essentially print based, inspired from Malaysian, Indonesian and Nigerian Batik Motifs and the Montevideo Collection is as vibrant and eclectic as its namesake city. Slice of Heritage draws on the skirts and cholis from Pakistan and neighboring regions and Talismanic is an amalgamation of Aztec jacquards and colorful, indigenous rotary prints. Thus, from jacquards and to summery cottons, and a color palette ranging from ambers, reds, fuchsias and greens to and soft pinks and whites, the collections range from Rs. 1,000 to Rs. 15,000, with inventive, flattering as well as classic silhouettes in single shirts, 2-piece and 3-piece ensembles that incorporate traditional and modern detailing and embellishments. GENERATION's signature separates such as ghararas and jacquard dupattas, will also be part of the Eid collections.
GENERATION wholesomely caters to modern Pakistani women's clothing needs with its varied and innovation driven product lines: WOMAN offers casual and semi casual outfits that are fashion-forward, yet comfortable; BASIC line is minimalistic, with subtle prints and impactful cut lines; FORMALS include semi-formal, wedding and party wear that harmonize traditional embellishments and crafts with the brand's contemporary take on design; CLASSIC comprises timelessness styles, casual and semi-formal while COTTAGE, employs traditional Pakistani hand embroideries by women across villages around the country to create innovative one-off atypical techniques; FLO is a high street, fashion forward line born out of a fusion of eastern and western elements; The latest addition, MING, is a Luxury Concept line centered on luxe fabrics and statement designs.
Apart from bringing innovation to its product portfolio, GENERATION also designs its own fabrics and prints. The label has stores in Lahore, Karachi, Islamabad, Peshawar, Rawalpindi and Faisalabad, with flag-ship stores in Lahore and Karachi. 2016 saw the opening of our store in Emporium Mall, Lahore followed by two more in 2017, one at GIGA Mall, Rawalpindi and another one at Packages Mall, Lahore.