Young, talented and stunning, Urwa Hocane is all set to take the film industry by storm! Qasim Yar Tiwana recently sat down with this gorgeous actress over a cup of tea to chat about movies, men and so much more:
You said Oui! Photos of fellow actor Farhan Saeed proposing to you in Paris have been circulating widely on social media all week. Tell me everything!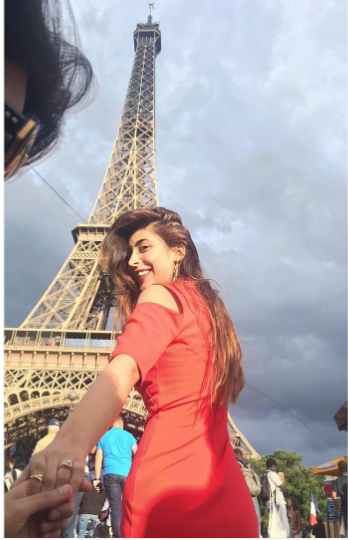 We've been dating for three years now and things were pretty serious. While vacationing in Paris, he proposed, and of course I said yes! We did wait a while before making this news public, as we wanted to enjoy that time between just the two of us.
Was it love at first sight between you two?
Absolutely! It happened in two seconds. I'm not the kind of girl who hangs out in large groups, so it was by chance that I met him at a friend's place. I didn't know he was a big deal, in fact I hadn't heard a single song of his (haha). We just hit it off instantly.
So when should I mark my calendar to plan your wedding?
It's on the cards very, very soon (wink) and we will be happy to let our fans know when the time is near. There's no doubt the wedding will be a QYT affair!
What are three things about Farhan that no one knows?
He can never take care of his sunglasses and will lose every pair he ever gets! He gets teary eyed when he sings an emotional song, and he is the most humble man I have ever met.
What turns you on in a man?
Intellect, a sense of humour and good looks.
What's it like having your own sister as a competitor?
It's the best feeling in the world! You don't have to be worried about someone stealing work from under your nose, as we share our projects and have worked out a great strategy for dividing them between us. It's amazing that we can share success together and yet have our own niche. We were recently named amongst the 50 most influential people in the entertainment industry by a magazine, which was an amazing thing to share with my sister.
Your recent drama serial, the hard-hitting 'Udaari', won great acclaim while creating some controversy also. Did you expect it to be such a big hit?
Not at all! We weren't sure if people would accept it, given that it was dealing with some very controversial topics. I play a 'marasi' in the serial and my character rises beyond the stereotypes that our society generally associates with their caste. The second topic we touched upon was the taboo of child abuse, but instead of showing the affected as victims, Udaari actually presented solutions by highlighting the relevant laws dealing with this menace. People took a stand when Pemra moved to ban the serial, which just goes to show that a strong script will always win in the end.
What was the most challenging aspect of the role?
The dialect spoken by my character was a mix of Punjabi and Saraiki, which was really difficult to master.
Where do you see yourself in five years?
I don't really plan for the future, but I intend to be doing lots of film work. The idea is to keep working and keep bettering myself.
Tell us about current projects in the pipeline:
I am working on three at the moment. There's the comedy Two Plus Two, Rangreza with Bilal Ashraf and the third is a top secret that I can't reveal, but you'll find out very soon.
Who is the real Urwa?
The real Urwa is very gharailoo. I like to stay home and be at peace, just hanging out with family. My on-screen persona is very different from the real me.
Can I ask, how old are you?
25. In the age of Wikipedia, you can't hide anything!
Would you ever do an item number?
Why not? I would love to, but not at this point because I'm focusing on acting. However, I don't judge people who do it. If viewers have a problem, they shouldn't watch it. Art is art, no matter what form it comes in.
Rate the following men on the basis of looks and acting ability, with number 1 being the highest: Fawad Khan, Ali Zafar, Atif Aslam, Bilal Ashraf and Farhan Saeed.
Looks wise, I would say Fawad Khan is number one, then Farhan Saeed, Ali Zafar, Bilal Ashraf and finally, Atif Aslam. Acting wise, it would be Fawad, Ali, Farhan, Bilal and Atif.
Would you consider working in Bollywood given the current tension between the two countries?
If the script is good, I'm open to working anywhere; be it Bollywood or Hollywood. Art has no boundaries.
If you woke up as the following people, what would be the first thing you do?
Mahira Khan: Cuddle with my son.
Saba Qamar: Dance on Kalabaaz Dil as my morning workout.
Meera: I would take my mother back into my house.
Resham: Go see Urwa and Mawra because I love them!
Ayesha Omar: Have my super organic and healthy breakfast, like I always do.