From their love of all things quirky to their passion for creativity, the boys behind 9Lines talk friendship, work and everything in between.
HOW I GOT INTO THE DESIGN FIELD:
Hassan: I had always been very artistic and had an interest in computers, so graphic design was the perfect balance of the two. When I saw what could be accomplished by incorporating typography with layouts, I was sold.
Saad: Being curious and inquisitive and having a spark in me, I realised that with great entrepreneurial passion comes great rhetoric and marketing skills (haha.) I was very young when I joined my family business and that's when I discovered that I wanted to give consumers not just what they want, but what they don't know they want as yet.
WHAT INSPIRED US TO START 9LINES:
Hassan: 9Lines was a product of experimenting with my creative boundaries and finding the right partner to collaborate with to create a unique, fun, quirky fashion and lifestyle label. Saad, having been my best friend for quite some time, had his own sets of credibility, such as marketing, finance, operations and logistics. Who better could I have teamed with?
Saad: If I look back now, I can say that it was meant to be! When I met Hassan in 2011, little did I know our lives would change forever. The two of us had different ideas; I wanted to produce quirky stationery while Hassan, the art maestro, was up for an exhibition of his majestic paintings. Destiny knocked and only one initiative got through and 9Lines was born!
DESCRIBE THE BRAND IN THREE WORDS:
Hassan: Young, offbeat and quirky.
Saad: Colourful, fun and Pakistani.
THE IDEA BEHIND THE NAME:
Hassan: Since we had 9 separate lines for fashion and lifestyle, the name was a given.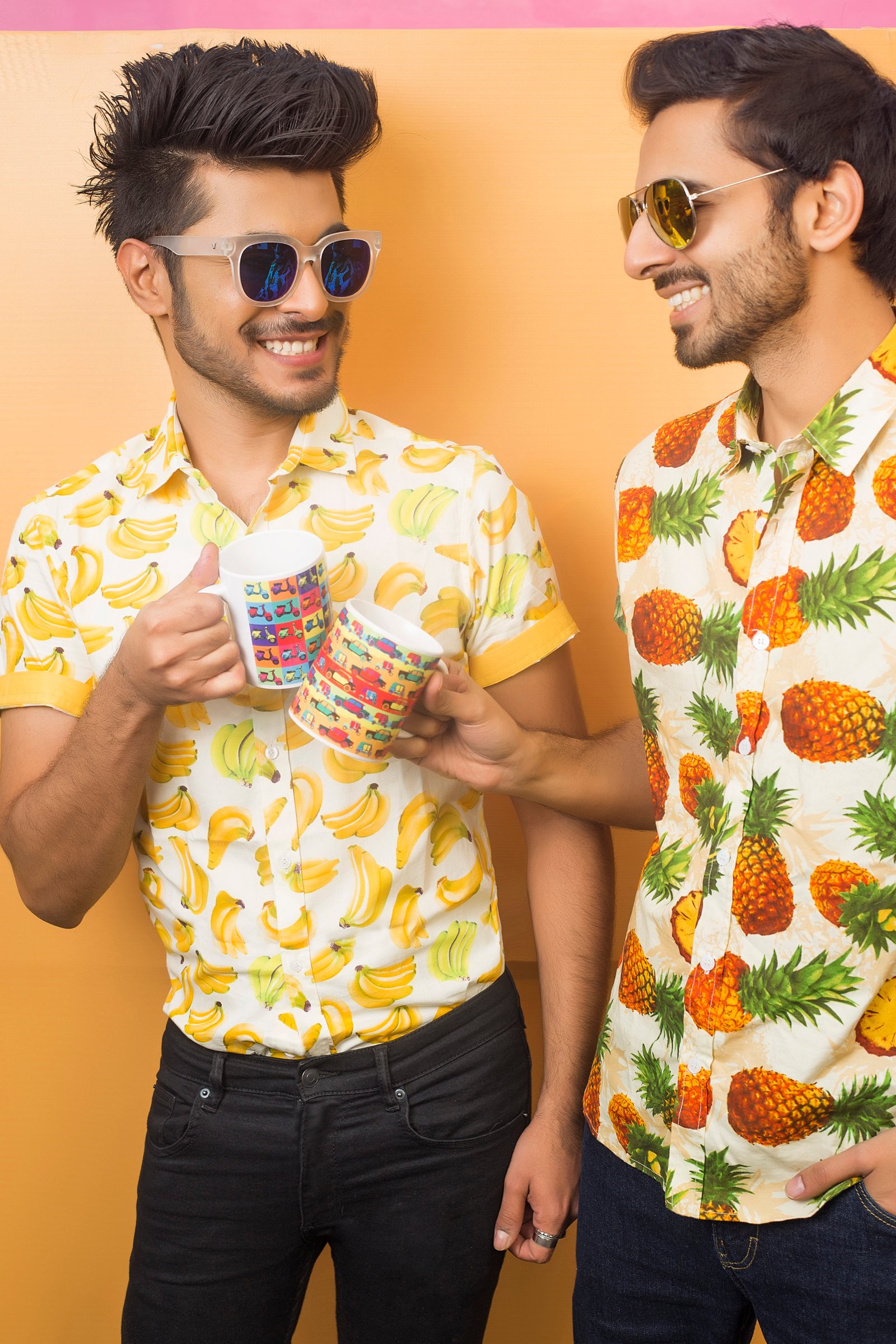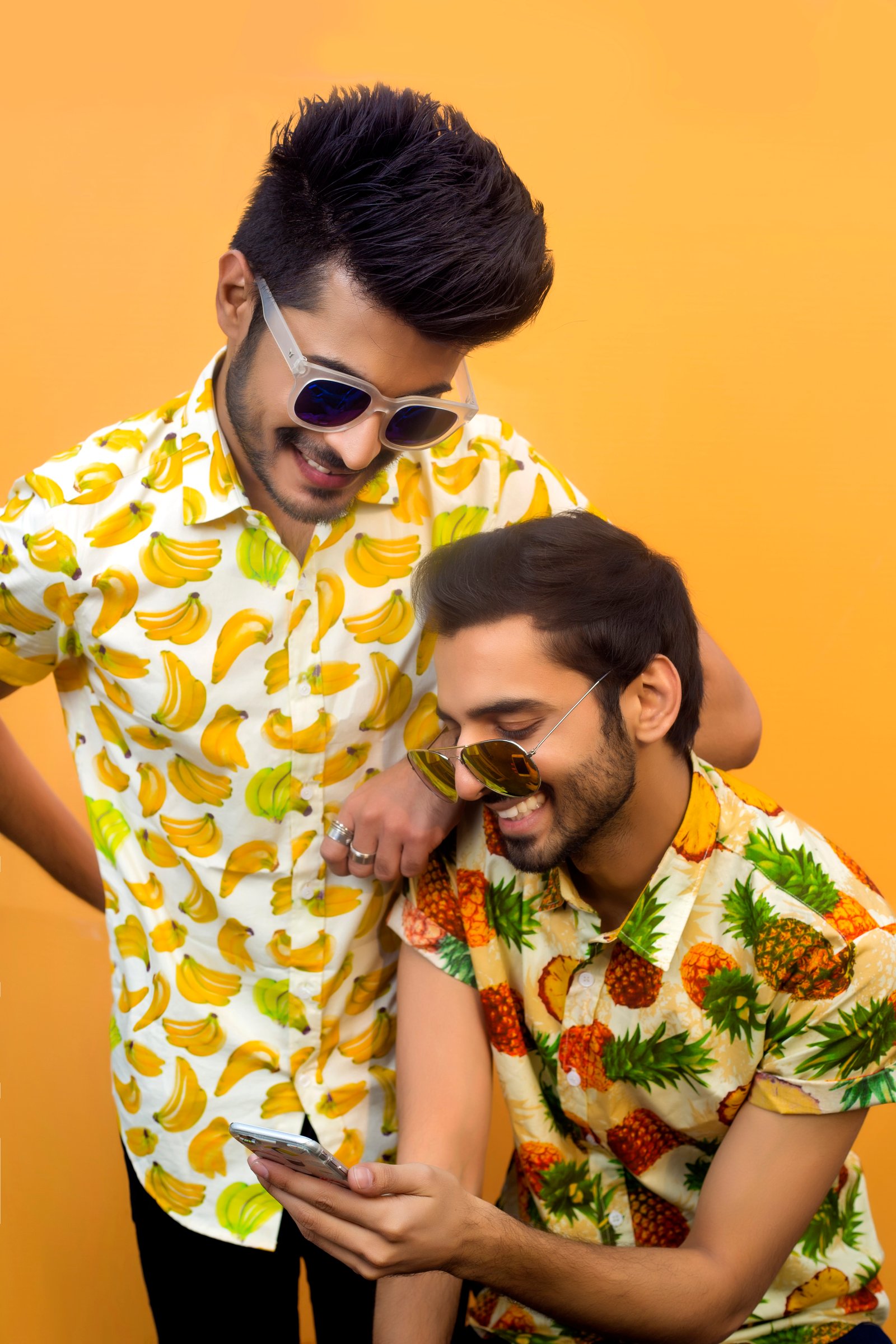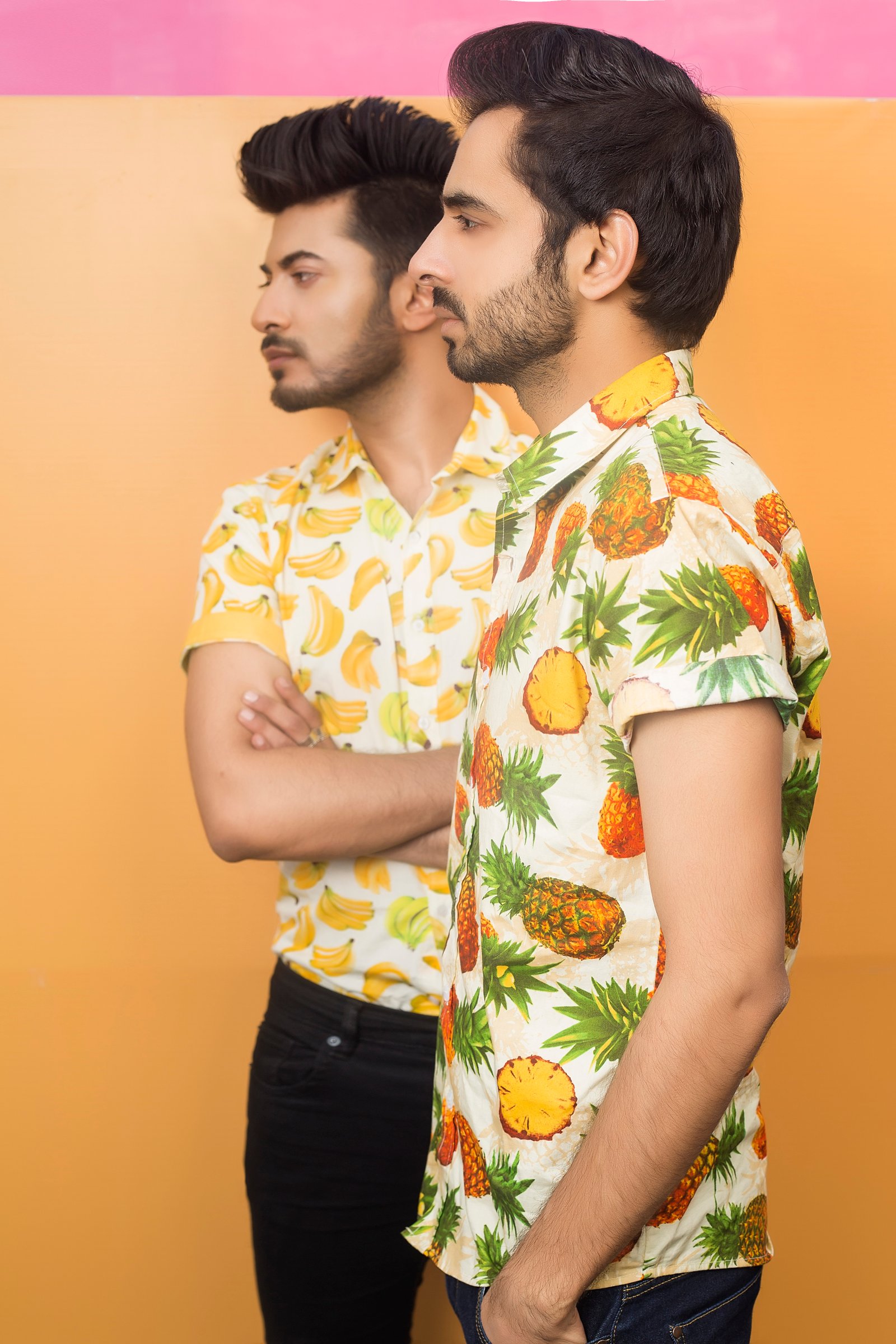 HOW I WOULD  DESCRIBE MY PERSONAL STYLE AND AESTHETIC:
Hassan: Inconsistent, as it's based on my mood and the weather, which are ever changing. I do have some signature styles, however. I am known for my unique graphic tees, archival leather boots, funky hats, mixed neon accessories, skinny denim, quirky sunglasses and local collectibles from my international travels.
Saad: My style is contingent on how I feel that day. Sometimes I wear suits, other times it's a casual case. Every day is a day to reinvent yourself within the confounds of your closet. Sometimes I take it too far, but oh well. My style is a reflection of my personality.
I FIND INSPIRATION IN:
Hassan: My experiences. Having studied and lived in Lahore, South Asian art, artists and pop culture became strong influences in my design education.
Saad: 9Lines is completely inspired by real life, places, people and things in our environment.
WHEN IT COMES TO WORK, YOU CAN MOSTLY FIND ME WEARING:
Hassan: I'm pretty comfortable in my tee, jeans and sneakers.
Saad: I am immaculately dressed at all times, and work is no different. I always feel and function better when I look good.
WHEN ALL ELSE FAILS, I THROW ON:
Hassan: My black biker jacket and silver Asos high boots.
Saad: A smile.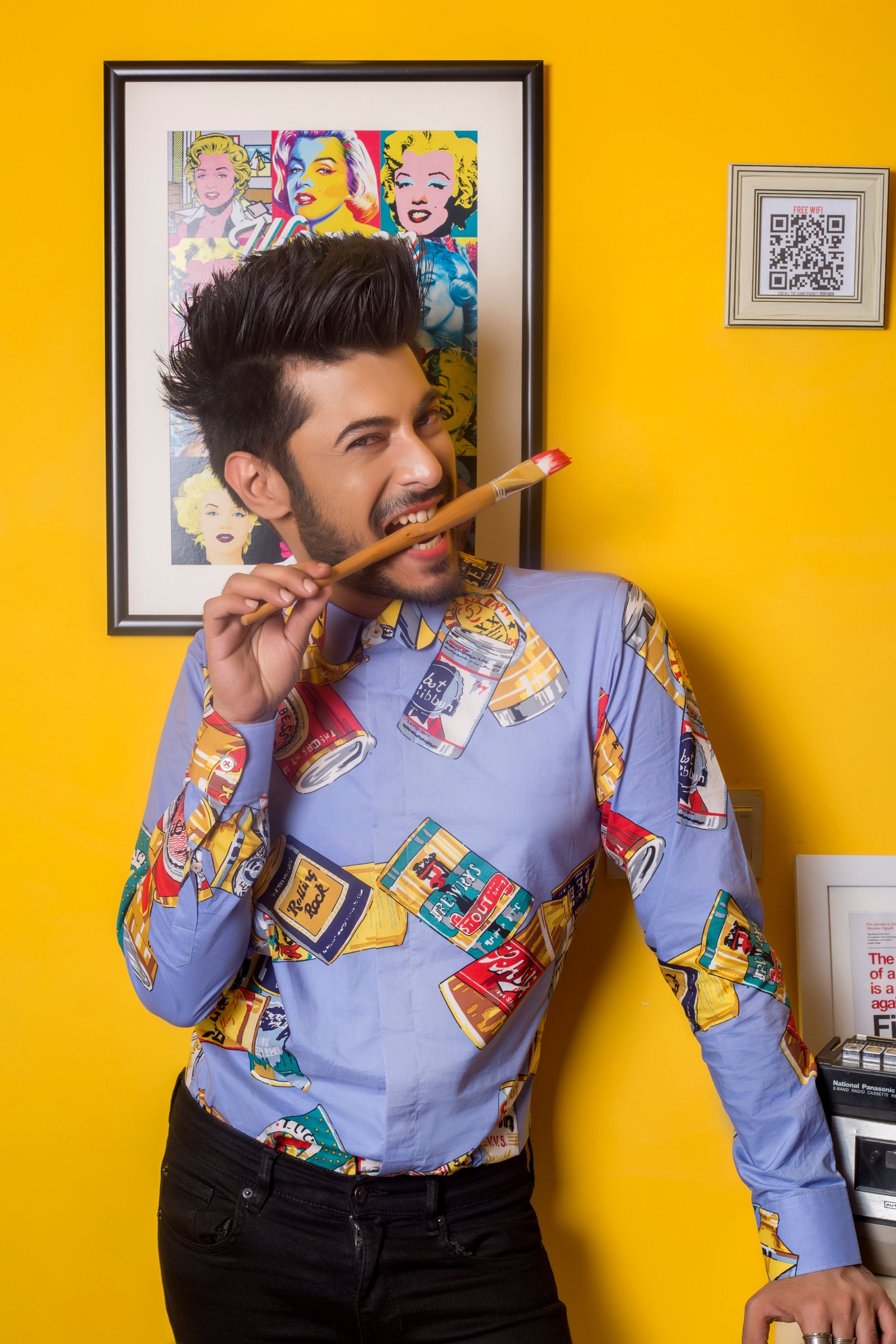 MY FAVOuRITE WAY TO PROCRASTINATE:
Hassan: There's nothing like napping when you should be doing a million other things.
Saad: Watching endless TV shows.
WORK QUALITY I AM MOST ADMIRED FOR:
Hassan: My artistic ability and creativity are what I'm mostly admired for. You don't end up in a creative industry unless you do what you love.
Saad: I wish I had the chance to name all of them, but since the question demands just one quality, I am constrained to name "gentle manners".
WORK QUALITY I AM MOST HATED FOR:
Hassan: Tenacity. Saad goes through several moments of panic daily, but I remain calm and contained in such situations. I'm quite proud of that, but also hated for it at the same time.
Saad: My panic modes.
WORST PART ABOUT MY JOB:
Hassan: I can't quit it!
Saad: Fortunately, I love my job.
WORK RULES I LOVE TO BREAK:
Hassan: I play cards with my co-workers first thing in the morning.
Saad: I don't reply to emails too fast (so I look like I'm busy, haha).
THE BEST PART ABOUT WORKING WITH MY PARTNER IS:
Saad: It's amazing to share my passion with my best friend, and I feel that it connects both of our dreams and goals for the future. Working together, we have learned to communicate more effectively and have decided to treat work as a shared lifestyle that we both love. It's a really fun partnership.
HOW WE DIVIDE AND CONQUER WORK RESPONSIBILITIES:
Hassan: I primarily create and design artworks for products, handle digital media management and printing aspects. Saad is especially great with managing the finances for the company. Our complementary skills are what make us a kille deal.
Saad: Coming from a marketing and entrepreneurial background, I am responsible for strategy making, operations, logistics and production. Collectively, we manage public relations.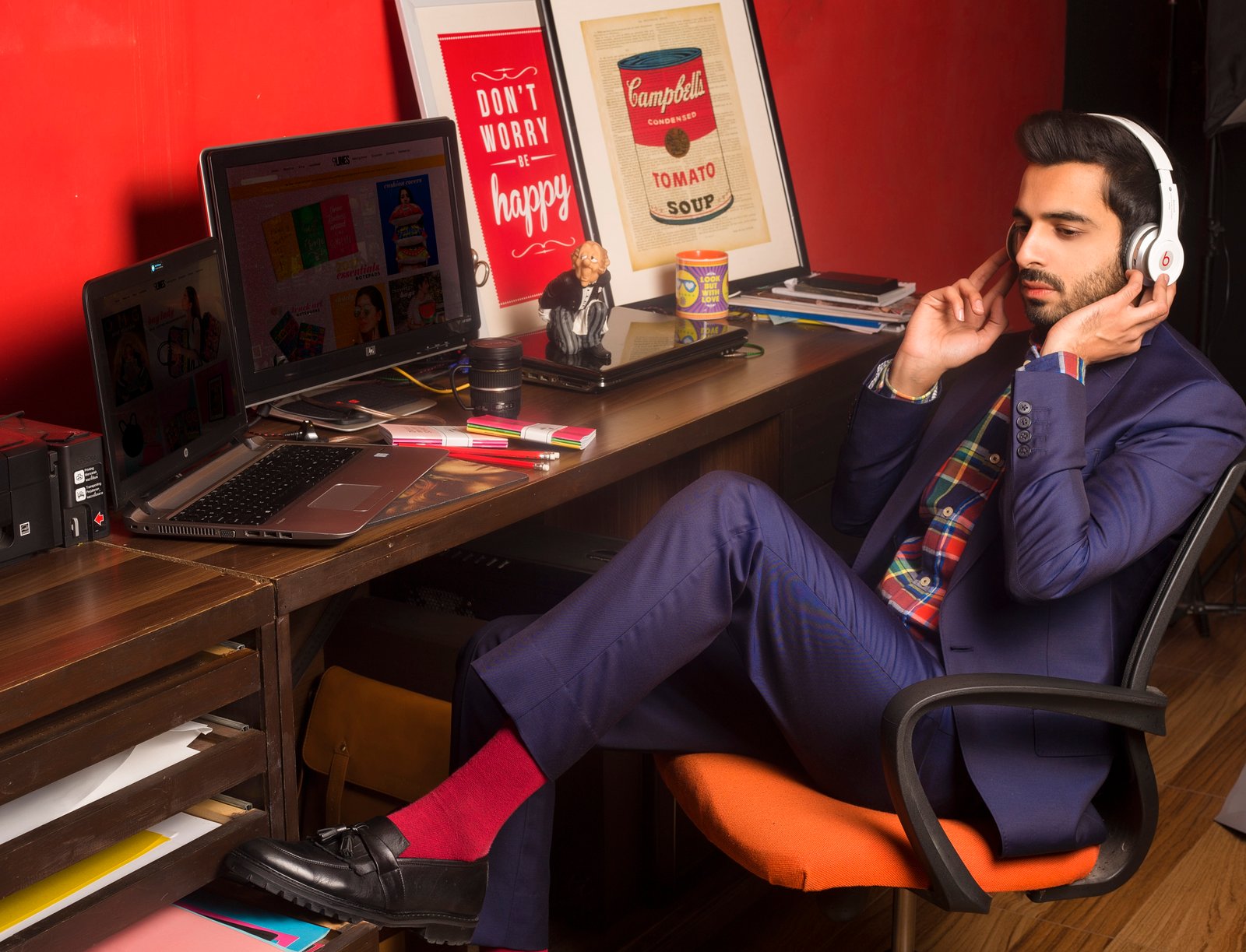 HOW WE HANDLE DISAGREEMENTS AND WORK PROBLEMS:
Hassan: We each bring our strengths to the table and delegate responsibilities equally. On disagreements, that's the strange thing – we've never actually had a disagreement.
Saad: Touch wood, it stays like this! Maybe there will be more potential for disagreements in the future, when the operation gets bigger and more complicated. Creatively, you can go much further than alone, two minds are better than one.
FUNNIEST CLIENT STORY:
Hassan: A client once asked me if I was in O Levels or A Levels. I couldn't help but blush as it was a major ego boost.
Saad: In the first week of the launch of 9Lines, a client called us to make a complaint and said: "I didn't expect this from such a large organisation."
MY WORK ROUTINE ON A REGULAR DAY:
Hassan: I usually get up first and make coffee for Saad. We both have day jobs. I have a 9-5 job as Art Director at Sapphire, but 9Lines is our baby, and feels like a 24-hour job! We usually kid amongst ourselves that we need 32 hours in a day to manage it all, but we make sure to keep a balanced work life.
Saad: I am not a 9-5 person, so I juggle between my lectureship at Lahore School of Economics and 9Lines. Teaching is self-satisfaction and 9Lines is passion – quite a lethal  combination! You can't have work hours if you have your own business, so I'm blessed to have an easy going partner.
ADVICE FOR A YOUNGER ME:
Hassan: The people who tell you your dreams are crazy and that you should get a real job will still be stuck in a rut for all their lives so ignore them all! Keep pursuing your dreams and never give up.
Saad: Always be certain of the choices you make and the decisions you take. Hold on to the people who help you move up the ladder and try not to make enemies on the way. Never aim for basic!
PERKS OF OWNING OUR OWN BUSINESS:
Hassan: The great thing about owning a small business is I rarely experience the same day twice. Whether it's something about taxes, accounting or the plethora of other things that go into running a company, I am fascinated by all the parts and pieces it takes to keep our business on track.
Saad: There is nothing like being successful through your own leadership, abilities, ideas and efforts.
UP NEXT AT WORK, I AM MOST LOOKING FORWARD TO:
Hassan: We have never really looked at creating any future plans; we go with the flow. Requests from stores and audiences keep flooding in to have our merchandise readily available, and we'd really like our fans to be able to buy our products right from where they live. Eventually we'd like to have at least one store retailing our brand in all the major Pakistani cities.
Saad: We want to evolve 9Lines into other categories like cutlery, footwear, rugs, bedspreads, curtains, furniture and much more. 9Lines takes pride in originality, and for us, the sky is the limit!
Photography Haseeb S Khan, HSK Studios